Online Learning
'The Show Must Go Online': Arts Teachers Adapt to At-Home Instruction
From laundry art to 'name that tune,' arts enrichment teachers are finding creative ways to transition to remote teaching.
When art teacher Janis Henderson-Hunsucker learned that her school in Danbury, North Carolina, would close because of the coronavirus, she quickly crafted a survey to find out what art supplies her students had at home. It turned out, not many. 
Anxious to keep the learning going, she mailed boxes of basic art supplies like markers, crayons, colored pencils, glue, and scissors to her students, many of whom live in the hills and hollers of Appalachia where internet access is limited. She included the foreshortening drawings that students had started in class with instructions on how to finish them. 
She's not alone. Across the country, teachers of drama, music, visual arts, and dance are making difficult decisions on the fly.
The arts are essential, but enrichment classes often involve physical materials, group activities, or even audiences—requirements that aren't easily met in digital environments. Additionally, teachers typically serve multiple grades and classes that require differentiated lesson plans.
We reached out to arts enrichment teachers around the country to gather their recommendations on teaching during the pandemic. They shared the new, creative ways they're encouraging students to create and perform even when school buildings are closed.
Can the Arts Go Digital? 
Christine Doherty, an elementary art teacher in Franklin, Massachusetts, said she had always shied away from using technology but realized she would have to embrace it to connect to all 540 of her students at two different schools during school closures.
Doherty created a YouTube channel where she reads books to her students or leads them through easy art activities such as drawing and coloring.
She quickly found that online platforms allow students to continue sharing and talking about their artwork, just as they would in school. During her live video instruction time, students can type an H, for hand, into the chat box to indicate they want to share their work and place it up to the screen for other students to see. "A huge piece of art is not just the creating process, but also the sharing process," she said.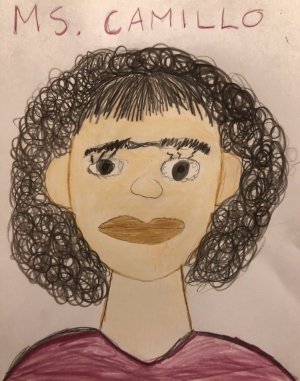 Courtesy of Heather Camillo
One of Heather Camillo's students imagines what she might look like post-quarantine.
Other arts enrichment teachers say not to become overly reliant on digital tools, however, as not all students—or even teachers—have access at home or may be sharing a device with siblings. Elementary and middle school art teacher Hollie Reilly, who lives in a rural area in Iowa, said she has to drive to her school's parking lot and use the Wi-Fi from her car to post assignments for class. 
Reilly doesn't see the lack of access as a limitation in her work, though, and is finding ways to bridge both digital and hands-on activities. The digital tools have helped her to create more structured schedules and lesson plans, she admitted, and she plans to continue using them when she returns to the classroom. "The way I've been approaching [digital tools] kind of mirrors my own philosophy. I don't get into much of the online, technology-driven stuff anyway," she said. 
A Question of Materials
Instead of focusing on skill-based assignments, some teachers say they've looked for ways to encourage students' creativity and engagement using basic household materials—many students have no access to the typical art supplies.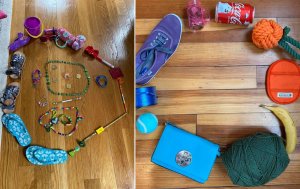 Courtesy of Christine Doherty
Christine Doherty's student followed her example (R) and created a found-object color wheel.
Reilly's students made toilet paper roll art, for example, and clay from pantry supplies. She is also creating lessons to guide students in repurposing egg cartons and meat trays for Styrofoam printmaking, and turning plastic food packaging into brilliant suncatchers. Doherty, meanwhile, asked students to create a found-object color wheel where they gather—and photograph—items of different hues so that they develop an understanding of the relationships between colors. Other art teachers have tasked students with creating art from trash, food, and laundry. 
Because students often need a creative outlet, some teachers are even doing activities themed around the pandemic. 
Josie Wozniak, a theater teacher at Hillside Middle School in Simi Valley, California, said her students were set to perform The Little Mermaid before school closed, so now they are creating lyrics for those songs about their quarantine experience. At Charles L. Spragg Elementary School in Egg Harbor City, New Jersey, students made creative artistic projections about their teachers' appearances when they return to school. 
Acknowledging Limitations
In the first couple of weeks, middle school music teacher Brian Campbell said he stepped back from assigning much work to his music students, knowing that their academic courses with end-of-grade exams would consume much of their attention. He contacts his students once a week because he knows there are a lot of demands on their time, especially as they acclimate to a new style of teaching and learning. 
High school theater teacher Christina Holland shares his concerns, as many of her students have limited time because they took jobs as essential workers at the few businesses in rural North Carolina, like grocery stores, that have remained open during the pandemic. She said she tries to work within their limitations by making the most of the time they have—and prioritizing overall learning objectives over individual lesson plans. 
Others suggest devising a schedule that allows for asynchronous work and gives students the ability to work at their own pace. "What I've been doing is posting assignments a couple times a week on Sunday, and then they're due the following Friday so they can do them at their own pace," said Wozniak.
A Team of One 
The teamwork and collaboration in performance-based classes and rehearsals can be difficult to re-create online, teachers say. 
"When you play an ensemble part on your own, there are missing pieces," said Campbell, who, like other teachers, has been looking for ways to create individual opportunities in place of group activities. 
Instead of using notes and rhythms that his students already know, Campbell is now sending sheet music without titles for his students to learn, record themselves playing, and then guess the name of the song. Students spend one week learning the piece, and then the following week they record their performance. It has gone so well that he's considering incorporating individual recording into his curriculum when in-person school resumes.
In Holland's drama class, on the other hand, students are still planning on performing their show, just in an online form. Her students gather in a Google meet several times a week to rehearse or play improv games. She also assigns non-performance theater lessons such as creating a costume from household materials. 
Relatedly, after canceling The Little Mermaid, Wozniak was excited to learn of The Show Must Go Online, a musical designed specifically for distance learning where students record themselves performing individual monologues that, when played in succession, form a complete story line. This helps students still feel connected to group drama activities even when alone.
Lost Connections 
Cordia, a high school senior in Durham, North Carolina, worked every Saturday morning during the school year to write and produce a musical that was canceled because of the closures. "It's really hard to process," she said. "It is hard as seniors also, because we were expecting to have this as our final show, and we don't get that anymore."
Amid losses, teachers say they are trying to maintain student excitement for enrichment activities by showing students new materials and resources they can access online or in their homes. Not only can these activities give students a much-needed break from core academic coursework, but also they provide students freedom to work on independent creative projects. 
Campbell, for example, connected his students with a website where they can download a range of free sheet music so that students can practice the skills they were learning for the competition on any song they want.
Holland said her drama students are feeling both the loss of the play The Wind in the Willows that they spent weeks preparing for, and the loss of the connections with their drama peers. "Just like sports, [drama] is an outlet for a lot of the students. They don't do as well in other classes as they might in theater," said Holland. "The extracurricular activities like mine keep a lot of kids in school, doing well, and focused on trying." 
Because connection is crucial for all students—especially during COVID-19 closures—Holland uses virtual video chats, phone calls, and emails to help her students feel connected. Henderson-Hunsucker also told her students that she's there to support them and is available to talk anytime they want.