Teaching Strategies
A Student-Led Pokémon Go Project Transforms a School
Inspired by the augmented reality game, students welcome mutants into their school — and learn about collaboration and the value of art.
During winter vacation, the Pokémon Go fever exploded here in Brazil. Students came back talking ceaselessly about Pokémon Go, PokéStops, and all the unexpected places they had discovered Pokémon.
As their art teacher, I felt completely out of the loop. What was Pokémon Go? What were PokéStops? How did you know where to find them? All I knew was that Pokémon Go was an augmented reality game for mobiles, but once I heard one of my students mention finding a Pokémon at the statue of Albert Einstein, I knew we could use the game as a learning tool. After all, it led him to an iconic landmark.
After my students explained the game to me, they decided to create their own version of it, using mutants as the theme for their drawings. They drew mutants on adhesive paper and prepared to place them around the school. And we connected our drawings to several concepts we explore in art, such as appropriation; occupation of physical space; art on, off, or outside the walls; and the nature of ephemeral art.
A Gallery Without Walls
It wasn't long before all grades became involved in the Mutant Go initiative. Mutants began to appear throughout our entire school. The excitement of seeing their everyday environment change in subtle ways thrilled students. Even when they weren't seeking mutants, one might surprise them in an unexpected place. Our school became a gallery without walls.
Students began to crawl under tables and benches seeking mutants. They wandered into flower beds and peeked into manholes. Ordinary everyday objects placed in the common spaces suddenly became sources of interest. Children began to lift trash cans and look underneath fire extinguishers. We tend to think of art as something static, and usually when viewing an artwork we have our "feet always on the ground," one student stated. "I wish museums were more like Mutant Go and we had to seek art. It would definitely be more fun."
When the Unexpected Happens
There was a shift in the atmosphere when a group of students came rushing to tell me that two students had peeled off some mutants and thrown them away. Up until that moment, students across grade levels had been engaged and excited, exploring the school in a collaborative manner. Students recognized this situation as a threat. As their teacher, I saw it as an opportunity to discuss the value of an artwork. I posed the following questions: "When can we interact with an artwork? If an artwork is presented outside a museum or gallery, is it worth less? Does our creative process have a value? What about the final product?"
Students felt strongly connected to their drawings, and this led to a passionate discussion about authorship. They displayed empathy for the mutants, recognizing the uniqueness of each artwork. It was clear to them that each mutant was of value to the audience as much as to its authors.
They had a personal connection to the mutants. The minute they decided to place their drawings somewhere in the school, there was an emotional investment on their end.
Challenging Students to Develop Closer Observation
I noticed students walking around with lists and sheets of paper filled with tally ticks. They were now competing to see who had found the most mutants. The more students claimed their finds, the more other students were enticed to hunt as well. On the downside, they became less observant of the drawings. I decided to intervene to stress close observation again.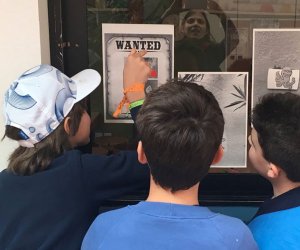 Natalie Catlett
I photographed some of the mutants and created Wanted signs that showcased four mutants and challenged students to find them. Some photographs revealed the surface the mutant was placed on, while others displayed the mutant only.
Groups gathered around the signs and began to analyze them. They displayed strong observation and interpretive skills. They looked at the images and observed the shapes, the textures, the positions of the objects, and their surroundings. I heard a student say, "I know where this one is. It's close to the bamboo trees." Another student responded, "I didn't know there were bamboo trees here at school." "There are!" Together, both students ran to the area filled with bamboo trees. A sense of discovery filled the student who had been unaware of the bamboo trees. And things like this happened repeatedly.
Written Descriptions
Next, second- and third-grade students began writing descriptions of where to find their mutants. This introduced a new challenge: Instead of seeking a mutant with a clear image of what it looked like, students had to interpret the text and seek mutants based on written information. Students discussed their hypotheses, eliminated possibilities, and constructed new knowledge before springing into action.
Interestingly, aside from describing the place and/or characteristics of the mutants, students used words to emphasize the body pose that would allow you to see it, such as kneel, lie down, squat, crouch.
Takeaway
Mutant Go transformed our school. When true inquiry takes place, it spills out of the classroom and occupies all of its surroundings. There are no boundaries. It's dynamic, it's organic, and it cannot be silenced. Students explored and experimented in a continual cycle of action and reflection. Weeks have gone by, and students continue to speak about Mutant Go.
It was fascinating that students' selected theme was mutants, because that ties so well with everything that happened. When we think of mutant, the word transformation comes to mind. That's exactly what Mutant Go did; it disrupted our everyday environment in an eye-catching and playful way.
The day this initiative began, I had planned an observational drawing class. The student-led initiative Mutant Go taught them more about observation than I could have planned. Mutant Go allowed them to explore concepts that have local and global significance, and it sharpened their communication skills and motivated them to collaborate with each other.