Flexible Classrooms
Photo Essay: A Flexible Seating How-To
A middle school teacher gives you a peek inside her classroom. Look for ideas on how you can begin to transform your own room.
I was reading children's books to my eighth graders, using the stories to reinforce literary elements, when a student asked if she could sit on the floor at my feet. "Like story time in elementary school!" her friend shouted. Some students jumped out of their seats, pushed the desks to the back, and crowded around my chair. Others chose to stay at their desks, but pulled them in close behind those on the floor. And so my journey into flexible seating began.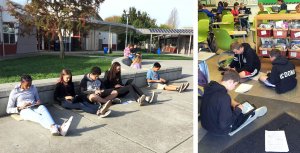 Courtesy of Laura Bradley
Students use carpet squares for comfort, indoors and out.
I had recently replaced some carpeting in my house, so it occurred to me to ask if the flooring store might have old carpet squares we could take off their hands. In exchange for a letter thanking them for the donation, I brought 35 carpet squares into my classroom. I stacked them on a shelf in the back of the room where students had easy access to them. And then I discovered that students know a lot more than I do about where and how they can work comfortably when they have a carpet square between them and the hard floor. They sit in corners with their backs against the wall; they sit (or lie) under tables; and they work outside on sunny days. The freedom to choose and move seems to lead to better focus and longer stretches of time on task.
Courtesy of Laura Bradley
Some students find they work best when they build a writing fort.
A couple of years later, when my students were writing for long blocks of time during National Novel Writing Month, I found a video that suggested writing in a "box castle" to get through writer's block. We didn't have room in our classroom to build castles out of cardboard boxes, but we could flip some tables and get creative with our space. Turns out eighth graders love to work in their own forts.
Courtesy of Laura Bradley
Students can use bookshelves as standing desks or as backrests.
And then came the standing desk! I didn't have the room or the means to bring in real standing desks, but I did rearrange my bookshelves to create standing options and work nooks. Students also like to sit on the floor and lean against the shelves.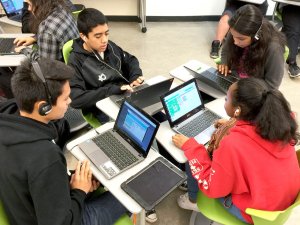 Courtesy of Laura Bradley
Traditional desks can be organized in rows, in a big circle for a whole-class discussion, or in clusters for group work.
Once flexible learning environments caught on, our district gave every classroom more seating options, including chairs and tables on wheels. We had always moved furniture around when we worked in groups or had a whole-class discussion, but with wheels we now move more easily—so we do just that multiple times a day, depending on our work needs.
Courtesy of Laura Bradley
A flexible classroom allows for multiple seating options at the same time.
I still have 32 desks in my room, so I don't have space to add many furniture options. More important than changing the furniture, though, has been the realization that given some choices, students can find ways to work that support their individual needs. They sit in desks and face the front in assigned seats for attendance and direct instruction, but during long work periods (especially writing), they have some freedom to move around and get comfortable.