Literacy
More Than Highlighting: Creative Annotations
Active strategies for annotation like collaborative work and illustration increase students' comprehension and retention.
Annotating texts is not the most exciting tactic for reading comprehension. In my classroom experience, even the mention of the word annotate was met with looks of confusion or boredom. Traditional annotations have been students' only interactions with the text. When students are asked to underline important parts of the texts, they will usually pick the first line that seems appealing or attempt to highlight the whole page of text with pretty-colored highlighters. Simply underlining the text will not meet the needs of our 21st-century learners.
Annotations are a critical strategy teachers can use to encourage students to interact with a text. They promote a deeper understanding of passages and encourage students to read with a purpose. Teachers can use annotations to emphasize crucial literacy skills like visualization, asking questions, and making inferences.
Purposeful instruction with annotating texts is required for students to benefit from this strategy. Focused instructional activities associated with annotation make the process engaging. Teachers can encourage students to participate in the annotation in new ways that use visual and collaborative strategies.
Illustrated Annotations
Illustrated annotations use images to increase comprehension and understanding. Students create illustrations to represent concepts and elements of literature. Prior to reading the text, the students create a visual representation or symbol for the concept or element of focus for the learning target. When the students annotate the text, they use the illustration they created.
I recently used this strategy to teach Hamlet. Specifically, we focused on the seven elements of Shakespearean tragedies. Before reading the texts, students drew visuals or symbols of each element. Students could choose any illustration that enhanced their learning. Those who were not adept at art could draw a "TF" for tragic flaw. After the students created their illustrations, I selected chunks of the texts for the students to annotate throughout our reading of the play.
The process of creating an illustration helps students synthesize information and increases student engagement and creativity. It makes annotating texts a more hands-on experience and makes their learning meaningful and personal. One challenge with this assignment occurs when students believe they cannot draw, do not have artistic talent, or are not creative. Allowing less artistic students to use symbols or simple drawings also emphasizes the importance of student choice. The purpose of the assignment is to capture the symbolism of concepts, so they can create any marking that represents their perception and understanding of a concept.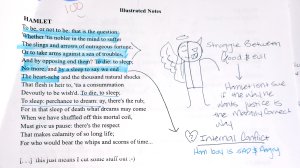 Courtesy of Lauren Gehr
Collaborative Annotations
Another annotation strategy is collaborative annotation, or an annotation on a shared text by multiple students. Students annotate the same text and analyze each person's annotations to find inspiration, discover similarities, or ask questions.
Students were given guided analysis prompts while annotating the text and their peers' responses. During this lesson, the students were instructed to write two extended comments and pose one question per page of text. The next set of students had to do the same, but they could comment on the text or a previous annotation from another student. Each class was able to view and analyze the annotations of their peers from previous classes. At the end, students had a collection of annotations that showed several different processes of reading a text.
This strategy encourages students to close-read a text. Students think critically and have a deeper and more meaningful understanding of the text. Students also collaborate and communicate about a text with their peers by commenting and questioning the marks of others.
Personalizing the Process
Annotation strategies can be differentiated for learners in a single classroom by adjusting the requirements for each reading. Learning targets for the annotation activities can be modified for different learning needs.
Digital applications may be used in several different ways. In order to facilitate collaborative annotations in a digital format, teachers can use Google Docs. Students analyze the same text and leave comments or highlight portions of the text. Students can easily share documents and comment on other students' annotations. For visual annotations, teachers can use graphic tools like Adobe Spark. Students can pull parts of the texts and choose pictures to represent their interpretations.
Teachers in any content area can use these annotation strategies for any texts in the class to emphasize certain themes or to promote literacy in their classes. Creativity and collaboration are crucial to 21st-century learners. When creative annotating strategies facilitate student interaction with a text, the annotation process is a meaningful learning experience and not just a coloring page with meaningless highlights.