Social & Emotional Learning (SEL)
Resources on Learning From Failure
Prevent fear of failure from holding students back by targeting strategies that normalize struggle and help children view mistakes as opportunities.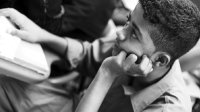 Resources by Topic:
Fostering Growth-Friendly Learning Environments
How to Help Kids Overcome Fear of Failure: Learn about Martin Covington's research on failure, and explore three strategies that can help students overcome their fear of failure. (Greater Good, 2013)
5-Minute Film Festival: Freedom to Fail Forward: Watch a curated video playlist about learning from failure, and consider sharing a few of the videos with students to fuel discussion about failure as a part of the learning process. (Edutopia, 2015)
video
Making Friends With Failure: Understand how to reframe failure by modeling vulnerability, focusing on questions and data instead of mistakes, and teaching children about great stories of failure. (Edutopia, 2013)
Teaching Students to Embrace Mistakes: Understand how changing students mindsets can help them develop a more constructive relationship with errors. (Edutopia, 2014)
Activities That Teach About Mistakes
Examples From Schools That Work
Edutopia's flagship series highlights practices and case studies from K-12 schools and districts that are improving the way students learn. Below, dive into a real-world example from a school district that creates safe havens for innovation and risk-taking.
Learn how teachers at Albemarle County Public Schools redefine failure as a part of learning, and find out how they build physical spaces and cultures that help students learn from errors.