Interest-Based Learning
How to Set Up a Science Fair During the Pandemic
A middle school science teacher preps her students for science fair by exploring their interest in real world issues.
Let's be real: When school started this year, we were all struggling to make it through each day. We looked for ways to balance all the things that needed to be done and maintain sanity in our ever-changing world.
When I started getting questions about the science fair, my first reaction was mild panic. How could we make this happen during a global pandemic with so many of our students learning at home and the ones in the classroom unable to touch the lab equipment?
As I started to investigate how we could manage our science fair this year, I reminded myself that the very heart of learning is the fact that our kids want to address real world problems and either raise awareness or find solutions. We owe it to them to provide opportunities that allow them to be change makers.
Laying the Groundwork
One of the central themes in my classroom is sharing the U.N.'s Sustainable Development Goals with my students. Before I ever mention science fair to my students, we do whole-class lessons around these goals. I ask them what they care about, what concerns them, and what problems they want to solve. Some of the ideas they've come up with in the past include deforestation and loss of animal habitats, lack of recycling and overuse of plastic, overuse of fossil fuels, and lack of access to clean water in some parts of the world.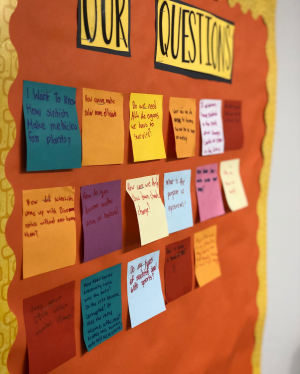 Courtesy of Jodie Deinhammer
Jodie Deinhammer lays the groundwork for science fair by brainstorming with students about problems they're interested in investigating.
Last year we brainstormed together, writing ideas like these on sticky notes in the classroom. This year, we'll use Padlet or Whiteboard.fi so that both in-person and remote students can collaborate.
Once we've discussed the problems, we brainstorm potential solutions together. I typically ask students to develop a question that starts with "How can we…" They write a reflection on this activity and consider realistic ways they could take action.
I read their reflections, and we use some of the topics they discussed as driving questions:
How can we ensure that everyone has access to clean and safe drinking water?
How can we provide vaccinations to all people in need?
How can we decrease the amount of pollution in our community?
How can we slow the rate of deforestation in our world?
Using the "How can we…" format helps students feel ownership of their learning—they are empowered to take action and feel engaged with a global community. Together, we take these questions and consider how we could design a solution. Could we prototype a model of an invention to solve or address the problem? Could we run an experiment to test out an idea we might have? Could we participate in a citizen science activity to learn more?
Up to this point, I have not even mentioned science fair—this work is not solely for science fair. My goal is to inspire students to want their voices to be heard, to feel confident that they have something worthy of investigating and that their work can make a difference. I want them to feel driven and passionate about their topic.
Prepping for the Science Fair
It's about at this point that I typically bring up the idea of science fair. I launch the concept by asking students, "Who is ready to take this to the next level?" On my campus, participating in science fair is encouraged but not mandatory. Under this voluntary system, we've had three state finalists and a Broadcom Master finalist, and a seventh grader won Grand Prize at the Dallas Regional Science and Engineering Fair. I believe this shows the power of ownership, student voice, and engagement, as well as the importance of connecting students to a global community.
In my experience, when a teacher starts the process by saying, "We're going to do science fair," the kids Google "science fair experiments" and end up with 50 experiments on how light color or music alters plant growth. When we challenge them to think differently, we get "How can we ensure that every person receives vaccines safely and efficiently?" or "How can we decrease the amount of car exhaust chemicals in order to improve human health?" Connecting students to real world problems lets them know they are powerful, that you believe in them, that they can make a difference.
Tips for Success
Promote your fair: All of our science teachers share information about our science fair with their classes, and we really encourage students to participate.
Give students structure: To provide structure and scaffolding to science fair projects, I created a template for students to use to work through the project.
Check in regularly: I set three check-in points for my students. Last year, I met them in person, but this year students are emailing me, and I will offer Zoom office hours as we get closer to our campus fair deadline. I ask students questions like how their research is going, if their experiment is planned out, how much progress they've made with data collection, and what questions they have.
Create a visual road map: I give students clear steps, a timeline, and encouragement as they progress through a visual road map of completion.
Set up your fair: Normally science fair is a room full of tri-fold boards, sometimes stacked three high. Since this year's fair is virtual, students will have to be creative with digital tools. Our campus will have students develop their visual presentation on Keynote or Google Slides using a template that mimics a standard tri-fold board format. When it comes time to deliver their presentations, students will be able to use FlipGrid. This will give them an opportunity to get their presentation just right and feel confident in what they publish and share with the judges, and FlipGrid also gives judges a way to provide feedback quickly and efficiently.