Education Equity
How to Audit Your Classroom Library for Diversity
A bingo card can tell teachers a lot about the people and genres that are represented in their class library—and the ones that are missing.
We know that representation matters, that in order for our classrooms to be spaces where everyone is affirmed and included, young people must see themselves and their lived experiences in our curricula. Do our classroom libraries reflect this knowledge? Bookshelves offer a powerful litmus test of the experiences and identities we honor and include in our classrooms.
Books as Windows and Mirrors
What happens to students' self-efficacy and self-concept when they see their lives positively reflected in the curriculum? Even very young children recognize the importance and delight in finding themselves in a book:
"She's from Pakistan, just like me."
"He has dark skin like mine."
"I'm adopted, too."
"Look, that main character uses a wheelchair like mine."
Books become transformative when they shift our perspectives, alter our worldviews, and deepen our relationships with others. Let's implement practices that make reading from many different experiences, worldviews, and cultures part of the social fabric of our schools.
To build on this idea, I created a simple bingo card that educators complete with book titles. I hoped it would challenge teacher groups to think more critically about representation and diversity in their classroom libraries and foster new conversations about reading. It did that and more.
The Bookshelf Equity Audit
A key objective of this exercise is to foster school conversations about the books we read and teach. I have used this activity in professional development workshops. I think it also has the potential to be used as a faculty or school-wide reading challenge.
Rules of the exercise: Everyone needs their own bingo card (there's a downloadable pdf below). While you may be tempted to start with the books you teach, resist that and start instead with the books you read. Like friendship, literature is a powerful entry point for exposure to diverse experiences. What and whom we read matters.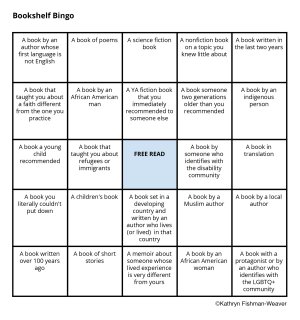 What does your bookshelf equity audit reveal?
Round 1: Using a black pen, fill out the bingo card with books you have recently read, putting one title in each box. You can start with classic bingo, looking for five in a row, but consider eventually challenging yourself to complete the whole card. Filling it out will likely be more difficult than you expected.
Round 2: Using blue ink, continue filling out the bingo card with books you have recently taught. This means you could have two titles in each box: one for a book you have recently read and another for a book you have recently taught. It's very rare that someone can fill out the bingo card so completely.
Teachers often have one or two books in their curricula that fit several of the categories on the card, but each title can appear only once.
Card for the Bookshelf Equity Audit
Round 3: Once we start listing titles, we can see more clearly what we're missing. Get up and talk to your peers about books. Write down new recommendations for the empty squares on your card in red ink, and make sure to read them.
The bingo exercise reveals some gaps in our reading and teaching, but it also shows us that collectively we have the resources and knowledge to start addressing these gaps. What if a copy of the book that might change your teaching practice is already waiting for you in the classroom down the hall?
Takeaways
Teachers have frequently told me that this activity taught them to pay attention to the lived experiences of the authors they read and teach. Considering background information and author positionality is a valuable close reading strategy that supports us in our work of showing students that their stories matter.
Many teachers have found that until they took a true audit of what they were reading and teaching, they tended to overestimate the number of books by and about people of color on their shelves.
As expected, the exercise reveals our reading preferences, as well as the fact that many of us don't read as much as we would like. While it's OK to have preferences, it's important to be aware of the gaps in our understanding and to actively try to address them. This requires reading outside of our cultural or genre comfort zone, which is why the third round is essential—it requires us to talk about books, to seek suggestions from our peers, to ask young children and folks two generations older than us for book recommendations. It affirms that reading can be a social journey, and I've found these conversations to be incredibly helpful.
The bingo card is a call to pay attention to who we are reading, who we are teaching, who is represented, who is missing, and why.
As we read more broadly and talk about books more intentionally, we're able to shine light on more experiences. We can begin to increase representation in our classrooms in ways that tell young people that many experiences matter, representation matters, and most importantly, they matter.
Here are four book lists to start expanding representation on your classroom bookshelf: