Game-Based Learning
Games Can Have a Powerful Impact on Learning
A conversation between the writers of two new books on using games across the curriculum to promote social and emotional learning and civics skills.
For educators, it's always nice to find like-minded colleagues who also study similar topics. For me, one of those people is Karen (Kat) Schrier, who like me is interested in using games to support learning.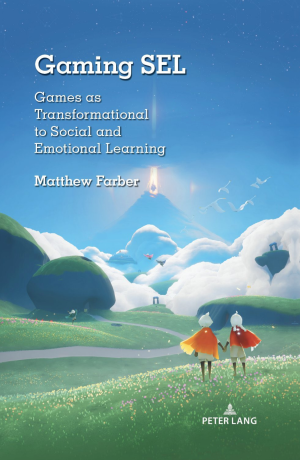 As it happens, both Schrier and I have new books out on that topic. Mine, titled Gaming SEL: Games as Transformational to Social and Emotional Learning, builds on a publication I co-authored on leveraging technology for social and emotional learning programs. I map games like Kind Words, Awkward Moments, Florence, and Walden, a game, to SEL competencies.
Schrier's new book, We the Gamers: How Games Teach Ethics and Civics, shares best practices for using games to teach ethics and civics skills, such as communication, critical thinking, empathy, and reflection. She connects games to civics and ethics frameworks and standards, and discusses board, card, and video games, like Minecraft, Executive Command, Fortnite, When Rivers Were Trails, PolitiCraft, Quandary, Civics! An American Musical, and Animal Crossing: New Horizons.
We hope our books guide teachers to make the most out of games, whether learning is in person or remote, and that they use them wisely, compassionately, and thoughtfully. Recently, Schrier and I spoke about these opportunities, as well as interesting findings from our books.
FARBER: With thoughtful guidance, games can help children manage emotions, demonstrate empathic concern, and exhibit prosocial behaviors—games can be effective as a practice space to cultivate these skills. I discovered that there was no book for teachers on how to integrate games to teach SEL through the curriculum, which was why I wrote mine. What brought you to write your book, and why now?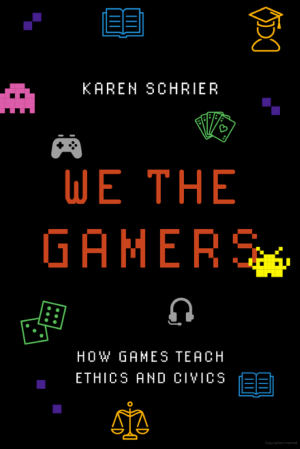 SCHRIER: The topic of my book—how to use games to teach ethics and civics—has been percolating in my head for 15 years because I think these skills are so important to teach. They should be practiced in K–12, but they're also lifelong skills.
The topic has always been timely, but I think the past couple of years have shown us that ethics and civics skills are absolutely necessary. The world is grappling with multiple crises—a global pandemic, systemic racism, climate change. We need people who can work together to solve the pressing problems of our time. And we need to teach our students how to solve these types of problems wisely, ethically, equitably, and compassionately. How can we repair and restore our world? I think it is as timely as it gets to be teaching these kinds of skills, and what better way to teach them than through games?
A major part of my book is showing teachers how to use games in the classroom effectively and equitably. Another aspect of the book is to show how kids are already engaging in civics through games—they're communicating, sharing, problem-solving, and designing. Playing is a form of civic engagement!
FARBER: There are many ways students can play games for learning: in teams—like in educational escape room games—individually, or as a whole class. In each of these approaches, games can be viewed as a shared experience. In my book, I compare good video game experiences to learning that takes place on field trips. How do you see games in classrooms as an opening to a conversation or discussion?
SCHRIER: I think that's a great way of putting it, that games are an opening to a conversation. It's not like, "Here, just play a game and you'll learn!" The game is part of the journey, but there's so much more than that. A teacher can use activities around the game, with the game, or through the game, and students can continue to discuss, deliberate, and apply the learning beyond the game.
For instance, we can use the game When Rivers Were Trails in the classroom to better understand and discuss Indigenous perspectives on history, land, and cultural practices. The game is based on the Anishinaabeg (the Anishinaabe peoples) and follows the player as they are displaced from their lands during the Allotment Act era of the 1890s. Players can explore the land and interact with other characters. Teachers can use the game as a starting point for discussing Indigenous cultural practices, or for having students express their own cultural practices.
Likewise, take a game like Mission US [Schrier is on the Mission US advisory board]. In the first module, you play as a printer's apprentice in Revolutionary Era Boston, and you have a moment there where you come across an incident that we commonly call the Boston Massacre. But as a player of the game, you see a unique series of randomized perspectives of that incident. And everybody in your class actually sees a different set of perspectives of that incident.
The teacher can then facilitate a discussion as to why you each see different perspectives on this moment and how those differing perspectives may lead to differing interpretations of the Boston Massacre. The class begins to realize that history is not just one person's account or one interpretation of the past—there could be multiple interpretations of an event. The teacher can then also help students apply that to a current event or something that might have happened that day in school. Practicing these discussion and interpretation skills contributes to our understanding of civic problems and ethical dilemmas, and helps us become critical, ethical thinkers. The game is just a start to that conversation.
FARBER: Both you and I are advisory board members for Quandary, and the game is featured in both of our books. Published by the nonprofit Learning Games Network, it presents players with a series of thought experiments—dilemmas that do not have concrete solutions. It's designed for middle school and features lesson plans for Earth science and geography, history and social studies, and English language arts. How does Quandary teach ethics and perspective-taking?
SCHRIER: What I really like about Quandary is that what is valued is not getting to a so-called "right answer," but rather how you use evidence and input from citizens to create a possible solution. Two students could arrive at the same solution, but they may use evidence differently. The game supports the practice of civics and ethics skills because you need to analyze evidence and perspectives and build an argument. It breaks down the steps that you might take to solve a real-world civics or ethics problem.
Quandary allows players to inhabit a new, fantastical world and think about the civic decisions we might make in it. Players are citizens in a fictional society on a new planet and need to think through the different decisions that this new society is facing. We have to solicit input from fellow citizens, weigh the pros and cons of different perspectives, and think through possible choices and consequences to make the best decisions. Teachers can also have students apply those skills to real issues in our society.