Flexible Classrooms
Funding Your Flexible Classroom
Finding grants is hit or miss, so many teachers are using these techniques to raise money through crowdfunding.
Flexible classrooms are growing more popular as workplace design is inspiring teachers to reimagine their environments. Flexibility encourages agency, experts say—allowing students to choose independent or group seating setups that they feel best support their learning.
To cover the costs of remaking their rooms, teachers look for grants, and many dig into their own pockets. But a newer option is also generating a lot of the funding: Crowdfunding via online platforms allows teachers to raise money by asking their friends and families—and sometimes their students' families—to donate. (You should check with your school administration or district business officer before starting a crowdfunding campaign, as there may be policies to follow about this type of fundraising.)
"Flexible seating fundraising pages are becoming more popular as educators are finding alternative seating options for their students make a big impact," says Andyshea Saberioon, CEO and co-founder of the crowdfunding platform PledgeCents.
We spoke with PledgeCents and DonorsChoose.org, and with teachers who've had success on those platforms, to bring you the lowdown on how to fund your room makeover.
Crowdfunding Platforms
DonorsChoose.org is the most popular crowdfunding site among teachers we spoke to. The site funds projects for K–12 public schools, including magnet, charter, and Head Start schools.
Creating a project on the site is the easy part—what you really want is to make sure you meet your goal. If your project isn't fully funded, donations are credited back to the donors, who can either put that money toward another project or apply it to your next project. It's a good idea to start small: 90 percent of projects under $200 are funded, but only 43 percent of projects over $1,000 are. (Overall, 70 percent of projects meet their funding goals.)
To increase your visibility, ask to have your project added to a Community giving page. Members create a Community page—with a group of thematically related projects—and promote those projects on Facebook to encourage donations. Southern Hospitality, for example, supports projects from high-poverty schools in the South. Find a Community that matches your project and message the Facebook page to add your project to their list.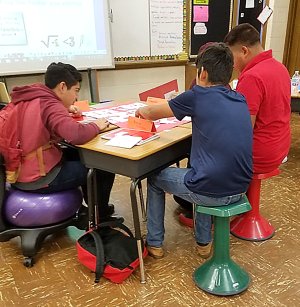 Courtesy of Ms. Padget
A high school math teacher at a Title 1 school raised $478, funding two Gaiam balance ball chairs and four Learniture active learning stools through her DonorsChoose.org project.
If you're creating your first DonorsChoose.org campaign, you can use the Teacher Friends & Family Code. For the first week of your project, each donation will be matched dollar for dollar—up to $50—when donors enter your code upon checkout. You can also apply for match offers, in which businesses and organizations will match your donations dollar for dollar.
PledgeCents serves all pre-K–12 schools, including private schools. It's similar to DonorsChoose.org—both sites run on donations—but with PledgeCents you can receive all money raised by your deadline or extend your campaign if you don't meet your funding goal.
PledgeCents has contests in which campaigns that raise the most funds within certain time frames win additional money. You can also earn money for your campaign through PledgeCents' referral programs. For example, you'll get $1 for every teacher who signs up on PledgeCents through your referral code.
When you're prepping a PledgeCents campaign, plan to include a photo of your room and a short video—somewhere around 90 seconds to two and a half minutes. The site says that including a video increases donations by 20 to 25 percent. "Videos yield the quickest and highest contributions because they allow for people who visit the page to have an emotional connection by hearing the teacher's and students' voices and hearing them explain why their need is so important," says Saberioon.
The average flexible seating campaign raises $300, and the company says PledgeCents campaigns under $500 are fully funded more often than not. "Just like other sites," says Saberioon, "we have fundraising pages with goals under $500 that raise $0 and pages with goals over $1,000 that exceed their goal. So it's not really about the goal itself. It's about the people who are leading the fundraising initiative and how descriptive they are on their page and how much they are able to get others to share their page to raise awareness."
To date, 28,486 flexible seating projects have been created on DonorsChoose.org, and 19,772 have been fully funded, for a total of nearly $12 million. On PledgeCents, over $25,000 has been raised for flexible seating. (DonorsChoose.org started in 2000, PledgeCents in 2014.)
Build a Narrative
Storytelling is important no matter what crowdfunding platform you choose, so we also asked the sites and teachers about that.
Create an outcome-focused title, recommends Chris Pearsall, vice president of brand and communications at DonorsChoose.org. Instead of listing what you need in the title—"We need bouncy ball chairs"—use the reason for your need—"We need to fidget to focus," he says.
Be transparent, advises Saberioon. List the cost of each item you're asking for: If your donors know that a beanbag chair costs $25, they'll be more likely to donate at least that much, rather than a smaller amount.
Detail makes a difference. Instead of saying, "We need dictionaries," one teacher wrote on their DonorsChoose.org project, "We don't have dictionaries, so my students can't look up definitions of words they don't understand when they are reading. Instead of being resourceful, my students get frustrated."
Quantify donors' impact. Make it clear to potential donors how many students will be impacted by their donation and for what length of time.
Share, Share, Share
Teachers we spoke with advise you to ask your colleagues, friends, family, students, and their parents to share your crowdfunding campaign on their Facebook pages—though DonorsChooose.org does not advise teachers to ask their students' parents for donations.
"My friends, former students, and relatives follow me on Facebook. When they're given an opportunity to help out, they always rise to the occasion," says Nancy Barile, a 12th-grade teacher in Massachusetts. "Each time I post a project, I'm always shocked at how many former students give. I really shouldn't be surprised; these students remember what it was like to be in my classroom​ ​and to benefit from DonorsChoose.org—and now they're paying it forward."
Writing emails is also effective—a personal request goes a long way. Write email templates for your friends and family, and customize them for each person. One teacher recommends sending three emails per person—one when your campaign launches, another at the midway point, and the last when your campaign is close to ending—to maximize the chance of getting a donation from each person. Some may intend to donate or share after the first email but then forget, so the other emails can spur them to act.
Crowdfunding as a Title 1 Teacher
Many teachers share their crowdfunding page in their class newsletter to reach students' parents. Title 1 teachers generally don't have that luxury. Without the financial support of students' parents, many teachers from high-poverty schools think that crowdfunding pages are out of the question.
But about 25 percent of flexible seating campaigns on PledgeCents are from Title 1 teachers. And on DonorsChoose.org, "two-thirds of flexible seating projects come from Title 1 schools," says Ombeline Picquet, manager of brand partnerships and campaigns.
"We don't encourage teachers to ask their students' parents for donations," continues Picquet. But you can have success as a Title 1 teacher, he says—three-quarters of projects on DonorsChoose.org are funded by donors the teachers don't know—often corporations or people visiting the site to support public education.