Teaching Strategies
13 Free Teacher Downloads for Back to School
All of Edutopia's downloadable and printable back-to-school resources are collected here for easy classroom reference.
August 1, 2014
Updated August 1, 2016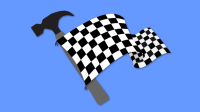 Click on any link below to view or download that file. Tips for downloading: PDF files can be viewed on a wide variety of platforms -- both as a browser plug-in or a stand-alone application -- with Adobe's free Acrobat Reader program. Click here to download the latest version of Adobe Reader.
Become a Transformational Teacher
Plan Inspiring Lessons
Sponge Activities: Sometimes even well-planned lessons fail. Download this list of sponge activities to help you cope with the unexpected and re-engage your students. Learn more about how to put rough days in perspective and recalibrate in the associated post: "Academic Sponge Activities."
Implement Assessment Strategies
Redesign Your Classroom Space
Establish a Positive Community
Support Diverse Learners