Flexible Classrooms
Flexible Classrooms: Assembly Required
Seating, storage, lighting, and tables—we cover what you need, where to get it, and how much it costs.
In a flexible classroom, every area can become a learning space for students. A bookshelf becomes a standing work station, a beanbag transforms into a reading corner, and whiteboard paint turns any surface into a writing opportunity. These classrooms allow students to choose, or to create, the spaces they need to succeed—helping them understand themselves better as learners while building 21st-century skills like collaboration, communication, and creativity.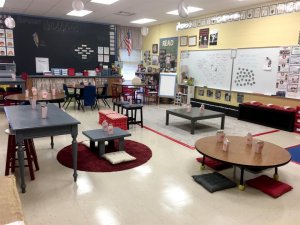 Courtesy of Amy Mileham
Fourth-grade teacher Amy Mileham went the DIY route, repainting tables, creating crate seats, and turning pillows into floor seating.
"When preparing kids for the real world, we want students' learning environment to reflect the environment of the real world," said Manuel Herrera, a district tech coordinator for the Affton School District in Missouri, who reflected on the parallel shifts taking place in workplaces. "This isn't a fad. I think it will eventually evolve into the way all classrooms look."
And it's not just contrarianism. While research on flexible seating is limited, it's clear that learning environments can have a direct impact on student behavior and achievement.
A 2012 study from the University of Minnesota found that students participated 48 percent more in discussions in a classroom with collaborative group seating versus traditional lecture-style seating, and also improved their performance on standardized tests. Meanwhile, in the United Kingdom, a recent study of the design principles of 153 primary classrooms concluded that "differences in the physical characteristics of classrooms explain 16 percent of the variation in learning progress over a year," and that "ownership and flexibility"—the ability to adapt the surroundings to individual student preferences—accounted for a quarter of that difference.
But simply changing your classroom design by adding comfortable chairs and color-coordinated throw rugs won't do the trick. 
"We can't just change the way a classroom looks and expect that to be a part of student learning," said Herrera. "We really have to change the way we teach if we want them to change the way they learn."
To get you started, we've reviewed dozens of flexible classroom blogs, interviewed over 20 teachers with experience in flexible seating, and talked to education design consultants about the core building blocks of flexible classrooms.
Seating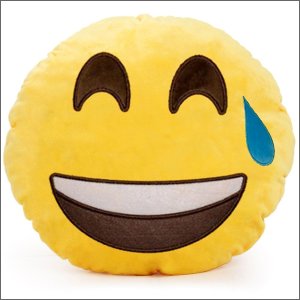 ©amazon.com
Just one of the emoji pillow options to choose from.
To change the seating in your own classroom, teachers recommend adding rugs, yoga mats (Walmart, $5), lounge pillows (Target, $15), and floor pillows—and especially emoji pillows at lower grade levels (Amazon, $5 to $9)—to turn any floor space into a seat. In addition to making classrooms feel more comfortable and less institutionalized, throw rugs are helpful for creating learning zones, from reading nooks to areas for the direct instruction of younger students. Carpet and design stores sometimes give away out-of-stock carpet squares, which can be moved easily and turn any floor space into a seat—some teachers even use them for makeshift outdoor seating.
Versatile, affordable beanbag chairs (Walmart, $25) enable kids to move anywhere in the room, and when coupled with a book, lap desk (Amazon, $15), or clipboard (Office Supply, $1), they make great seating for low tables, say teachers. A note of caution: Beanbags flatten with use, especially with older students, and will need to be refilled. Bath rugs (Amazon, $15), kneeling pads (Dollar Store, $1), and stability cushions (Walmart, $20) are other favorites for low-table seating.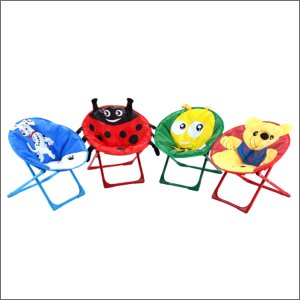 @walmart.com
This set of animal chairs is $40 at Walmart.
Cost-effective stacking stools (Ikea, $5) are in demand due to their price and space saving capabilities—they stack on top of each other, making them easy to store, as are camp chairs (Walmart, $10), which are portable and collapsible. Elementary school teachers are especially fond of camp chairs with animal images on them (Walmart, $40).
There are also a variety of seating options aimed at helping even your most fidgety students stay still.
©amazon.com
Hokki stools make sitting active by allowing students to rock and twist without distracting others.
Many teachers swear by Hokki stools (Amazon, $108 to $130), or the cheaper Kore Patented Wobble Chair (Amazon, $50 to $80). These options allow students with attention-deficit hyperactivity disorder, for example, to rock and twist while remaining seated. Scoop chairs (Walmart, $49 for six)—miniature portable rocking chairs—and yoga or balance balls (Amazon, $15), which also come with legs or as chairs, are ubiquitous in flexible environments and also provide outlets for students' restless energy.  
Other hacks we saw? To help calm kids without changing your existing seating, fidget bands (Amazon, $17) are a widely used, low-cost alternative that allow students to bounce or stretch their legs while sitting at a more traditional desk or chair. You can even make your own with TheraBands (Amazon, $12). To convert immobile seating or table options, teachers used castors (Amazon, $16) or added wheels to furniture. 
Tables and Writing Surfaces
Although tables aren't very sexy, their height does impact learning. 
"Low-level seating, chair seating, and bar-height seating all unlock different types of collaboration and thinking," says Jane Zhang, a design researcher, former educator, and co-founder of room2learn, a school design consultant company.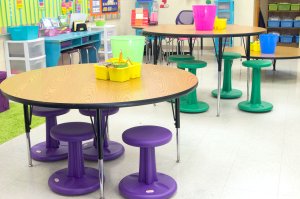 Courtesy of Ashley Rice Broomfield
First-grade teacher Ashley Rice Broomfield uses different table heights to cater to her students' preferences.
For low seating, most educators get coffee tables donated from friends and family, or find them at garage sales or thrift stores. A common hack: Teachers take cheap tables to their maintenance department and have them cut and lower the legs. For bar-height seating or standing stations, bar tables (Displays2Go, $63) are popular. Some teachers repurpose existing furniture into standing work stations, clearing the tops of bookshelves, for example, or raising the height of desks and tables by adding bed risers (Amazon, $15 for four).
©George Patterson Associates, Inc. 2017/displays2go.com
Bar tables work great as standing work stations.
Other teachers turn everything into writable surfaces: desks, tables, doors, cabinets, windows, and walls can all be written on. While that might feel like too radical a first step, multiple writing surfaces spaced throughout the classroom encourages learning and experimenting throughout the entire space, and undermines the traditional notion of the front of the class as the center of learning.
If your desks and tables have high-pressure laminate surfaces, they already may be writable. If not, you can use dry erase paint to turn any surface into a space for students to show their thinking (see how here).
To create an 8 foot x 16 foot whiteboard wall, Herrera used four 4 foot x 8 foot shower boards (Lowes, $13 each) and industrial strength Velcro (Home Depot, $29). Ed Campos, a former California high school math and technology teacher, used 2 foot x 3 foot dry erase sheets (Amazon, $57 for a pack of 25), taping them to the walls with painters tape. 
"It blew my mind to see how much student engagement and perseverance increased and how much less anxiety I started to see in the classroom, especially as a math classroom," Campos said.
Lighting and Ambience
While creating new spaces for sitting and working is important for any flexible classroom, small, personal touches like lighting and paint can enhance your classroom too—and even improve learning.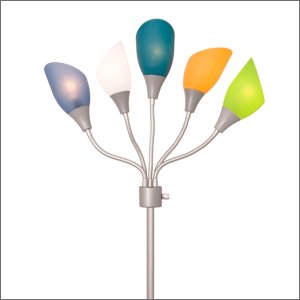 ©amazon.com
To create a more comfortable space, many teachers use lamps instead of harsh fluorescent lighting.
Research has found, for example, that students who are exposed to more daylight perform better on math and reading tests. Many teachers in flexible classrooms don't use fluorescent lights, and if they do, they cover them with light filters (Amazon, $30), according to our findings. Instead, natural light coupled with desk, table, and floor lamps (Amazon, $80)—as well as hanging lights—is optimal.
Fluorescent lights can interrupt learning for some students, according to Rebecca Malmquist, a high school English teacher, who says she favors LED bulbs in lamps.
"I once worked with a student who could actually hear the fluorescent lights, and it stressed him out enough to be both irritable and antisocial, so his schooling suffered," she said. "As a result, I never turn on fluorescent lights in my classroom."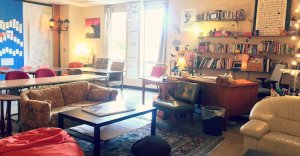 Courtesy of Rebecca Malmquist
High school English teacher Rebecca Malmquist combines natural lighting with lamps to create a warm, inviting environment.
Teachers have also found that painting walls—if the school allows it—or using decorations can help cordon off a space in a room and make it feel more homey. Hardware stores typically sell full gallons of paint that have been returned by customers—if it's the wrong color, for example—at half-price.
Storage and Clutter
Keeping a classroom neat can be an ongoing struggle for teachers, especially once traditional desks (and their storage) go away.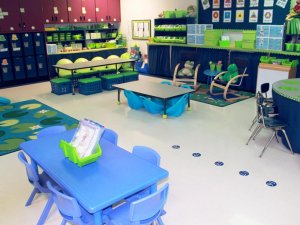 Courtesy of Benita Kay Moyers
In addition to having bins and drawers along the walls, kindergarten teacher Benita Kay Moyers stores supplies in portable bins and uses crate seating as storage, all popular flexible classroom options.
Luckily, clear, stackable drawers—like Sterilite three-drawer units (Amazon, $41), Iris stacking drawers (Target, $41), and Iris 10-drawer rolling carts (Target, $50)—help keep rooms tidy. Because they're stackable, teachers can add more drawers as needed. Kayla Delzer, a third-grade teacher, suggested placing the storage units throughout the classroom so students don't congregate in one area trying to get at the supplies.
Hanging door organizers—from shoe racks (Walmart, $10) to file racks (Amazon, $25)—are also in wide use for storing class supplies and papers, and teachers even use an item called chair pockets (The Chair Pocket Factory, $8 to $10) to manage clutter. But few options compete with simple cardboard magazine holders (Walmart, $16) for holding student work and supplies once desks are no longer an option.
©gitadini.com
The Otto storage stool can be used as a chair, a writing surface, and a storage bin.
Some storage serves a dual purpose. Otto storage stools (Gitadini, $30) and crates (Target, $4) can be turned into seats with built-in storage. And the act of organizing and storing itself can help foster student initiative and independence, according to Mikala Streeter, lead teacher, principal, and founder of The Life School, a high school in Atlanta.
"It's important that students know where to find the materials they need to pursue projects and ideas independently without waiting for an adult," she said.