Environmental Education
Developing Disciplinary Literacy by Exploring Biodiversity on Campus
Taking campus walks and having students plant pollinator gardens are great ways to expose them to concepts related to biodiversity.
It is commonplace for science and social studies instruction to take a back seat to reading and math in the elementary grades, which means students may miss out on the opportunity to develop disciplinary literacy in those areas. However, students in early grades can benefit from a focus on more complex topics such as biodiversity. Meaningful experiential learning can introduce students to more complex topics and vocabulary before they reach high school age.
Students who receive explicit comprehensive text instruction prior to high school have more success handling the material later in their coursework. Science curriculum can be artfully combined with nature study so that students gain disciplinary knowledge through reading and use their inquiry-based experiences as a basis for meaningful writing and math applications.
Biodiversity is a critical topic, represented in both Next Generation Science Standards and The Global Goals adopted by the United Nations in 2015. However, it is often not explicitly taught until middle grades or beyond. One way to introduce the idea of biodiversity to younger learners is to explore the relationships between biodiversity, native plants, and pollinators through project and project-based learning (PBL) opportunities. The application of both inquiry and PBL promote engagement and also encourage the application of 21st-century skills like collaboration, innovation, and problem-solving that are integral for student success.
Benefits of Outdoor PBL
PBL that is focused on outdoor, experiential learning will continue to pay dividends long after elementary school. Children who have frequent and direct experiences with nature are more likely to display affective attitudes toward local biodiversity. The goal for this PBL is not only for students to better understand concepts related to maintaining biodiversity but also what they can do to reestablish it. There is a positive relationship between environmentally responsible behaviors and one's connectedness to nature regardless of age, ethnicity, socioeconomic status, or political orientation.
Children who are given opportunities to increase their knowledge and skills to solve environmental problems are more likely to express interest in environmentally friendly practices and promote pro-environmental actions. The suggestions that follow help students build their knowledge about biodiversity and offer outdoor learning experiences to help them find authentic purposes for their knowledge.
Exploring the school and its environment
If your campus has green space, take your students on a hike, and have them document the plants and pollinators that already exist there in a student-created journal. A digital option is to engage your students as citizen scientists where they explore biodiversity through webcams like those offered by the The Cornell Lab of Ornithology.
Going further: Students can take their hike a step further by combining what they learned from journaling with a more formal method of examining the biodiversity present on campus using quadrat sampling. This could also be paired with a design challenge, tasking students to create a suitable device for taking the sample with the size and material constraints you provide.
You can also use phenology as a lens for biodiversity. Time your exploration of biodiversity on or around campus with the changing of the seasons to help them gain perspective on how things change on campus throughout the year. Students who are using webcams to monitor biodiversity remotely can also track how the species change with the seasons.
Gardening as a PBL experience
Garden-based learning allows students to engage with their environment by exploring and manipulating the soil, worms, seeds, and plants. For example, students can create a student-designed native plant pollinator garden, where they can use seed and plant catalogs or the National Wildlife Federation's native plant finder tool to choose native plants that will attract pollinators, increasing the biodiversity on your campus.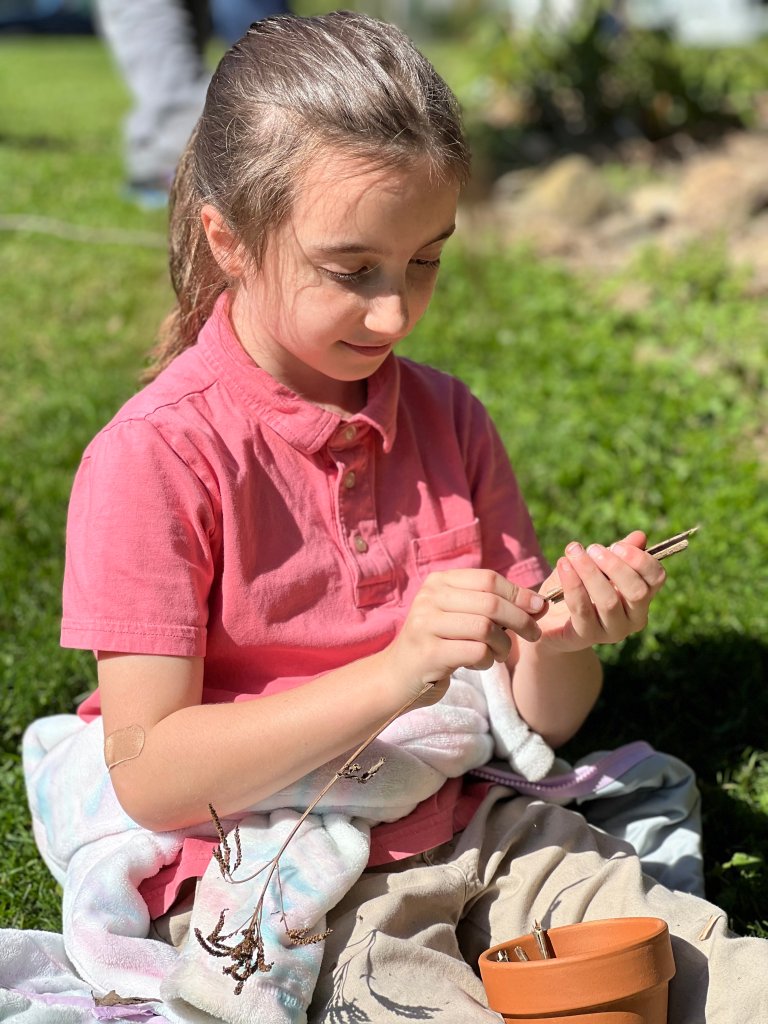 Courtesy of Stephanie McLean
Limited green space? No worries! Container gardening can support pollinators and adds an extra challenge, as your students will need to search for plants that thrive in containers. Containers or garden boxes are a perfect solution for rooftop gardening in urban areas. Students can participate in citizen science using the iNaturalist app once the containers begin to attract pollinators and other insects.
You can get started on these gardens quickly. Gardening doesn't need to wait for warmer weather. Guide your students to find plants they can start before your planting season begins. Students can upcycle milk jugs to start native plants that require cold stratification and benefit from winter sowing.
Go further: There are a variety of ways to integrate research into PBL experiences. For example, students can participate in a habitat design challenge, where they expand on their pollinator garden proposals by incorporating food sources, nesting materials, and nesting sites to support a diverse pollinator population. You can make this an authentic experience by bringing in an expert, such as a local representative from your soil and water conservation district to evaluate your students' pollinator garden proposals.
Students can also conduct research to make meaningful connections between different projects. For example, students can use their understanding of phenology to select plants that will support pollinators across multiple seasons. Doing this kind of research can help make the pollinator garden a reality. Through PBL, elementary students can explore more complex content, like biodiversity, while building a solid foundation for future learning through the disciplinary literacy they acquire along the way.
Online resources like ReadWorks, Epic, and Ology, a section of the American Museum of Natural History's website designed for kids, all offer rich, expository texts that can assist students with their research.
If the approach used for investigating these types of topics is purposefully and carefully chosen, it can also drive real content integration, allowing educators to make the most of their instructional minutes. Furthermore, lessons that combine inquiry, outdoor learning, and real-world problem-solving will help students be better prepared to tackle the environmental challenges their generation will face in the future.