Administration & Leadership
Developing an Experiential Learning Program
A Vermont school program connected to local trades shows how experiential learning can boost engagement for middle and high school students.
Experiential learning, or "building knowledge by doing," is a powerful way to connect students to curricular content as well as their local and global communities through projects and experiences that carry their work beyond the classroom. By positioning students as constructors of knowledge—as practicing scientists, authors, investigators, and mathematicians—and by giving them opportunities to combine cross-disciplinary skill sets and communicate with real-world audiences, educators can deepen engagement and make learning relevant.
Such an approach is no small task. It requires an intentional, well-prepared teacher and, ideally, a school leader dedicated to making this type of learning possible—especially because a holistic approach to experiential learning is not limited to a unit but spread across grades and subjects, requiring collaboration and coordination.
To better understand what it takes to support this work as a school leader, I spoke with David Schilling, named 2022–23 Vermont Principal of the Year by the National Association of Secondary School Principals. Having steered Danville School, a small, rural pre-K through 12 school in Vermont, through the adoption and implementation of experiential learning programs, he has deep insight into targeting a broad developmental range in such endeavors—and an attunement to empowering teachers to share their passions with young people. He has recently changed schools to oversee career and technical education at the Lyndon Institute, a secondary school in Vermont.
In speaking with me, Schilling shared stories from his practice, his vision for facilitating experiential learning across grade levels (at the time of our conversation, Danville was beginning the approach in sixth grade and continuing it through 12th), and strategies for teachers and school leaders new to this type of learning.
BRITTANY COLLINS: How did you get started with experiential learning?
DAVID SCHILLING: My background is in outdoor education. Eventually, I wanted to do something more full time and work with students in a more rigorous way, and I began teaching at the Cabot School in Vermont's Northeast Kingdom, which connected a regional technical center to a small high school—I was hired to teach "pre-tech."
I took pre-tech to mean modeling how academics intersect with the professional world, so my kids started a coffee shop on campus. We painted the walls. We went out and did a lot of research into what a successful coffee shop looks like, what an effective business model looks like. It was a hit for several years and established its own identity at the school. That was my nontraditional start in public education.
At Danville, the introductory pre-tech class does a cider-making project that applies similar pedagogies. They're participating in a "gleaning" project—picking up apple drops from different orchards. They press the drops here at school, and then they take the cider to a center a few towns over that provides commercial kitchen and packaging facilities for start-up, food-based entrepreneurship. They pasteurize and bottle the cider, and then they come back and sell it at community events throughout the year.
To me, that's huge. They produce a product, put it on the market—actually use the tools that professionals would use to do it. From that cider unit, we can integrate a tremendous amount of science content. We can add the history of apples and agriculture in our state. There's so much we can pull into it.
COLLINS: How did you ramp up the experiential learning work at Danville?
SCHILLING: In our region, tech centers mostly host students in 11th and 12th grade. The challenge is that kids have to get through very traditional ninth- and 10th-grade years before they can go do what they've been wanting to do since sixth or seventh grade.
My vision was that we bridge that gap: We have kids who are doing an outdoor leadership program in the afternoon, who are doing an integrated trade studies program in the morning, and are still building proficiency toward high school completion but in a way that makes sense to them.
Those students, when they get into 11th and 12th grade, can be successful going into a trades field and can really jump into the regional tech center system, be excited about being there, and be strong candidates for the many skilled trades positions that are open and necessary right now in our world.
We instituted middle school independent study programs to start students young. We've turned a closet into a school store, and a very excited group of middle schoolers will start managing that next year. Our morning pre-tech program for ninth- and 10th-grade students will be co-taught by our building trades teacher and our outdoor learning instructor. And then in the afternoon, we'll continue with our science of outdoor adventure recreation class.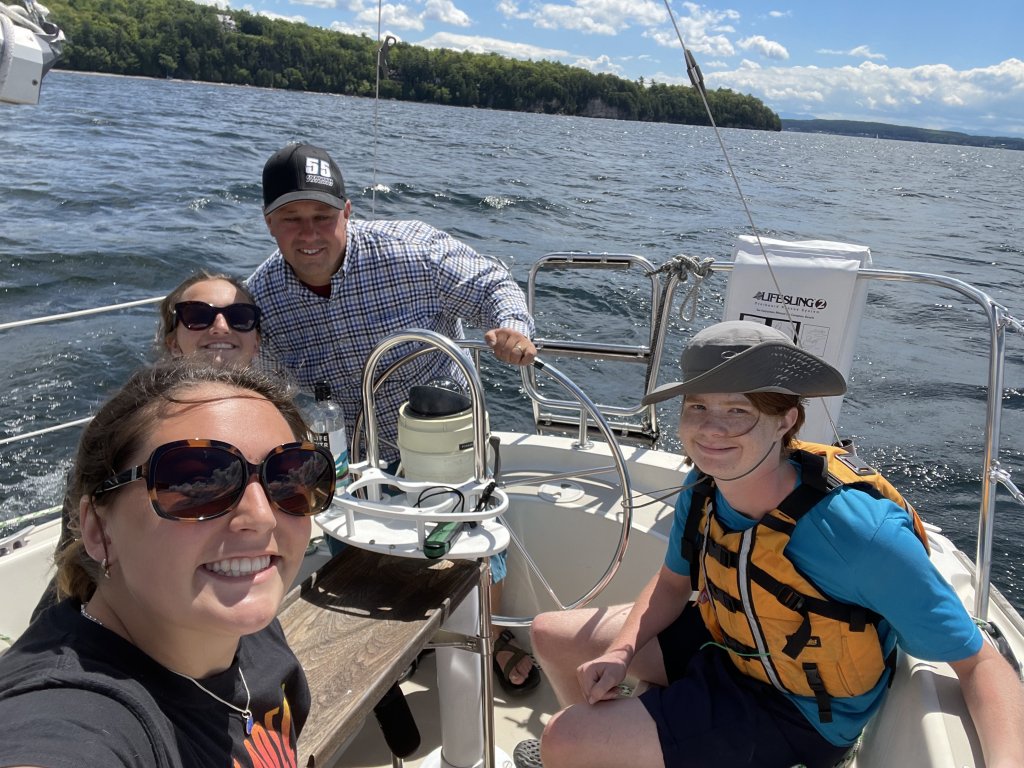 Courtesy of Zoe Crocker
David Schilling with students on a youth sailing trip
COLLINS: How do you make experiential learning work for every learner?
SCHILLING: When differentiation became a buzzword a few years ago, the message was just "Differentiate—it'll be fine!" But what does that mean? Without actual examples, it's teachers feeling overwhelmed. It's people not having any sort of preparation for this in college teacher prep programs and being told to accommodate everyone. And I think there's a lot of room for differentiation in every classroom. But at the same time, kids are all over the place with their learning needs.
To me, differentiation has to be different in every classroom. The 9 a.m. class is going to have a different model than the 3 p.m. class. It goes back to: What are we actually assessing here? Are we assessing that they can jump through the hoops of writing a perfectly formatted five-paragraph essay? Are we assessing that they know the content, that they can apply it to the world, and that it's going to be better for their future? No matter what, any discussion about Universal Design for Learning goes back to: What does a kid gain from their time with us? The biggest thing is to make sure that they're finding an authentic audience.
COLLINS: What resources can you share for teachers and leaders eager to dig into experiential learning?
SCHILLING: When people first start thinking about project-based learning, it sometimes means adding some different visual components to an existing unit and saying it's a project. But to me, authentic assessment is the key, and authentic assessment is, can students demonstrate their learning to an authentic audience in their community? Community presentations are huge, whether it's for their peers or a broader audience. But how do we make sure that it's actually real?
There are some great planning tools out there. The Buck Institute is phenomenal. It's not just another checklist, another curriculum. It promotes using the tools, but teaching from the heart.
Teach students from who you are. Teach them through your own authenticity.