Social & Emotional Learning (SEL)
A Daily Ritual That Builds Trust and Community Among Students
An activity that encourages students to open up about a person close to them can bring a whole class together in profound ways.
"I dedicate our learning today to my dad. He grew up working class in Baltimore, and when he was your age, his mother was dying of cancer. Every day after school he would have to come home to bathe her and clean her sores. Later, he became the first person in his family to attend medical school, and today he is a leading cancer doctor. He is one of the most humble, hard-working people I know."
The five sentences above about my father are an example of what I call a daily dedication, a 30- to 60-second presentation delivered each day by a student or teacher. It usually occurs right after the initial do-now or warmup but before we introduce the day's objective and agenda. It takes less than five minutes total each week, but it's a prized moment in the day, one that refocuses us, fosters community, and reignites our motivation.
I can't recommend this simple ritual enough, whether for the classroom or for larger school assemblies. And if you are heading deeper into winter, tired of remote learning, worried about dwindling student motivation, I encourage you to give the daily dedication a try, to make it a new year's resolution for your virtual classroom.
The daily dedication takes inspiration in part from the work of Kelly Gallagher, who invites one student each day to share a brief "reading minute," by reading a few lines from a poem or something personal that has meaning for them. It also reminds me of parochial schools that ask a student to choose a daily prayer to read at the start of class.
Honoring Our Time Together
It's a simple, brief ritual, but one that recenters us. It reminds us explicitly and implicitly that the classroom is a sacred space, that the opportunity to come together and learn alongside one another—even virtually—is something special and should not be taken for granted. It hopefully emphasizes that our time together is precious, that we should honor it by using it purposefully.
As Matthew Kay has written, rituals like this absorb a tiny fraction of the lesson while fostering "an environment of humility and genuine interest in each other's lives and passion." And it is culturally sustaining and student-centered in that students get to take the lead in honoring and celebrating their own diverse identities.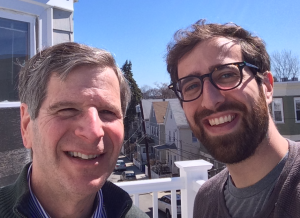 Courtesy of Henry Seton
Author Henry Seton (right) with his dad
Setting up this ritual is simple. I often model the daily dedication on the first or second day of school by sharing something about my father like the paragraph above. I put up a photo of him, and students love identifying our similarities (and pointing out his better looks!). I then explain how the dedications work and the rationale for them, that they can choose anyone living or dead, real or fictional, who provides inspiration. I ask for a few volunteers for the next few days and then usually go alphabetically from there. There are usually a few students who at least feign reluctance, but my students are so brave, their dedications quickly get more vulnerable and powerful than mine. Students are sucked in and buy-in quickly.
Students snap for each other at the end. I put in a quick, easy participation grade to recognize their preparation and earnestness. I throw in a bonus point if they email me or bring in an image to go with the dedication, but the grading is probably unnecessary. Students love this ritual.
Often a student tracks the order for me, updates a corner of our whiteboard with who is on deck, and reminds us about this during daily class announcements.
Strong Bonds, Lasting Connections
These brief moments become the seeds for deeper relationship building, starting points for future conversations. We now know to ask about the cousin recovering from the auto accident, the favorite athlete's recent playoff game, the older sibling in college. Some dedications become fuel for class inside jokes that we smile about all year. We now know what makes each other's eyes light up.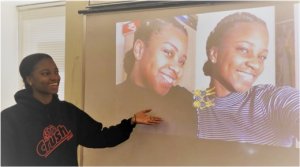 Courtesy of Henry Seton
One of the author's students gives her daily dedication.
Multiple times each year I take the photos that students have shared and put them above the doorway into my classroom like a memorial archway. As they build up, they become the student-generated wallpaper for our room and the hallway outside. Students love seeing their photos on their way into class. I have seen students touch—even kiss—their dedicatee's photo on the way into class, not unlike a worshipper kissing a religious icon on the way into church. Others sometimes quiz each other and reminisce:
"Who did James Baldwin?" one asks. "I forget. Maybe Judeline?" another answers.
"Do you remember this one? That's Iverson's brother!" someone says, to which someone responds, "He's so cute!"
For those of us teaching remotely, the daily dedication can still help infuse the online space with genuine humanity. You can even make a collage out of the students' dedicatees to use as digital wallpaper for virtual class meetings or your course homepage.
Regardless of the age or demographics of your students, I encourage you to give this powerful ritual a try. I believe it will bring so many benefits for your classroom culture and will hopefully catalyze stronger work than ever from your students.
But don't take it just from me—take a look at this video featuring one of my former students. Her words are ultimately more powerful than mine.
video