Curriculum Planning
Class Reflection Activities to Close Out a Tough Year
After a challenging year of pandemic schooling, these activities help students reflect on what they've learned and look forward to what's coming next.
Was this school year "The Bestest, Most Funnest and Absolutely Wonderfulest School Year Ever" or "The Baddest, Most Awfulest, Absolutely Worstest School Year Ever?" Fourth graders at Nebo Elementary School in North Carolina are still deciding, says their reading teacher, Lori Brenneise.
Tasked with writing a five-paragraph, humorous essay about the epic last year, Brenneise's students have come up with different reasons why they picked one answer over the other. For some, "every day is pajamas day" or "noisily slurping cereal through the first block, sleeping through second, and noisily slurping ramen through third" were the highlights of their year. For others, the year brought challenges like messing up a class recording by unmuting and shouting "CHICKEN WINGS!" or getting kicked out of Google Meet and having unsupervised time. The whole class may never forget when they all unmuted at once, screaming and scaring a student who was sleeping through a lesson.
Once her students hand in their final drafts, Brenneise will gather all the essays and make a book for each student to remember the year by. "They will autograph each other's books for when they all become famous writers," she adds. "The idea is to teach them to use humor to cope with a difficult situation."
Despite the numerous challenges that came with pandemic schooling, many teachers like Brenneise have found positive, creative ways to help students reflect on what they've learned this year—and are looking forward to in the next. We asked teachers around the country to share what these activities look like in their classrooms, and here's what we found.
Memory Rocks and Time Capsules
Having overcome a myriad of hurdles and heartaches, teachers and students are spending time debriefing about what they've experienced in this unprecedented year.
Courtesy of Alissa Alteri Shea
Inspired by their current read, If You Find a Rock, by Peggy Christian, first graders at Leverett Elementary School, in Massachusetts, will be going out to the woods behind their school to collect small, smooth rocks to make memory rocks, says teacher Alissa Alteri Shea. After painting the rocks, students will write words that remind them of lessons learned, feelings, or activities they want to remember from this year. To get them to brainstorm what to write on the rocks, Shea asked simple questions like "What did we learn from this year? How are you feeling? What was the most important thing you want to remember?" Some of Shea's favorite responses include "Things can change," "Don't give up," "Friendship," and "You can do it."
Katherine McGrath, an instructional coach at West Brook Middle School in Paramus, New Jersey, suggests having students collect artifacts, whether physical or digital, to create their own time capsules driven by prompts like "What movies, shows, or music helped you through this year?" or "What objects, pictures, or experiences will you hold on to?" Wrap up the activity by asking students to reflect and share how this challenging year has impacted them, she says.
If you're looking for a shorter exercise that taps into the students' creativity, McGrath recommends trying an Ernest Hemingway–style six-word memoir. Ask students to think about a moment from this year—such as a memory from your class or anything that sticks with them—and then they use only six words to describe it.
Envisioning a hypothetical scenario may help kids get their creative juices flowing, according to Maurice J. Elias, a professor at Rutgers University who focuses on social and emotional learning. He recommends trying an activity where students imagine they are at an end-of-year assembly and the principal is going to call up every student to read a biographical index card summarizing the high points and low points of the past year. Then, ask students to share what they think the principal would read about them.
Portfolios and Passages
The last few weeks before summer break is a great time for students to look back on what they've accomplished throughout the difficult year, recognizing that challenging circumstances can often be the best learning opportunities, say educators.
Eighth-grade students at Metropolitan Expeditionary Learning School (MELS) in Queens, New York, have been participating in an activity called passages, for example. This series includes reflective rites where students deliver a presentation about who they are now, as a way to both look back on how they've grown in their middle school years and look forward to what they're hoping to achieve next in high school, according to teacher Gus Jacobson.
Students are also encouraged to reflect on their lives out of school with regard to current events, such as how the George Floyd protests and the coronavirus pandemic have impacted them personally. "Some students might choose to write poetry or a letter to themself, or create a PowerPoint presentation with slides that illustrate their ideas," says Jacobson. "They then get to invite significant friends, teachers, and family members to the meeting where they present on Zoom."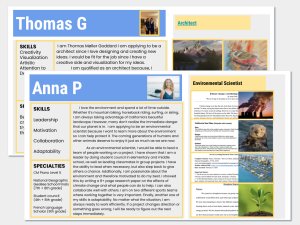 Courtesy of Los Gatos High School
At Los Gatos High School in California, Stephanie Rothstein closes each school year in her English classes with a reflective portfolio, which includes attributes or accolades, a letter of introduction to others, and pictures that show examples of their classwork. Students present their slide to guests and reflect on how they have grown their skills in the past year.
Rounding up the year with optimistic closure doesn't necessarily mean we have to end on a happy note, says educational consultant Lainie Rowell. "What is most important about this practice is the intentional and authentic reflection and understanding of the learning experience." She recommends that teachers guide students through a gratitude practice where they acknowledge something or someone that they are grateful for, which motivates them to think deeply about their feelings and articulate them.
And at Sheridan School in Washington, D.C., school counselor Phyllis Fagell conducted the iceberg exercise with fifth and sixth graders this year. Students were tasked with visualizing an iceberg and thinking about the difference between what the world sees and what lies beneath the surface. Afterward, she read the answers—all submitted anonymously—across grades to normalize that everyone is feeling insecure, awkward, and unsure about how well they've managed all the changes that have been thrown their way this year.
"It's more introspective than celebratory and tends to unearth how kids really are feeling," says Fagell.
Letters to the Future
The point of looking ahead is to get students excited about what's next, but it's also an opportunity for teachers to hold students accountable through goal setting and organization, says Rowell.
She recommends helping students think about their plans for the future and plan out next steps to get there using a planner or a service like FutureMe.org to send their future selves a reminder of long-term goals.
With the letters to the future activity, students can choose to write a letter to themselves in the future or to new students who will be joining their class next year, suggests Katherine McGrath of Westbrook Middle School. This way, students can share their favorite moments as well as tips or ideas for navigating the class.
For Nathan Burr, the end of the year is also about learning how teachers can grow and become better for their students. Burr, an eighth-grade language arts teacher and instructional technology coach at West Brook Middle School, conducts an anonymous survey using questions like "What did you like about our class?" "What would you change if you could?" and "Did the work in this class overwhelm you or stress you out?"
Through hearing from some "pretty tough critics," he's learned that his middle school students needed more time in book clubs to collaborate with each other and wanted more independent work time, so next year he plans to make his lessons shorter and increase group talk during book club units.
On the other hand, Burr's students have enjoyed having flexible seating arrangements in class and having the chance to interact with peers. "Not only does my ego need to hear the positive feedback after reading about all of the ways that I could have been a better teacher this year, but it also informs me about what I should continue doing," he says.