Formative Assessment
Bump-It-Up Walls Make Learning Progress Visible
Teachers can use this visual rubric to help elementary students reflect on and evaluate their own learning as they move through the curriculum.
A good teacher uses formative assessment data to improve their teaching and address student learning needs. Isn't it time we let our pupils in on the secret too?
Bump-it-up walls are linear visual rubrics that clearly show students how they can progress in their learning. The walls can be used for any subject and work best when they are narrow and specific. Model work samples are displayed with annotations in a progressive continuum. Through formative assessments and student-teacher conferences, students learn to be reflective and evaluate their own learning.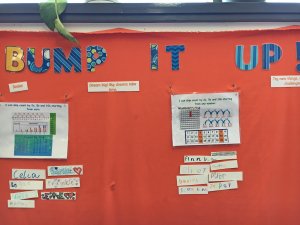 Courtesy of Joanna Marsh
Bump-It-Up Walls as Formative Assessment Tools
Education researcher Dylan Wiliam explains that for formative assessment to be effective, students should have a clear and visible understanding of their learning target, the assessment should relate directly to future instruction, and teachers and students should review success and progress together. A bump-it-up wall accomplishes all of these goals, while also promoting student agency. Through the use of this tool, students experience power and autonomy in the classroom as they track and measure their learning growth.
Goal setting is the number one high-impact teaching strategy for student learning. My classroom's bump-it-up wall establishes differentiated and challenging goals for my students. They can track their progress and identify where they might need help. We use student-teacher conferences for students to evaluate their own learning. Students also provide evidence to show when they've achieved a goal. Through the use of this tool, feedback is authentic and purposeful because students understand the purpose of their learning tasks.
Bump-It-Up in Math
To create a math bump-it-up wall, I first administered a counting preassessment. I aligned the results to the various curriculum levels. I then created five leveled examples with annotations that demonstrated counting achievements and possible goals to progress students' counting abilities. For example: The first level demonstrated the ability to count forward and backward by ones. The next level showed skip counting by twos, fives, and 10s. Each level was a little more challenging, and the fifth level asked students to be able to identify the rule for any counting pattern and complete patterns that had missing numbers.
I took time to confer with each student, showing them their test papers and helping them to identify their strengths and stretches. They placed their name under the example that best described what they could currently do. They studied the adjacent annotated example to see what they needed to do to progress to the next level.
Throughout the unit, I conferred with my students regularly, and they came to me with their work when they thought they were ready to move to the next level. The levels of the bump-it-up wall became my differentiated success criteria for assessing student progress in the counting unit. This directly informed my teaching and the tasks I provided to students. It further created student agency opportunities by giving students the choice of which level of activity they wanted to work on in each lesson.
Bump-It-Up in Writing
After my success with using this tool to set goals in mathematics, I created a new bump-it-up wall for writing. I chose the 10-week term when we were focusing on narrative and persuasive writing genres. I quickly came to realize the necessity of narrow and specific goals, since there were so many aspects of writing that could be analyzed and scrutinized. I knew that it would take considerable time to progress in writing and that a whole term would be needed for students to see some progress.
I selected the "ideas trait," as identified in Ruth Culham's book 6 + 1 Traits of Writing, as the focus for the bump-it-up writing wall. Using Culham's book, I found example writing pieces and attempted to annotate these pieces in student-friendly language. As I conferred with my students about their own writing, I soon realized that the pieces on the bump-it-up wall showed a logical progression of ideas. However, the annotations were not accessible or easy to apply to the students' own writing.
I adapted my approach and worked with the students to create annotations that made sense to them. We looked at each writing piece over a series of days, and together we discussed what we liked or didn't like about each piece. The students told me what they noticed about each piece and what they wished to see more of. As the facilitator of this activity, I was careful to keep them on course with "ideas" as their analyzing lens. This process proved to be much more effective, and students were able to evaluate their own work and set themselves goals using the wall.
The strategic use of a bump-it-up wall has been a success in my classroom. Not only can I accurately report student progress back to parents, but students themselves are able to understand and discuss their progress. It also has made goal setting a much more authentic experience for my students, which has increased their motivation to challenge themselves.