Social & Emotional Learning (SEL)
Bringing a Dog to School
A veteran teacher and administrator makes the case for having a therapy dog in elementary school.
When you walk down a hall in my school, you may encounter our therapy dog, Boomer. There were originally reservations in our district about having a therapy dog, but now Boomer is one of the most sought after staff members for his ability to enhance many components of social and emotional learning (SEL).
I'm in my 25th year in education, and I believe in the necessity of teaching social and emotional skills—they really do help students thrive academically.
I've seen Boomer stop a child's tears in record time, help a school-phobic kindergartner walk into school with enthusiasm, reset an anxious student's day, ease test-taking tension, and bring smiles and laughter to everyone he encounters.
Bringing In a Therapy Dog
When the district first considered getting us a therapy dog, we were encouraged to raise questions and concerns. And before Boomer came, we did a pilot test with the high school's therapy dog, Violet, and found her presence in the school to be extremely beneficial to our students. For example, Violet would come into the English language arts class while students were reading, and teachers noted that students were visibly more relaxed when she was present and that they took more risks in their reading.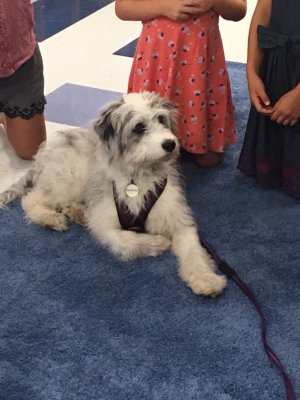 Courtesy of Shari Feeney
Boomer at work
Research strongly supports the benefits of therapy dogs—our district carefully weighed the pros and cons of therapy dogs and decided that the pros outweigh the cons. Charlotte's Litter and PAWS for People list benefits of therapy dogs. They can:
Lower people's blood pressure and stress levels
Increase levels of dopamine and serotonin
Improve physical well-being
Decrease anxiety
Dramatically increase positive mood
Ease social isolation and help children learn social skills
Help young readers gain confidence
Boomer joined us at the beginning of the school year, after all vaccines had been given. He goes to one 20-minute Morning Meeting a day (rotating through the classrooms), and visits classes at other times if teachers request him. Students can also request time with Boomer—the guidance counselor, one of the two handlers, or I will bring Boomer to the class, or the student can come to us.
Boomer creates an atmosphere of joy just by being present. He's excited to greet everyone and is nonjudgmental, kind to all, and a great listener. His presence aids students struggling with friendship and home issues, school anxiety, and other problems. Students visibly relax and open up while petting or playing with Boomer.
The handlers have taken great measures to educate the students and staff on how to approach and interact with Boomer. All students are required to watch a slideshow that explains Boomer's role in the school as well as how he was trained and how to approach him. They're taught about dogs' body language and how to tell if Boomer is stressed, happy, tired, or hungry. These lessons tie back to social and emotional skills we foster in our students. They respect Boomer and care about him. 
Dogs Are Not for Everyone
But there are people who oppose having therapy dogs at school, and they have valid concerns, including allergic reactions, pet maintenance, and fear of dogs.
It's important to address these concerns and have open communication within the school community. Before we brought in Boomer, we reached out to schools with therapy dogs and to dog trainers, and conducted research on dog allergies and fear of dogs, in an effort to address potential concerns from the start.
Children and adults who fear dogs may have had a negative experience in the past or may not ever have been exposed to dogs. I've spoken with the families of children who fear dogs, and together we've created plans for different ways to accommodate them: They may opt to be out of the class when Boomer is present, or they may sit at or on a desk at the back of the classroom, or we may keep Boomer out of their classroom altogether.
Some students who choose to sit on their desk move closer once they see their peers interacting with Boomer—within a few class visits, most will pet him. One student was terrified of dogs but wanted to overcome his fear, and one of Boomer's trainers worked with him over a period of time. Now he'll sit right next to Boomer.
Allergies are also an important issue to address because even though some dogs shed less than others, no dogs are hypoallergenic. Parents communicate with us about whether they want their child to interact with Boomer and to what extent. In classrooms with allergic students, we keep him on a leash to ensure that he stays away from them, and we haven't had any problems with Boomer being present in a room for up to 40 minutes.
It's difficult for those of us who love dogs to understand that not everyone feels the same way. No student is required to interact with Boomer. We ask them to be respectful of him, and we respect their wish to not be near him.
Boomer's impact on SEL this year has been significant. When he's present he has an instant calming effect—students more easily share concerns and feelings with guidance counselors, for example, and shy students come out of their shell. The pros have definitely outweighed the cons.