Curriculum Planning
2 Secrets to Making Lesson Planning Easy
Planning lessons for every subject each week can be overwhelming. By creating a pacing guide and batching lessons, teachers can focus on one topic at a time.
This is what lesson planning looks like when using the traditional method: you grab your reading textbook, a pacing guide (if you have one), read alouds, and a few center activities. You try to plan for Monday, but the first ten minutes are spent staring at a blank screen, then typing something and immediately deleting it. About ten minutes in, you start to find your groove, and the remaining days of reading plans go a lot faster.
Then you have to stop and grab your math textbook, pacing guide, and some worksheets, and open a few websites you like to use. Or maybe you spend an hour scrolling through Pinterest. Once again, you are stuck when it comes to the first day or two of lessons. It takes a while to find your groove again.
Task switching is time-consuming! Just getting out different materials for each subject takes up time. But even more time is consumed getting your brain in the flow. When you switch from one subject to another, it takes your brain some time to catch up. Lessons that should be relatively easy to plan end up taking twice as long.
When you batch, you are focusing only on one subject. You only need to get out one set of materials. It will still be challenging to get started, but once you get going, your brain will be able to stay focused on the one task and stay in a flow. According to Psychology Today,* we take only about a tenth of a second to switch tasks, but that switch can reduce our productivity by 40 percent! Basically, when we switch tasks, we use different parts of our brain, which tires us out way quicker than when we're focused on a single task at a time. And that doesn't even include having to pull out different materials every few minutes.
A fantastic reason to adopt the habit of batching your lesson plans is that it leads to higher-quality plans. The majority of your lesson plans will be created from that state of flow. This is when your brain will do the best work, because it is more focused. The lesson plans you write last-minute on Sunday night while watching your latest Netflix obsession are almost never your best work.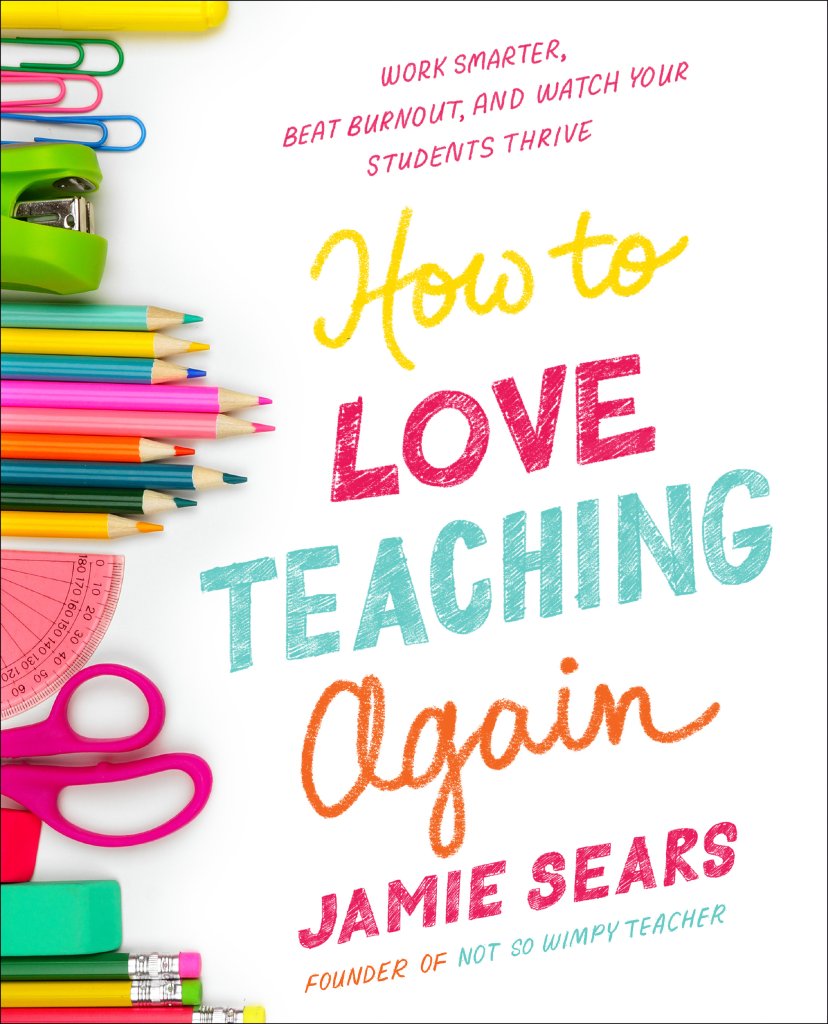 Courtesy of publisher
Another bonus of batching your lesson plans is that you will have more time to prep for the actual lesson. If you need materials from the store, you will have time to grab them the next time you grocery shop. This means you won't have to make a last-minute trip after school when you are exhausted and wearing a Ms. Frizzle dress that was the perfect addition to your science lesson that day.
If you need to make copies, you will have time to plan a photocopy session. This means you won't be waiting in a long line on Monday morning stressing because the person in front of you is making copies of every single spelling list for the entire year. The extra prep time will also allow you to laminate materials so that you can use them year after year.
Getting ahead on your lesson plans means materials can be prepped during school time rather than during personal time. Not to mention starting your week without materials and feeling unprepared is super stressful!
START WITH PACING
Before we jump into planning lessons, we need to talk about how to break down an entire school year into semesters, quarters, weeks, and individual days.
In my early days teaching, I was winging it. I would think, "At this pace, are we going to cover all of the standards before testing? I sure hope so! We will find out soon enough."
This usually resulted in tons of stress at the end of the year when I discovered we needed to squeeze two whole math units into the last week. Sound familiar?
It's sort of crazy how little help we get about how we should teach students everything in a school year. One time, my school gave us teachers a list of what we had to teach our students that calendar year . . . but that was it. Another time, an administrator in my district said that she should be able to walk into any third-grade classroom and that all the teachers should be doing the exact same lesson at the exact same time. But she didn't give us a schedule, so I'm still not sure how that was supposed to work.
The best preparation I received was when my district gathered a couple teachers from each grade level and had us create a full-year pacing guide for reading, writing, and math. My mind was blown! This document was like getting a copy of my own treasure map. I actually had a map that helped me pace out my lessons for the year. If the map said I had three weeks to work on fractions, then I knew I was on track if I spent a full three weeks on that unit. No more guessing and scrambling.
But most schools don't work that way.
Thanks to Common Core, most states in the United States have similar standards when it comes to what skills students need to learn at each grade level. Using those standards, teachers figure out how much time to spend on a particular skill—for instance, teaching multiplication in third grade, as I did.
Having a map will make lesson planning faster because you no longer have to make decisions about timing. Should I spend one week on nouns or two? Should we start with fiction standards or nonfiction standards? All of these decisions are made already! You are actually batching all the pacing decisions.
If you already have a pacing guide, you are among the lucky ones. Go do a little happy dance. If you do not have a pacing guide, you aren't alone. (You can still do a happy dance if you want.) Most districts do not provide this resource for all subject areas. The good news is that you can create your own pacing guide. It's not hard! Making the decisions in one sitting is so much easier than having to come back to pacing every single week when you are doing your planning.
Start with one subject at a time.
1. Break the subject into units of study. For example, for math you might have to teach your students topics like place value, addition, subtraction, multiplication, fractions, et cetera.
2. Break these units down into more specific lessons. In your multiplication unit you will have lessons on repeated addition, equal groups, arrays, and so on.
3. Write the number of weeks you would like to spend on each unit. Pretend it is your dream world and you have all the time that you want.
4. Calculate the number of weeks you actually have for teaching this subject. Remember to take into account things like the first week of school, Thanksgiving, spring break, and testing.
5. Determine the difference between the actual number of weeks you have to teach and your dream number of weeks. Start carefully editing the number of weeks based on your reality. Play with these numbers until you feel comfortable. Or at least as comfortable as possible, because we all know that there is never enough time!
6. Put dates next to each unit and/or lesson.
Now you have your very own pacing guide! Will it be perfect?
Nope. In fact, I can guarantee you will find problems with the pacing during the year. Just make notes and adjust the pacing guide each year. It's an evolving document that serves as a map rather than a written-in-stone document you must vow to live by.
Once you have your pacing guide, take out a calendar. Map out how many weeks you expect to spend on each unit. (And yes—I know timing changes based on the unique needs of your learners. We are simply outlining a plan that's meant to be flexible. I'll talk about how to adjust these plans later on.)
Now you are ready to batch!
HOW TO BATCH LESSON PLANS
A typical lesson planning session includes creating plans for one week for five different subjects. Batching your lesson plans is different from the traditional lesson planning because you are creating several weeks of plans for just one subject. There are two different ways to batch your lesson plans, and you will want to choose the recipe that best fits your personality. I recommend trying both before you decide what you'll use moving forward.
Let's go back to the cookies I mentioned earlier. I believe there are two different types of chocolate chip cookie bakers. Which one are you? I am the kind of person that buys premade cookie dough. This works for me because I don't have to think much about how to make the cookies and the results are exactly the same every time. This is how the five-week batching plan works. Every batching week looks the same and produces the same results. You are always creating five weeks of lesson plans during your lesson planning time. You don't have to think much about the plan because it doesn't change week to week. It's as simple as done-for-you cookie dough.
Some people make the cookies from scratch using the Toll House recipe. You have to admit that these cookies are more work, but they are so freakin' delicious. This baker has to do a little more planning to get ingredients, measuring, mixing, and dishes. The extra effort is worth it for this person. This is how the unit batching plan works. With this plan, you will create a batch of lesson plans for an entire unit within one subject. It's the ultimate time-saver because you aren't batching only for a specific subject; all the lessons you are planning are related in some way. This means your brain can focus on just one topic. And when you finish the batching session, you won't have to plan for that unit ever again. All your opinion-writing lessons could be completed in one planning session! All your fraction lessons could be completed in another planning session.
The unit batching method takes a little more planning effort because every unit isn't the same length. One week, you might plan a three-week unit for reading, and another week, you might plan a five-week unit for math. You will have to keep track of this on your calendar so that you don't unexpectedly run out of math lesson plans and have to do last-minute planning on Sunday night. That said, the unit batching plan makes it very easy to save the plans from a unit and reuse them for next year! Just imagine how fast lesson planning will be next year when all you need to do is pull up your multiplication plan file and make minor adjustments.
Which type of batching should you do? That really depends on your preference and your personality. If you prefer a simple, predictable routine that requires the same amount of effort, time, and lessons produced each week, then you will probably like the five-week batching plan. But be aware that this method might have you lesson planning multiple topics in one planning session. For instance, you could plan addition, subtraction, and multiplication lessons during the same day. If that doesn't bother you, this might be the plan for you.
Some people like to organize their thoughts and lessons thematically. Their vision is more big picture and they prefer to tackle all the lessons in one unit at a time. If it's going to drive you crazy to stop lesson planning in the middle of a unit, or after week three of a four-week unit, you might prefer the unit batching plan.
With this plan, you'll know that at the end of your batching session you will have completed every lesson you needed for the whole unit, whether that's geometry or plants. But you'll have to be more flexible with your batching sessions because not all units are exactly the same length. You'll also have to be very organized and keep detailed notes about when you need to plan the next unit. If this doesn't sound like you, you might want to stick with the five-week batching plan.
The reality is that both batching plans are time-savers. I just want you to be honest with yourself and choose the strategy that you are most likely to be successful with and continue using all year. If you're still not sure which will work best for you, pick the one that resonates with you the most. If you love it, great! If not, try the other method. Even if you switch batching methods, you'll still be ahead of the game.