Curriculum Planning
7 Books That Give Students an Inclusive Look at United States History
These books explore history from the perspective of marginalized groups such as BIPOC and members of the LGBTQ community.
January 6, 2021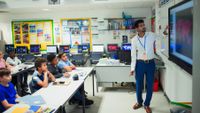 Tony Tallec / Alamy
History is often conceptualized as a series of objective facts that are sequenced in chronological order to reveal an objective and apolitical understanding of the past. However, this understanding of the discipline fails to account for the ways in which historical narratives and understandings are impacted by cultural assumptions about power and agency, current forces that shape the author's understanding and perspective, and the selective inclusion or exclusion of materials and perspectives within the story.
This tension between history as fact and as a constructed interpretation is evident in the debate regarding Confederate Civil War monuments. Proponents of such monuments often argue that they celebrate Southern heritage and that to remove the markers of the past is to "erase history" and "forget the past."
Individuals advocating for removal, on the other hand, correctly point out that the majority of the monuments were erected during the Jim Crow era and as a backlash against the expansion of civil rights. Confederate monuments are not objective, impartial markers of the past but instead were erected to promote a political and social agenda that excluded individuals from American citizenship and society.
Resources That Challenge the Traditional Historical Narrative and Support Antibias Instruction
Historical narratives found in history textbooks, like monuments, are selectively constructed depictions and understandings of the past that often exclude, silence, or minimize the experience of historically marginalized groups.
Teachers not only should design experiences for students to interrogate and challenge the traditional textbook narrative but also must utilize resources that (1) are written by authors from diverse and representative backgrounds; (2) offer a more sophisticated, nuanced, and inclusive narrative; and (3) adopt an explicitly antibias perspective.
There are a number of excellent books for adult audiences that present more inclusive historical narratives and support antibias instruction, but the density of ideas, volume of reading, and text complexity undermine their utility in the middle and high school history classroom. Fortunately, many outstanding historians and academic writers have partnered with experienced authors for adolescents to adapt their work for young adult audiences.
7 High-Quality History Books for Adolescents
1. Stamped: Racism, Antiracism, and You, by Jason Reynolds (author) and Ibram X. Kendi (author). The authors maintain that this is not a history book but instead is a book about the present that uses history to understand America, the construction of race, and the development of racist and antiracist ideas. Based on the award-winning book Stamped From the Beginning, this remix version is intended for middle and high school readers and traces the construction of race from the Age of Exploration to the modern era. It is an outstanding resource that connects the past and present. While it does not avoid challenging or difficult history, the book is ultimately optimistic and provides a powerful framework to help students make positive changes in the world. (In May 2021, the authors will release another adaptation for elementary school students.)
2. A Different Mirror for Young People: A History of Multicultural America, by Rebecca Stefoff (adapter) and Ronald Takaki (author). Adapted from Ronald Takaki's 2008 edition of A Different Mirror, the remix version for middle and high school students uses diaries, letters, and poems to present a multicultural, multiethnic, and inclusive depiction of American history, culture, and identity.
3. 1493 for Young People: From Columbus's Voyage to Globalization, by Rebecca Stefoff (adapter) and Charles C. Mann (author). Columbus's voyages to the Americas initiated the exchange of people, plants, animals, microbes, viruses, and cultures. While historical narratives often place great people, generally great white European men, at the center of the story, this adaptation of 1493: Uncovering the New World Columbus Created focuses on the ecological and social convulsions that resulted from the Columbian Exchange and uses this understanding to make sense of contemporary globalization. Of particular note, the book stresses the significance of interactions between the Americas and Africa and Asia. This is an important book for middle and high school world history classes.
4. An Indigenous Peoples' History of the United States for Young People, by Jean Mendoza (adapter), Debbie Reese (adapter), and Roxanne Dunbar-Ortiz (author). This adaptation of Roxanne Dunbar-Ortiz's writing places Indigenous nations and peoples in the center of American history and adroitly challenges the traditional narrative presented in history textbooks.
5. A Queer History of the United States for Young People, by Richie Chevat (adapter) and Michael Bronski (author). Except for brief mention during study of the Stonewall Riots, LGBTQ individuals are generally invisible in history texts. However, this adaptation of Michael Bronski's A Queer History of the United States utilizes letters, diaries, and biographies to trace the 500-plus years of their contributions to history, culture, and the construction of American identity. The book stresses the importance of activism to effect social change and the contributions of adolescents and young adults.
6. A Young People's History of the United States: Columbus to the War on Terror, by Rebecca Stefoff (adapter) and Howard Zinn (author). Based upon Howard Zinn's A People's History of the United States, Rebecca Stefoff's adaptation for adolescents presents history from the perspective of workers, women, enslaved individuals, Native Americans, and other groups that are habitually silenced in classroom resources. Particular attention is given to labor movements and social justice protests.
7. Freedom Summer for Young People: The Violent Season That Made Mississippi Burn and Made America a Democracy, by Rebecca Stefoff (adapter) and Bruce Watson (author). This work presents a stunning and gripping historical narrative that highlights the importance of grassroots community activism in the civil rights movement of 1964. The book presents the violence and intimidation of the period, but it also celebrates the bravery of community leaders and disenfranchised citizens intent on securing voting rights. The book highlights the contributions of outside allies, particularly those of young college students. The companion book Freedom Summer, by Bruce Watson, is an outstanding resource for teachers to delve deeper into this compelling period in the fight for civil rights.