Technology Integration
7 Augmented Reality Tools for the Classroom
A technology integration specialist shares some ways her district uses augmented reality to boost engagement in learning.
Educators are constantly looking for resources and tools to get students engaged and excited about the content they are teaching, and an interesting option these days is augmented reality (AR) tools.
With a mobile device or tablet, teachers and students can use AR apps to access projection-based, location-based, or recognition-based experiences so that objects, artifacts, or media appear to be in the room. Students are then able to interact with that content by moving around, getting closer to it, and manipulating it to research and learn more about it.
In my experience, students' engagement increases when they create experiences in AR to demonstrate their understanding of a particular concept or standard. When students use augmented reality during a lesson, they want to dive into the content and don't want to stop learning or exploring. They're more willing to use critical thinking, problem-solving, and communication skills to explore the lesson or activity. And using a variety of apps, students can create projects that correlate with curriculum standards and concepts to show what they know.
Augmented reality can be integrated into the classroom in all grades and across the curriculum—possibilities range from exploring space to learning about animals and continents to creating book reviews or historical settings. Some students may not have many opportunities to visit historical landmarks, but they can do so virtually. AR also allows students to view models of things we can't see without a microscope and creates opportunity to see and interact with plants and animals, and sea creatures that live on the ocean floor. As educators, we can provide our students with opportunities and experiences they might not otherwise have that will be vital to their future.
7 Fun Augmented Reality Tools
1. Merge Cube: Students can use the cube with the Merge Explorer, Object Viewer, or Museum Viewer apps to explore the water cycle, view fossils, examine rocks and gemstones, experiment with simple machines, and more. The cube allows students to virtually hold artifacts and objects in their hands. (Annual license fee is $995 for one class or $2,495 for a school.)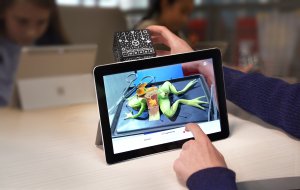 Courtesy of Merge EDU
One way to use the Merge Cube in the classroom
2. CoSpaces Edu: This tool allows students to not only explore AR but create their own experiences in any subject area. These experiences can be used with the Merge Cube or with a phone or tablet. Students can add audio, code characters and objects, and upload their own 360-degree photos or images into their project. (There is a free basic plan; premium plan pricing starts at $75 for five users.)
3. Assemblr: This tool empowers students to be creators of content as well as explorers. Students can dive into already created content, such as ocean animals, planets, symmetry, fractions, or even how to do exercises correctly. (There is a free basic plan; premium plan pricing for schools starts at $1 per user per month.)
4. Quiver Masks: A fun resource that allows students to create character masks to put themselves in the shoes of a particular animal or person in a story. For example, 3- and 4-year-olds can retell and record the story of the Three Little Pigs while using masks they have made. (Pricing varies by product)
5. Narrator AR: An app that gives students a place to practice their handwriting; the app launches letters off the virtual page. This helps to reinforce correct letter and number formation for our youngest students in a fun and interactive way. (Pricing varies by product)
6. Wonderscope: iOS-only app that allows students to interact with stories like "Little Red the Inventor." (Each story costs $5.)
7. Augmented Classroom: This tool from CleverBooks is browser based; it lets students learn about plants and animals and explore the world. Students can explore and interact with a variety of activities, learn about curriculum, and check their knowledge on topics including geography, weather, geometry, and space. Augmented Classroom also allows students to collaborate and create with other students around the world. (Pricing "starts from less than 1 euro per user per month.")
AR can be a hook to get students excited about content, guiding them to ask more questions. Seeing and interacting with artifacts, animals, and more can boost students' excitement level and foster collaboration with their peers, making content more meaningful and memorable.
For some examples of how my school is using augmented reality resources with pre-K to 12th-grade students, visit this site.