Professional Learning
6 Museums With Exceptional Teacher Resources
From full-fledged lesson plans and virtual field trips to expansive digital archives and opportunities for professional learning, museums have so much to offer beyond the in-person experience. 
June 16, 2022
There are over 30,000 museums in the United States, and many have truly exceptional—but often underutilized—teacher resource centers that offer a rich selection of educational opportunities.
Whether you spend a few minutes dipping into a museum's digital archives, an hour taking a webinar, or days implementing a classroom activity created by a team of museum educators, these mostly free experiences and resources are customizable and completely driven by you.
As a former classroom teacher who also taught and worked at the Art Institute of Chicago, I am always excited to help teachers take advantage of museum resources that will complement and amplify their classroom instruction.
Here are six museums with fantastic resource centers that will spark creativity, inspire fresh ways to engage your students, and support lifelong learning: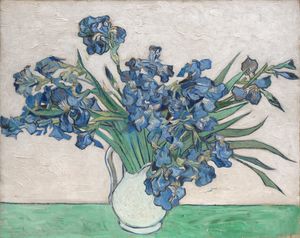 The Metropolitan Museum of Art / Gift of Adele R. Levy, 1958
"Irises," 1890, Vincent van Gogh, oil on canvas
This museum has housed some of the most recognizable visual art in existence—from Vincent van Gogh's Irises to Emanuel Leutze's Washington Crossing the Delaware.
Its digital presence is remarkably substantial and hardly just a substitute for a real-life visit. I recommend starting with the immersive virtual tour to dive deep into a collection that spans over 5,000 years of culture. Once you get your bearings, you'll find a treasure trove of resources to enhance your classroom teaching. For example, the museum has made most of its permanent collection of almost 500,000 works available online, as well as access to its libraries and research centers.
Resource spotlight: MetKids is a free kid-centered resource for grades 2–8. The site features an interactive museum map, a historical timeline of art, and a library of videos that explain everything from how a painting can tell more than one story to how the museum takes care of precious artifacts.
Classroom activity: A surprising number of artistic works and artifacts fall under the public domain, which students can use to create catalogs, video essays, posters, or even T-shirts for their own use. Being able to access, reimagine, and repurpose these images enables students to connect with and participate in a wider conversation about the accessibility of art and culture.
In addition to dazzling displays like a 43-foot blown glass tower that you have to see to believe, the Indianapolis Children's Museum offers a rich selection of online resources, including virtual independent learning and professional development opportunities.
Resource spotlight: K–2 can learn how to apply different measuring systems in the "Measuring a Dino" lesson, while older students in grades 6–8 can create a DNA model in the "DNA—The Ladder of Life" lesson. The website also features an extensive menu of in-depth units of study featuring topics like making a difference through service learning, children in the civil rights movement, and Native Americans and the natural world.
Classroom activity: The surprisingly thoughtful Teenage Mutant Ninja Turtles unit explores the importance of communication and collaboration for grades 2–4 through hands-on activities, focus questions, and an art project.
This museum was founded as a way to bring light to the human rights violations committed by Chile between 1973 and 1990, to honor the victims and their families, and to contextualize this history in a broader landscape.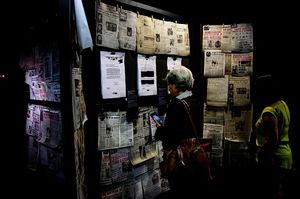 Martin Bernetti / AFP via Getty Images
Visitors viewing a series of declassified government documents at the "Secrets of State: the Declassified History of the Chilean Dictatorship" exhibit in 2017.
The resources—which can be translated from Spanish to English using the Google Translate feature on the website—are unexpected and helpful for educators looking to universalize social studies concepts. I suggest perusing the expansive online collection, where you can find numerous primary source documents, like letters written by detainees during their imprisonment, photographs, newspaper clippings, and videos.
Resource spotlight: The Interactive Memorials Exhibit showcases photographs of memorials built throughout Chile as a way to honor victims as well as help heal communities. This, like all of the museum's digital resources, could be a powerful tool for a social science curriculum or as a resource in Spanish language or ELL classrooms.
Classroom activity: Students' civic-mindedness and ability to empathize with others grows when they discover that people all over the world not only face many of the same challenges as they do, but also work together to heal and cope with loss and grief in similar ways. Many communities and cultures create public memorials to honor those who have died as a result of violence.
Consider having older students photograph or re-create memorials found in their own communities for a class museum or online gallery as a reflection activity.
Though the internet cannot replicate the experience of walking into the Milstein Hall of Ocean Life to see the iconic 94-foot-long, 21,000-pound model of a blue whale suspended in midair, the museum's digital programming has a magic and energy that can inspire new ways of looking at old ideas.
Check out the array of ever-changing professional development seminars on topics ranging from "Using Picture Books in Science Classrooms" to "Engaging in Citizen Science." Additional resources include complete curricula, virtual field trips, graduate-level courses, fellowships and grant opportunities, and a robust library of articles, videos, and other classroom materials. These resources, much like the museum, are designed to help visitors think about and make sense of our world through the powerful lens of history and science.
Resource spotlight: OLogy is a website and iPad app for K–5 grade levels that includes games, videos, hands-on activities, and stories on topics like anthropology and microbiology.
Classroom activity: Using materials from the AMNH website, consider setting up learning stations where each of your students has an opportunity to connect to something that interests them.
Featuring a vibrant and diverse collection and professional development opportunities on subjects like "Teaching for Creativity with Young Children," the Columbus Museum of Art is an impressive institution that's committed to its mission of connecting the surrounding community and art. The museum houses the largest collections of works from renowned artists George Bellows, Elijah Pierce, and Aminah Brenda Lynn Robinson.
The focus on creative and critical thinking through art as well as the commitment to other 21st-century learning goals really impressed me, bringing together theoretical constructs and practical approaches for implementation in the classroom. Additionally, some of its resources are translated into Spanish, Somali, and Arabic, like this one on cultivating and practicing creativity for adults and children.
Resource spotlight: The Columbus Museum of Art's ODIP strategy (observe, describe, interpret, prove) is one of several thinking frameworks you can find on the website—a straightforward and adaptable resource for supporting critical and analytical thinking at any grade level.
I also enjoyed this Thinking With Art pack, a stimulating resource with ideas and tools for using art to become more empathetic and civic-minded.
Classroom activity: Try an art-making activity that transforms your classroom into a student gallery. Focus on students not only making the art but also responding to the art. Using the ODIP framework, guide students through the process of providing responsible critique, making objective observations, and supporting their ideas with evidence and fully realized conclusions.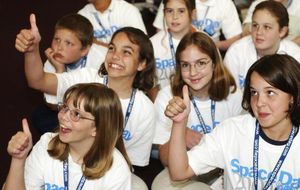 Tom Williams/Roll Call/Getty Images
Fifth grade students from the Highlands School in Alabama attend the National Air and Space Museum's Space Day, an award-winning educational initiative aimed at piquing children's interest in science, math, and technology.
The Smithsonian is the world's largest museum complex, composed of more than 19 museums—such as the National Air and Space Museum and the National Museum of African American History and Culture—research facilities, art galleries, a sculpture garden, and even a zoo.
A vast number of teacher resources are available across the Smithsonian, from the Game Center, which offers free STEM games and simulations for grades K–8, to the Smithsonian Learning Lab—a free platform that showcases the Smithsonian's digitally archived content such as videos, texts, and historical artifacts.
Resource spotlight: The National Museum of the American Indian is a Smithsonian standout, home to one of the largest collections of Native American art and artifacts in the world, including a photographic archive of over 300,000 images dating from the 1860s to the present day.
I highly recommend the free virtual field trips for grades 4–12, professional development workshops that explore concepts like tribal sovereignty and Indigenous art, and resources like Native Knowledge 360°—an educational initiative that provides materials and teacher training to help infuse classrooms with accurate Native narratives from the past and present.
Classroom activity: Resources from the National Museum of the American Indian can be used throughout the school year to create meaningful and authentic learning experiences, not just on Indigenous Peoples' Day.
In your science classroom, use this poster to introduce middle school students to Inkan culture as well as the Great Inka Road System and bridge-building. After reading about the history of grass suspension bridges, break the class into small groups and see who can build the strongest bridge. Each group will need a singular piece of rectangular cardboard, some options of different sizes of string and rope, and two chairs.
This activity not only assesses student understanding of suspension, compression, and tension, but also serves as a unique community-building exercise that pushes students to work together and experiment.