Teaching Strategies
5 Ways to Combat Classroom Isolation
Looking outside your classroom walls can help students develop a global perspective—and refresh your teaching.
A few years ago, I realized that my classroom felt isolated. Though I had been teaching elementary school for 14 years, I hadn't developed or acquired skills that connected my classroom in rural New Jersey to educators and students beyond our walls. It didn't matter if they were next door or in South America.
The impact was not only apparent in my teaching practice—where I relied on resources and lessons that were in the room or at my school—but also in my students' perceptions and awareness of the world around them. Simply put, my students lacked a global perspective—as did I. When I asked them, "How many languages are there in the world?"  they responded that there were two, English and Spanish. When I then asked if they knew what language was spoken in Spain, they couldn't answer at all. Most of my students could not find New Jersey on a map, let alone another country. 
It was obvious that I could be doing more to connect my class to the outside world. The students needed more global awareness, and I needed the excitement that those lessons can bring to teaching. I started looking for ways to partner with the members of the community locally and from afar. Here are five simple, free and easy ways I found to reduce classroom isolation—and innovate my teaching practice. 
1. Connect With Scientists: SkypeAScientist.com is a free and simple resource that allows you to schedule a Skype call with an actual scientist. You can specify what area of science and what day/time you want to talk, along with any demographic preferences you have, such as gender or race. To help broaden my students' view of the STEM fields, I intentionally chose female, black, and Latino scientists.
We connected with a lobster specialist in Nova Scotia, a climatologist in New Jersey, and a scientist who studies plankton in Antarctica. After the conversations, several female students expressed a desire to become scientists after these lessons.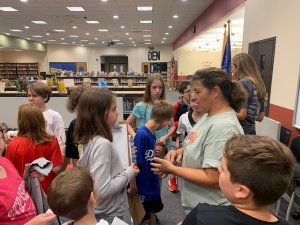 Courtesy of Michael Dunlea
Students met with local cranberry farmers to discuss the impact of Climate Change.
2. Give Classroom Learning Real-World Relevance: If you eat cranberries on Thanksgiving, there is a high probability that they are from one of the cranberry bogs in our rural community. When my class was participating in a global learning project about climate change, I decided to invite local farmers in to present to our class to make the content more relevant to their lives.
The farmers could speak firsthand about their experiences with unpredictable weather patterns, and how the lengthening growing season and rising temperatures have impacted their crops. Because the students drive right past the cranberry bogs every day, the presentations resonated with them and deepened their understanding of climate change—so much so that students often repeated what was discussed for months afterward.
3. Sign Up for Virtual Classroom Partners and Pen Pals: Empatico.Org is a free and easy-to-use web-based resource that will connect your students to another classroom somewhere in the world. Currently it serves K-6 classrooms in more than 144 countries. This resource also contains well-designed lessons that are standards-aligned, like "Festivals Around the World," which showcases different cultures and then tasks students to examine and share their own.
My class had two partnerships—with classrooms in Memphis, Tennessee, and Ghana, West Africa. We even obtained two grants from the Kind Foundation to connect with some of our Memphis friends in person. We took the Memphis students to see the Atlantic Ocean and New York City, and on our visit to Memphis, we visited the National Civil Rights Museum. The relationships have lasted well beyond that school year.
4. Participate in National and International Events: The Ring of Peace is an annual international event in mid- to late September each year where a message of peace is shared from one country to another "until it forms a ring around the globe"—or travels around the world several times. My class received a phone call from England, and then we called a classroom in Mexico. For one brief moment, the world felt a lot smaller and filled with hope. This year, we also participated in PlantEd, which was an international event with the goal of planting over a million trees worldwide. My class planted 165 trees, shrubs, and bushes in a nearby state forest and were able to see how our hard work contributed to a larger global goal for sustainability.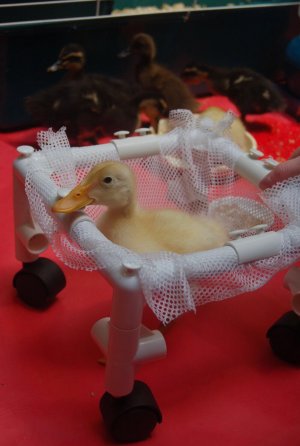 Courtesy of Michael Dunlea
Students worked with a local high school class to design a prosthetic for a deformed duckling.
5. Build Cross-Grade Partnerships: Partnerships can sometimes be found right next door. I had my class connect with an anatomy and physiology class at a local high school. Their teacher brought a duckling with a deformity to visit my class, and then my students drew designs for the duck's prosthetic on their Chromebooks. Afterward, my students Skyped with the other class several times to share our ideas, drawings, and creations, which helped the high school students as they designed and created models of the prosthetics on 3D printers. There is a powerful message learned when students who are 8 years old are teaching students who are 17.  
Often teachers are hesitant to look outside the walls of their classroom because they are so overwhelmed by just getting through the day. Many aren't sure where or how to begin. From what I have experienced, my advice for combating classroom isolation is to take small steps and make small changes. You can even start by looking inside your school building for partnerships and inspiration. But before you can open your classroom, you must first open your mind to the value in developing a global perspective in your students—and yourself.