Student Wellness
5-Minute Film Festival: Making the Case for PE
Explore ways to get moving with your students and to advocate for physical education at your school.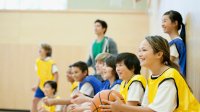 The first week of May is National Physical Education and Sport Week—a great time to encourage your students' involvement in physical activity. With screen time at home and seat time at school both on the rise, finding ways to help kids develop lifelong healthy habits is invaluable. We've chosen a list of videos and resources to win hearts and minds over to the benefits of physical education.
video
Educating the Student Body: Taking Physical Activity and Physical Education to School (02:40)
This 2013 video from the National Academies of Sciences, Engineering, and Medicine is the best summary we've found of why it's so important to include physical activity in the school day. The website given at the end of the video is gone, but you can find the report the video is based on here, and there's an interactive infographic to help you figure out how to get 60 minutes of activity into the school day. (Best for: educators who want to get their kids moving.) 
video
Run, Jump, Learn! How Exercise Can Transform our Schools (10:43)
This TEDx talk by Harvard professor John J. Ratey is a good tool if you need to convince someone that making room in the school day for exercise is good for learning. Follow up with Ratey's book Spark: The Revolutionary New Science of Exercise and the Brain. (Best for: PE advocates who need good evidence.) 
video
Move to Learn—Work That Body! (05:19)
If PE programs have been cut from your school and you want to take a few minutes of class time to get the students' wiggles out and their blood flowing, check out this video series from Missouri organization Move to Learn, which offers 5-minute, age-specific exercise break videos designed for classroom use, plus a database of more than 1,200 health- and activity-related lesson plans for all ages and subjects. (Best for: elementary teachers with fidgety kids.) 
video
How Playing Sports Benefits Your Body and Your Brain (03:46)
Are there really benefits to playing sports beyond what you'd get from going to the gym? The answer is a resounding yes—and they're not just physical benefits. Dig into what the research says about team sports and find out why it's worth taking the time to find a sport you love. Full lesson available on the TED-Ed website. (Best for: coaches who want to encourage parents and students to participate.) 
video
5 Extra Years—Designed To Move (01:45)
If you simply need to get the urgent nature of the topic across, show this short but compelling video. The organization Designed to Move produced the video and a variety of research-driven resources, including a report on the necessity of physical activity for kids. Collaborators included the American College of Sports Medicine and the International Council of Sport Science and Physical Education. (Best for: anyone who cares about our children's future.) 
Most of us would agree that kids need more physical activity—in school and out—to keep their bodies healthy and get their brains ready to learn. Here are some additional resources if you want to dig deeper. 
Find standards and guidelines for quality physical education at the website of SHAPE America, online home of the Society of Health and Physical Educators—"the nation's largest membership organization of health and physical education professionals." The site has resources for educators, parents, coaches, and administrators. 
PE Central is a go-to resource site for phys ed teachers and their supporters, offering professional development, videos, lesson plans, fitness products, and assessment ideas for physical education.
SPARK is an evidence-based organization in San Diego that distributes phys ed and health curricula and resources, including lesson plans for all grades.