Professional Learning
Wild for Wi-Fi: Connecting the Cell With the Screen
Combining cell phones and the Internet.
Credit: Belkin
Your next telephone may not actually be a telephone. It may look and work like a phone, but it will connect to the Internet, not a telephone line, and it will cost less than today's phones. The Wi-Fi (wireless fidelity) phones for Skype and Vonage, for instance, are among the world's first wireless Internet phones. They can make free calls to others using the same service anywhere in the world, anytime you have Wi-Fi access, without a PC.
All combine three hot technologies that are transforming the telecommunications industry: high-speed Wi-Fi wireless networks, voice over Internet Protocol (VoIP), and wireless broadband. To make a call, simply use the on-screen menu to locate your contact and view his or her online availability -- just like using the service on a computer. You can even call landlines and mobile phones at inexpensive per-minute rates. You'll also get better features and ease of use. Now, that's something worth calling home about.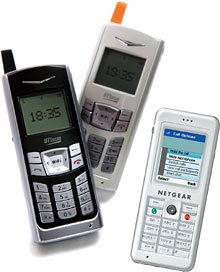 Credit: Vonage | Netgear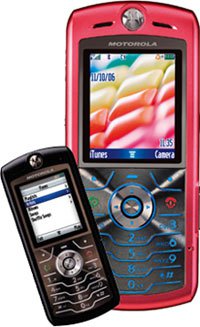 Credit: Motorola
Pretty in Pink
This thin-design cell phone features a multimedia set, including Apple iTunes music software. The integrated software syncs with iTunes on your computer via USB cable for easy downloads. The hot new phone also has Bluetooth wireless technology for handsfree connections, integrated camera and video capabilities, and up to 512 megabytes (MB) of expandable memory -- pretty in pink or black!
Motorola SLVR
www.motorola.com (available through Cingular) $200