Social & Emotional Learning (SEL)
Hurricane Katrina: When Calamity Invades the Classroom
In the wake of Katrina, a community, a state, and a country join forces to get kids back in the classroom.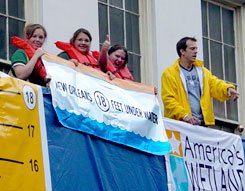 Credit: Wetland Watchers/B. Guillot
Seventh graders from Hurst Middle School demonstrate the danger of disappearing wetlands in New Orlean's French Quarter, months before the disaster struck.
On June 1, seventh-grade science teacher Barry Guillot and twenty-five of his students participated in a press conference in New Orleans aimed at highlighting the importance of wetlands to the health of the coastal environment.
Clad in bright orange lifejackets, the students lined second-floor balconies in the city's beloved French Quarter and unrolled sea-blue tarps down to the streets below, dramatically illustrating the level to which the Big Easy could be inundated should a hurricane hit the city dead-on. Their point? To illustrate that as wetlands disappear, so does protection for cities. (Experts estimate that the Gulf Coast area loses the equivalent of one football field of wetlands every thirty-eight minutes.)
Guillot had no way of knowing what the enactment eerily foreshadowed. Within three months, the region where he grew up suffered its predicated fate, as waters from a levee damaged by Hurricane Katrina submerged 80 percent of the city, sometimes rising to more than 10 feet.
"It is incomprehensible what has happened," says a shaken Guillot, speaking from his aunt's house in Houston, where he and his family of four sought refuge.
While much of the region struggles for the basics of food, water, and sanitation to survive, members of the education community are scrambling to ensure that students scattered by the storm could return to the stabilizing influence of a school year as soon as possible. Katrina damaged or destroyed schools in six Louisiana parishes and left 298,000 school-age kids displaced: 135,000 from Louisiana, and another 163,000 from Mississippi. Louisiana Superintendent of Education Cecil J. Picard announced that schools in some parts of New Orleans will be out of service for the entire academic year.
Early challenges for educators include finding adequate classrooms for students whose schools were destroyed, accounting for the students who rapidly fled from the region in the face of the building storm, and salvaging records damaged by flood waters. Later, thoughts will turn to rebuilding schools that were destroyed by the storm, forwarding academic records to the school of families that have permanently relocated, and finding the funds for schools to provide education to the displaced children.
Teaching from Tragedy
Guillot, who lives in Luling, about 25 miles southwest of New Orleans, considers himself fortunate. His immediate and extended families are safe. His home, while somewhat damaged and lacking electricity, will be habitable within a few months. Even his cadre of animals -- alligators, a corn snake, and bearded dragons -- which he uses for his hands-on science classes (Swamped: Louisiana Students Become Wetland Custodians," December 2004), survived. When Guillot was allowed to return home to check on things last Wednesday, he was also delighted to find that his eleven bearded dragon eggs survived, despite the fact that the incubator they were in lacked electricity.
But Guillot is counting his blessings for another reason as well.
Unlike the tens of thousands of teachers and students from Louisiana, Mississippi, and Alabama displaced by Hurricane Katrina, he figures he'll resume teaching his own students at Harry M. Hurst Middle School in Destrehan, Louisiana, within a month.
"My students and I are going to have big discussions about what's going on," says Guillot, whose classes for the new school year began in mid-August. "I'm really afraid of the numbers of people lost. We're going to have to deal with that like there was a death on our campus. It's such a big shock."
Guillot also sees this as an opportune time to teach kids how to help those less fortunate. "I will be meeting with my students to see how we can help our neighboring parishes, those who weren't so lucky."
From the onset of this crisis, even in the midst of overwhelming life-and-death needs, educational leaders have expressed how crucial it is to get displaced students and teachers back to school soon.
"Giving the children who have been impacted by the hurricane a sense of stability and safety is extremely important, and schools can provide that kind of setting," says Louisiana State Superintendent of Education Cecil J. Picard in an email to Edutopia. "That's why we are encouraging our school districts across the state to begin enrolling these evacuated children immediately. We are doing everything we can at the state level to ensure that districts that do enroll evacuated students receive the support, supplies, and teachers they need to serve these children."
He added: "We are asking teachers who have been displaced by the hurricane to apply for jobs in the areas in which they have taken shelter."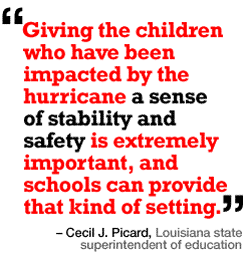 Credit: Cecil J. Picard
Flex Ed
School districts within the impacted states of Louisiana, Mississippi, and Alabama acted swiftly to do just that.
On August 31, the Lafayette and Shreveport districts began enrolling displaced students. So far, schools in Lafayette, located about 120 miles west of New Orleans, reportedly have registered 2,500 evacuee students and hired more than 100 teachers, while Shreveport, 350 miles northwest of the Crescent City, has enrolled 1,000 new students. By Thursday, September 1, schools in the Birmingham, Alabama, area enrolled at least forty-three evacuees, according to The Birmingham News.
Districts outside the impacted states also stepped to the plate quickly. In Memphis, Tennessee, school district officials anticipate enrolling 1,000 new students by this week. However, probably no public schools have taken in more evacuees than Lousiana's neighbor to the west, Texas.
In a televised address, Governor Rick Perry of Texas announced that his state's 7,000 public schools were open to the homeless students.
Houston Independent School District (HISD), the largest in Texas and seventh largest in the nation, responded immediately. As of close of business Thursday, [September 1], 557 displaced students enrolled in the HISD.
"We're expecting thousands more," says Terry Abbott, the district's press secretary. As he explains, that number does not include school-age kids from the Astrodome and George R. Brown Convention Center, where more than 200,000 refugees are housed. While exact numbers are difficult to come by, officials estimate up to 40 percent of that population, or 80,000, consists of children, many of whom are school age.
This could have been problematic, if not for a waiver from Education Secretary Margaret Spellings, who has announced some flexibility regarding enforcement of No Child Left Behind provisions.
"We will be working closely with state and local officials in the coming days to discuss the implications for No Child Left Behind state testing and accountability requirements, and on a case-by-case basis," Spellings said. "We will be flexible with certain provisions of the No Child Left Behind Act as they emerge. I am committed to implementing No Child Left Behind in a sensible way and will do so in this case, as well." Meanwhile, the Department of Education also announced the "Hurricane Help for Schools" link on its Web site to serve as a connection between Americans willing to give and the needs of the affected children and schools districts serving displaced students.
Some state requirements, including those that maintain specific teacher-pupil ratios, will also be waived. For example, Texas' state requirement of a student-teacher ratio of 22 to 1 in elementary classes has been relaxed.
To accommodate the influx of new students, HISD's press secretary Abbott says some students will be integrated into existing classrooms, while others will join newly created ones. Two old schools that closed last year will reopen. At this point, he doubts any makeshift schools will be established.
The same flexibility will apply to hiring teachers. Some hiring will be done from Houston's existing pool of qualified unemployed teachers, while certified teachers from places like New Orleans, dozens of whom have already applied, will also be considered. Officials will review certification individually. Abbott doesn't anticipate this will be a problem.
"We have thousands of kids in Houston who are hurting now, and we have the ability to help them," says Abbott. "Our 12,500 teachers have committed their lives to helping children. This is an extension of that lifelong mission."
Care Without Borders
Abbott also sees potential camaraderie among the teachers from impacted areas seeking employment and those who work in the HISD. "They'll welcome them with open arms. You become a teacher because you care about people."
This care extends beyond the immediate region, as evidenced by some of the letters Edutopia has received in recent days. Linda Freimuth, a seventh- and eighth-grade teacher from Penobscot Community School in Maine writes:
Hello, we're a small school in rural Maine. We want to do something to help our fellow Americans in the South who have been dealt this horrendous blow.
Our thoughts: As parents/teachers we worry about our children the most. Kids in the South won't be going to school b/c obviously there are no schools at this time. We have room; we have people who can board children for however long. Remember the airlift of children out of war zones in WWII? We need a similar program now. Do you know of any group thinking along these lines?
Thank you for any help you can give us.