Professional Learning
The Way of the Wiki: Building Online Creativity and Cooperation
These tools are the ultimate enablers of collaboration — in and out of class.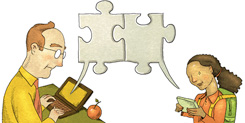 Credit: Wesley Bedrosian
A simple, cheap technology with a funny name will become an even more powerful portal into creative teaching and learning this year. Educators, if you haven't already, meet the wiki.
Wikis are Web sites that can be instantly and easily edited by anyone the wiki owner chooses to allow (in the case of Wikipedia, everyone in the world). The teachers who first used them a few years ago started simply by posting assignments and information for their students. Now, the trailblazers use them to create living, breathing classrooms online.
"A wiki is the greatest project tool that's ever been created," says Vicki Davis, ed-tech blogger and classroom wiki pioneer.
What's so great about it? A wiki is the ultimate enabler of collaboration. Stewart Mader, maven of the GrowYourWiki blog and "wiki evangelist" for the San Francisco software company Atlassian, explains that, tangibly, a wiki is a place to organize group work where everyone can see and contribute to it. A wiki can hold any kind of media -- text, images, videos, or diagrams. The intangible part is that it allows for asynchronous cooperation, so one student can work on a group project in the afternoon, one in the evening, and one at night, and each will build on what the previous one did. Unbound from fixed meeting times, says Mader, each team member contributes when she's at her best.
How great is that? Check out the numbers. In the three years since wiki provider Wikispaces launched, nearly 400,000 K-12 teachers and students have registered as users (not all of them active). In early 2006, Wikispaces offered to give away to educators 100,000 "Plus" memberships -- a $50-per-year option that removes ads and allows the owner to restrict public viewing of the wiki. At last count, the company had given out more than 80,000. Other popular wiki providers include PBwiki and Wetpaint.
Davis, who blogs as Cool Cat Teacher, has witnessed some of the best uses and worst misunderstandings of wikis. One person emailed her and -- mistaking the Web tool for the Wicca religion -- said that wikis are evil. Another educator told her he couldn't use wikis with students because his district superintendent believes all wikis involve porn.
She knows, though, that the truth about wikis as teaching tools is far better than the fiction, and every day more and more educators are seeing that, too.
Louise Maine, a science teacher at Punxsutawney Area High School, in western Pennsylvania, essentially runs her entire class on a wiki. During class, students upload lab data and observations to their wiki pages in real time. Later, from home, they can write formal lab reports and engage in discussions in the same space. The wiki is a parallel classroom -- one where students can collaborate, ask questions, and find answers, and where Maine can engage them, from any computer anywhere, day or night. (Read our article about Maine's classroom wiki, and check out her tips on how to use one.)
The learning potential with wikis goes further than that. Davis, who teaches high school technology in Camilla, Georgia, has blown out the walls of that parallel classroom by orchestrating student collaboration across continents, between places as distant as the United States and Bangladesh.
Davis insists wikis are not the wild, untamable places that educators often fear they are. A teacher can restrict who may edit and view a wiki, or block certain pages from any editing. Best of all, says Davis, the wiki stores a record of every change made and who made it, so students know she can see exactly what they did, constructive or otherwise. Note to student slackers: That means she can see what you didn't do, too.
"It is not like some greased-pig contest," Davis says. "It's such a controllable environment that sometimes kids say, 'I can't get away with anything on a wiki.'"
The more educators see examples like Maine and Davis, the more of them look beyond the wiki myths and embrace the benefits. Wiki enthusiasts (we at Edutopia included) expect their numbers only to grow.
Grace Rubenstein is a senior producer at Edutopia.