Project-Based Learning (PBL)
Wiki Woman: How a Web Tool Saved My Career
A Pennsylvania high school biology teacher revitalizes her classroom with a wiki.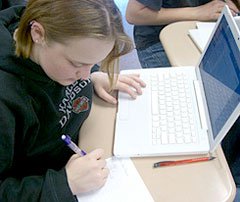 Credit: Grace Rubenstein
Problem Solver: Sheridan, a freshman, works out a problem comparing momentum and kinetic energy.
One morning last spring, as she waited for her biology students to arrive and begin a photosynthesis activity, Louise Maine predicted, "It's going to be mayhem. I expect serious frustration -- which is a good thing."
This is the new Mrs. Maine -- building her lessons around creative projects and challenging her students to find answers on their own. Just over a year ago, she was the kind of teacher who gave lectures and assigned worksheets for homework; she also had begun to question her choice of career.
All that changed in a matter of months. The fuel for more dynamic teaching was always inside Maine, but in spring 2007, it was an unglamorous and inexpensive Web tool -- a wiki -- that gave her the spark.
Evolution of the Species
Maine teaches at her alma mater, Punxsutawney Area High School, in rural western Pennsylvania (yes, that Punxsutawney, home of the famous groundhog). Her wiki started as little more than a calendar that she could easily update and show students and parents -- not much different from a regular Web page. "It was all about me," she says.
Then she began posting class instructions and useful links, and she gave students a small space to write responses. The more she opened it up to students, the more she saw what they could do. By November, she had given over the wiki -- and with it, the control of learning -- almost entirely to her students. She calls the effect miraculous.
Now, the wiki is the hub for almost all class activity. Maine sets it so that only she and her students may edit it, though anyone in the world can view it. When students enter the classroom, they automatically know to look at the wiki for daily instructions, rubrics, and resources. ("Punxsy" High has nearly a one-to-one laptop ratio, thanks to a state technology program.) They post their research, lab data, and observations on individual and group pages, which they can access later from home. After hours, the Web site functions as a parallel classroom, where students hold discussions, collaborate on group projects, and post their final work. (Read Maine's tips on using a classroom wiki.)
Maine, a teacher for twenty years, now gives far fewer tests than she used to; the work and analysis students provide on the wiki are sufficient to show their mastery.
A Day in the Life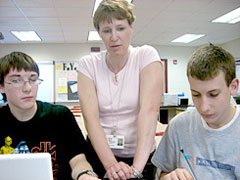 Credit: Grace Rubenstein
Science Coach: Louise Maine helps students Easton and Mason with their class work on photosynthesis.
On the day of the photosynthesis activity, students split into groups of four to determine the ideal wavelength and intensity of light for producing chlorophyll. They used a Web simulation linked from the wiki. Maine says she intended to let them flounder, and some did, changing both variables at once so they couldn't tell the effect of either one. Students spontaneously made charts on the wiki to record their groups' findings. All the while, Maine circulated the room, coaching the teens through their problems and questions in her serene and methodical style. Later, each group would write its answer on the wiki, along with an explanation of how the students found that answer and what they thought about it.
Other projects have included a video on the physics of each student's favorite sport and a survey of fellow students on their energy-conservation habits.
"It's making us understand things better because we're getting in-depth now ," says Jenna Merrell, formerly a sophomore in Maine's class, of the wiki-based group work. "And it's better than just sitting in class and taking notes."
All Together Now
The power of the wiki, Maine says, is that it enables students to collaborate. Students working together on a project may pool their contributions instantly, even while working from separate places at different times. A student struggling with a biology concept at 10 P.M. can post a question and potentially get an answer from a peer. The wiki can hold all kinds of media, from text to photos to video. As the teacher, Maine can observe and participate in any part of the process. But, she notes, "if you're not collaborating and doing projects with a wiki, then it is not really anything special."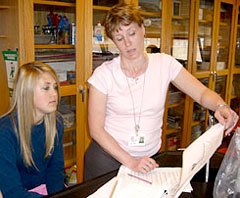 Credit: Grace Rubenstein
Brain Storm: Maine and freshman Maddison discuss photosynthesis.
Students like the wiki because it helps them keep track of their class work, they enjoy working on computers, and they often feel more comfortable participating in discussions online than in class. "You feel free to express yourself because you can write down anything you want," notes Cassie McConnaughey, who was a junior in Maine's Science for Living class. "In the classroom, you might be afraid to say what you think out loud, but on the wiki, you can type and you don't have to say it."
Wiki-related challenges include technical difficulties and the need to accommodate students who don't have Internet access at home (though this is rare, even in rural Punxsutawney). Maine also has had parents and students question her approach because they are more comfortable with traditional teaching styles. But she's not going back. Her students still get the big concepts, she says, and she hopes that because they're having fun learning, they'll gain a greater interest in science.
What, Enjoy Learning?
In one project this past year, for instance, the teens made videos about the functions of different cell parts. Each student argued why his or her part shouldn't be voted out of the cell in a game called CellVivor, inspired by the television reality show Survivor. On a follow-up quiz on cell parts, the students did about the same as those who had learned the traditional way the year before. "But did they have fun this time?" Maine asks. "Yes."
The wiki has revived Maine's love of teaching, too. Although the pressures of content standards had sucked her into lecturing, Maine is, at heart, a project-oriented person. In addition to teaching, she owns the scrapbooking network Scrapaholic USA and, with her family, keeps several dozen chickens, thirty sheep, four dogs, and two ferrets.
Maine celebrates the fact that, starting with the wiki, she has become a learner again. Her goal for the summer was to learn how to make podcasts and get her students involved in global collaboration.
"The technology isn't going to make education better," she says. "The technology will allow our teaching to change."
Learn more about wikis by reading Louise Maine's presentation "Wikis: A Web 2.0 Tool To Transform Teaching in a 21st Century Classroom" (download the PDF) and another in which she details the benefits of a wiki (download the PDF).
Grace Rubenstein is a senior producer at Edutopia.