Professional Learning
In the Trenches: Community Activism Plays a Starring Role in Education Reform
Educational activism kicks into high gear.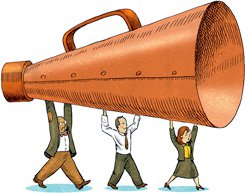 Credit: Wesley Bedrosian
On March 19, 2008, more than ten thousand parents, students, teachers, and community organizers hit the streets in the driving rain to protest hundreds of millions of dollars in budget cuts to New York City's public schools.
The rally was called by the Keep the Promises Coalition, an association of more than sixty education organizations and dozens of elected officials whose ongoing battle for budget revision is still making national headlines. But New York City is not the only community up in arms. As schools across the country find their meager budgets slashed to the bone -- alongside a litany of other inequities -- angry constituents are putting their collective foot down.
"Parents, teachers, students, and community members recognize that if they want better schools, they have to fight for them," says Aaron Dorfman, executive director of the National Committee for Responsive Philanthropy and former executive director and lead organizer with People Acting for Community Together (PACT), in Miami, Florida. "If they don't hold school districts accountable, no one will."
This year, the rising tide of community-based organizations working for education reform will prove an indispensable part of the education system as a whole. Policy makers and philanthropic funders are taking note of the power of grassroots activism to shape political will, communicate local needs, and create long-lasting change in struggling schools.
Over the past decade, for instance, PACT successfully encouraged the Miami-Dade County Public Schools to implement both a rigorous, phonics-based reading curriculum and a comprehensive mentoring and training program for new teachers. In Los Angeles, pressure from the Community Coalition and its youth-organizing arm, South Central Youth Empowered Thru Action, prompted the Los Angeles school board to pass a resolution in 2005 that mandated college-preparatory curriculum for all Los Angeles Unified School District high schools. And due in part to the efforts of the New York-based advocacy group Time Out from Testing, a collection of twenty-eight schools across the state (the New York Performance Standards Consortium), featuring alternative, portfolio-based assessments, was granted special exemption from most of the Regents exams required for high school graduation.
Along with the success rates of these kinds of organizations, so goes the growth in funding for them: "Funders are recognizing that if they want education reforms to last, they have to have a constituency on the ground that is invested in those reforms," says Dorfman. "If they fund flavor-of-the month, top-down, expert-driven reforms, those change every few years."
To that end, a public charity called Public Interest Projects recently created Communities for Public Education Reform (CPER), a funders' collaborative designed to back organizations that give communities a voice in the policies that affect their public schools. "Communities have a very important source of knowledge that has to be part of the conversation," says Julie Kohler, CPER's director of evaluation and program manager. Launched in May 2007, CPER has already gathered the support of more than forty-five funders and invested several million dollars in more than twenty education-organizing groups in Chicago, Denver, New Jersey, and Philadelphia.
Grassroots reform is not a quick solution, nor is it an easy one. But what the method has, says Kohler, is "the potential of working at scale, providing systemic solutions to inequity in low-income districts." According to the Annenberg Institute for School Reform's recent study, "Organized Communities, Stronger Schools," not only can community organizing effect policy changes, but it can also lead to a variety of qualitative, broad-based improvements, such as increased teacher morale, parent involvement, student attendance, and graduation rates.
"Empowering people to speak up and demand justice in whatever arena is really important," says Jane Hirschmann, co-chairwoman of Time Out from Testing and a parent advocate for more than twenty years. "People have to know that they can speak up and organize -- and even win sometimes."
See our article on email activism.
Sara Bernard is a former staff writer and multimedia producer for Edutopia.