Social & Emotional Learning (SEL)
Full-Service Schools: Where Success Is More Than Academic
Communities and schools unite to meet the needs of the whole child.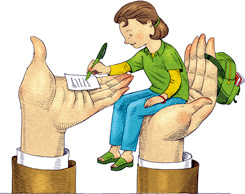 Credit: Wesley Bedrosian
For every educator who has tried to play therapist, nurse, job counselor, nutritionist, and family advocate to her students while still fulfilling the duties of her own job -- imagine a school where there's actually a professional to fill each of those roles.
That's the goal of a growing number of communities that are creating full-service community schools, in which service agencies and schools team up to meet a whole range of children's social, emotional, and academic needs, using the school building as a hub. With the economy stuttering and the pressure on schools to hit testing targets getting more intense, the number of school-as-service-hub sites will grow in the coming year and beyond. Even where communities don't attempt to create complete one-stop shops, schools and service groups will increasingly join forces in smaller ways to better support kids.
"The school is the receiver of everything that's happening in the economy or society," says Molly McCloskey, director of constituent services at the Association for Supervision and Curriculum Development (ASCD), outside Washington, DC. "The housing crisis right now -- holy cow, is that playing out in schools! Different kinds of families are qualifying for free or reduced lunch, and, even worse, some families are so embarrassed about applying that their kids don't have food."
The community-schools movement is more than twenty years old, McCloskey says, but it's seeing a surge in interest. It is dawning on social workers and educators that these partnerships enable agencies to reach children where they are, and the assistance frees up teachers to teach and -- ideally -- students to learn.
It may seem like a long leap from multiple-choice math tests to in-school social work, but as with so many things in education, the federal No Child Left Behind Act plays a role. Love it or hate it, the law has placed a national spotlight on the disparities in academic achievement between affluent and poor neighborhoods -- and no amount of test prep can erase the effects of poverty, ill health, and family distress on children.
At Thomas Edison Elementary School, in Port Chester, New York, a pocket of poverty in wealthy Westchester County, school leaders began a decade ago forging partnerships to support students and families. As reported in the April 2008 issue of Educational Leadership, the school now hosts a health center where staff from a local medical agency provide primary care, dentistry, and nutrition counseling -- essential services at a school where previously only 23 percent of students had health insurance.
Through other partnerships, students and families benefit from the services of a mental health counselor and a bilingual family caseworker, plus after-school enrichment. Edison's standardized test scores have rocketed upward, and immigrant parents once uninvolved with the school are now active in the PTA.
Other communities tackle problems more piecemeal, welcoming what services they can get. Nationwide, 1,700 sites have school-based health centers offering care tailored to community needs, according to the National Assembly on School-Based Health Care.
In rural Grants Pass, Oregon, the Southern Oregon Adolescent Study and Treatment Center began three years ago stationing staff in schools to counsel students in the course of regular school activities -- avoiding the stigma of being pulled out of class for a formal counseling appointment. The local Lovejoy Hospice also has begun providing counseling in twelve schools to children with a deceased, dying, or absent parent. Nancy Livingood, Lovejoy's manager of social services, explains that the partnership "evolved out of need -- one call after another."
Public support for these hybrid operations is growing. The U.S. Department of Education, planning to give out $5 million this fall to support full-service community schools, received 480 applications for just 8 to 12 grants. Congressman Steny Hoyer of Maryland is trying to add another $200 million in annual funding to the new NCLB law.
"This is about meeting the needs of kids to ensure all of our futures," says the ASCD's Molly McCloskey. "It's about making sure that kids, as they become adults, are more than just little brains on a stick."
Grace Rubenstein is a senior producer at Edutopia.