Assessment
Waldorf Methods to Use in Your Classroom
Six tips to spice up the day.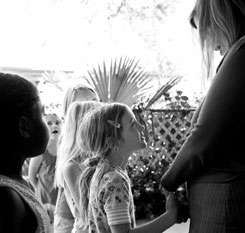 Credit: Bart Nagel
This how-to article accompanies the feature "Waldorf-Inspired Public Schools Are on the Rise."
Waldorf can appear to be a mystifying educational method that doesn't connect to traditional practices. Still, there are aspects of this educational philosophy, used to engage students, that can be applied to any classroom. Here are six suggestions:
Greet. Shake each student's hand, and make eye contact as each enters class. This strategy allows the teacher to check in on each student at the start of the day. Students will line up at the door, eager for a one-on-one moment with the teacher.


Relate. Create a buddy system with students in an older grade. The cross-age pals at the John Morse Waldorf Methods School meet once a month to learn about building solid relationships with both younger and older students.


Draw. Let students illustrate their own workbooks. Having students draw out math and reading lessons is a great way to integrate art into the curriculum. The students will take pride in their books, and learn in a new way.


Plant. Get students outside through nature walks and gardening. Weekly nature walks in a local park or natural area will become science lessons as the teacher answers students questions about the natural world. A school garden can allow students to connect with nature and learn how plants grow.


Play. Practice musical instruments during class transitions. Give each student a recorder, and have the whole class follow the teacher by playing a few notes at class breaks. The students will enjoy mixing short music lessons into everyday learning.


Move. Allow kids to be active during lessons. Your whole class will enjoy getting out of their chairs to do physical activities such as stomping their feet and counting out numbers to begin learning multiplication.
Malaika Costello-Dougherty is a senior editor at Edutopia.