Technology Integration
No More Pencils, No More Books: A School of the Future Readies for Launch
A new high school in Chicago explores the possibilities of tech-centered learning.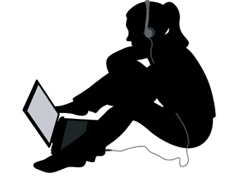 Credit: David Julian
Forget textbooks and handouts. Forget No. 2 pencils. And if you're looking for curricula for science or English class, go online. At the VOISE Academy High School, a new Chicago school opening in fall 2008, classwork is guided and shaped by 21st-century tech tools, providing an intriguing glimpse at what schools may look like in the future.
With the help of outside funding, VOISE (Virtual Opportunities Inside a School Environment) will bring the best online education offers to a real-life classroom. Each student will have a wireless-enabled laptop for use at school; those without a PC and Internet access at home will have that provided, too. With tech as the backbone, designers say, VOISE will make learning what it should be: student directed, project based, rigorous, and relevant.
Kemi Jona, an associate professor at Northwestern University and a member of the VOISE Academy High School design team, explains that online curriculum provides "a ticket to entry for students, getting them ready for the really exciting stuff: the projects, the collaborations, and the local connections that a teacher can bring." Curricula will be aligned with national and state education standards, but this "textbook" will hardly be "the sum total of what a teacher uses in his or her classroom," Jona says.
Proponents of online education call VOISE Academy High School's development a big step. "You can really get back into the art of teaching if you can take the best that technology has to offer," says Susan Patrick, president and CEO of the International Association for K-12 Online Learning (iNACOL).
VOISE is part of the Chicago Public Schools's Renaissance 2010 initiative, designed to create 100 specialized public and charter schools that will keep kids engaged and wanting more. The academy, with 150 freshmen, will share a building with two other Renaissance 2010 schools on the former Austin High School campus on the city's West Side, adding a grade level and an additional 150 students per year until it reaches a maximum of 600.
Getting Personal
In addition to in-class teachers, students will have access to instructors from Apex Learning, the school's online content provider. Students can also take classes not offered at VOISE through Apex, Aventa Learning, or Illinois Virtual High School. They'll have "a full complement of courses, even though our in-class enrollments won't justify that many teachers," says Jona. A student who enters high school with a flair for Spanish, for example, or with a penchant for oceanography, can "get the benefits of a small school without any of the drawbacks." Jona notes that the tech infrastructure will bolster many of the school's core goals -- individualized instruction, small class sizes, and close relationships with teachers and peers.
In an effort to diminish the potentially dehumanizing aspect of a tech-reliant environment, the school plans to emphasize interpersonal relationships. That issue has come up during interviews with prospective teachers. "When I look at résumés, I'm envisioning teachers who have coached before, or taught special education, because they're used to working one on one with students and building relationships," says Todd Yarch, VOISE Academy High School's newly hired principal and a former teacher at several Chicago high schools. "I have a feeling that VOISE students are going to be able to advance so much faster than other students because they will have had their individual needs met."
Throughout the spring, VOISE designers have been up to their laptops in the typical challenges of opening a new school in a large urban district: community outreach, teacher recruitment, student enrollment, fundraising, and a bit of bureaucracy, to boot. The added layer of technology is challenging both from a financial viewpoint and a professional-development perspective. Potential partners for teacher training and financial backing include the Chicago Community Trust, Adobe, and NACOL, which may be able to assist with the development of specific resources for other schools to tap into when the VOISE model gets off the ground.
Uncertainties abound with any new school, but VOISE ups the ante, as there are few examples of best practices in an all-digital, in-person school environment. "There are very few hybrid, truly blended institutions out there," says Sandi Atols, manager of distance learning for Chicago Public Schools and originator of the VOISE Academy High School concept. The school is committed, therefore, to creating in-depth and ongoing professional development for VOISE educators, starting with three weeks in the summer, two preparation periods per teacher per day, and a whole-group professional-development session each week, in addition to periodic staff-development days the school district sets aside.
It's a tremendous cultural shift for all involved, but hopes are high: VOISE has already received roughly 200 student applications for the 150 available slots. The school's primary focus is college preparation -- and through technology-enabled, highly collaborative, and engaging work, as well as the differentiated emotional and academic support so vital to student success, designers are confident that the model will eventually gain traction nationwide.
"So many students come into high school so downtrodden," says Atols. "Our promise is that they will succeed -- with our help."
Sara Bernard is a former staff writer and multimedia producer for Edutopia.
Credit: VOISE
Prove It -- Early Success: Higher Attendance, More Grads
VOISE is part of Chicago's Renaissance 2010 effort to create innovative schools that provide high-quality educational options. These academies receive more freedom than traditional public schools in return for high levels of accountability. Early research shows that students in these new schools are more likely to attend school and go on to graduate. Their success, according to results from the 2005-06 school year, includes
a higher attendance rate:
95 percent Renaissance 2010 elementary schools vs. 94 percent district elementary schools.
93 percent new high schools vs. 86 percent district high schools.
a lower transfer-out rate:
8 percent Renaissance 2010 schools vs. 14 percent district schools.
a higher graduation rate:
90 percent Renaissance 2010 schools vs. 73 percent district schools.
Source: Office of New Schools, Chicago
This is the first installment of a multipart story following the inaugural year of a new and innovative tech-centric high school in Chicago. We will file online reports throughout the 2008–09 academic year that describe the highs and lows of the VOISE Academy High School launch. Read part two.