How Canada Is Closing the Achievement Gap (Education Everywhere Series)
In Ontario, schools have raised their test scores and graduation rates by providing resources such as full-time student success teachers, who help English-language learners and other students in need.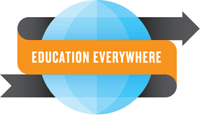 Education Everywhere Video Series
This series takes a look at high-achieving education systems and model schools around the world to see what makes them successful. This series is a co-production with the Pearson Foundation.
Canada Fast Facts
About 40,000 immigrant students come into the Canadian public school system every year, due to Canada's high rates of immigration per capita.
A quarter of the students in Ontario were born outside Canada, and 80% of them are non-English speaking.
The large province of Ontario accounts for 40% of Canada's population; its two million students are funneled into about 5,000 schools.
Between 2003 and 2010, Ontario's high school graduation rate rose from 68% to 79%. The provincial government's goal is to reach an 85% graduation rate.
Every school in Ontario staffs a full-time "student success teacher," who devotes his or her time to the students who need it most.
Despite coming into the country with challenges, immigrant children are typically performing as well as Canadian-born children on the PISA assessment just a few years after their arrival.
Watch more videos in the Education Everywhere series: