Professional Learning
Up Front: It's the Principal That Counts
A school leader's "above-and-beyond" philosophy inspires a can-do attitude.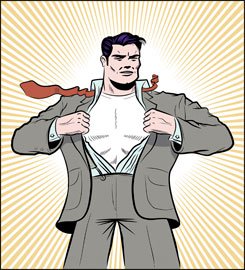 Credit: iStockphoto
What is it about elementary school principals? They seem to possess a certain mythic quality that makes them a little larger than life, inspiring more awe or dread than your average grown-up.
That's the way it was with Mr. Allen, my first principal. He was a tall, broad-chested man, who always wore a gray suit and walked with a slight limp. (The fifth graders said that World War II had left him with four bullet holes in his leg.) A man of few words, Mr. Allen spoke only briefly in assemblies and had an air of benevolent aloofness as he strode the halls and occasionally patrolled the playground. The nervier kids called him Frankenstein, mostly because of his limp.
Our school was located at the foot of a small mountain in West Vancouver, British Columbia. One day during recess, a rather large and seemingly disoriented brown bear rumbled onto the playground. Pandemonium ensued, with half the student body fleeing back to their classrooms, while the rest, including me, stood and gaped.
In minutes, Mr. Allen and a phalanx of teachers arrived. Mr. Allen took up a position between us and the bear, who had begun to paw the ground and swing his head from side to side. As teachers pushed us back to our classrooms, the bear stood up on its hind legs. I was sure he was going to devour Mr. Allen.
Glancing back as I was entering the building, I saw Mr. Allen holding his ground, looking rather diminutive in front of the big bruin. According to reports from kids who peeked out the windows, Mr. Allen stood there until police officers came and shot the bear -- with a silencer. Teachers claimed it was a tranquilizer gun, though reports in the paper the next day suggested otherwise.
Mr. Allen made scant mention of the event other than to praise us in assembly the next day for our relatively cool response. I remained forever impressed by his show of bravery and leadership. And even the kids who'd called him Frankenstein began to call him Davy Crockett instead.
The woman whose image graces the cover of this issue is another brave elementary school principal, though her courage and bravery are of an entirely different order. Against truly daunting odds, she has stood with unshakable determination between her students and one of the most devastating natural, social, and economic disasters in recent U.S. history, the seemingly endless aftermath of Hurricane Katrina. Her name is Rene Lewis-Carter, principal of the Martin Behrman Charter Academy of Creative Arts & Sciences, in the Algiers section of New Orleans.
Writer Ann Banks caught up with Lewis-Carter last spring, three and a half years after she swung open the doors of the new school. This, just over three months after Katrina had damaged most of the city's schools and when more than half of the Behrman student body was homeless, housed in trailers, or squeezed in with friends or relatives.
Hug by hug, immunization by immunization, and test score by test score, Lewis-Carter and her staff of veteran New Orleans teachers have led their 628 students not only back to normalcy but also to the figurative higher ground of success, confidence, and genuine enthusiasm for the future. Along the way, they have transformed a community and set a startling example for their still-beleaguered city.
Most folks attribute the turnaround to Lewis-Carter's "above-and-beyond" philosophy, which means that school personnel put their students first in all decisions, and they are rewarded for doing so. In Edutopia parlance, the Behrman success has been a quiet triumph of social and emotional learning, integrated studies, and deft teacher management and development, none of which would have been possible without Lewis-Carter's transformative leadership.
To learn more about the Behrman staff and students and about how the New Orleans school district is becoming a hothouse of educational reform, be sure to check out our coverage.
Be sure, too, to spend some time with our Edutopia.org bloggers, including Betty Ray, our new community manager. In the not-too-distant future, she will be opening the doors to an exciting Edutopia social network of educators, where members like you will be able to connect and share information 24 hours a day in groups and discussions. We want to hear from you about which topics would trigger the best discussions. Visit Betty Ray and let her know your thoughts. Meanwhile, stay tuned for more on the brave new future of Edutopia and Edutopia.org.

David Markus
Editorial Director