Professional Learning
Toss the Traditional Textbook: Revamping a Curriculum
Open source education resources can replace stale old volumes.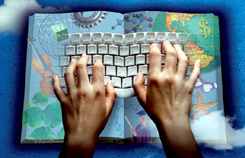 Credit: David Julian
In the El Paso Independent School District, in El Paso, Texas, the high school algebra textbooks are dog eared and worn, thumbed by students year after year and aligned with state educational standards that have since been updated. Like all printed books, the algebra books are frozen in time, reflecting (hopefully) the state of the art of knowledge at the moment the publisher's deadline hit.
Therein, however, lies the problem: Classroom teaching shouldn't be as static as the textbooks on which it's based.
Superintendent Lorenzo Garcia has a better idea: He has set his sights on having El Paso's teaching coaches create their own source materials for use across the school district. Someday, he hopes, they'll even write their own textbooks. They'll do it cheaply, collaboratively, and efficiently -- through open source technology.
Open source content, or material freely contributed and given away, is best known to software engineers through operating systems such as Linux and to the nongeeky rest of us through the online encyclopedia Wikipedia. Open source, unfortunately, sometimes gets a bad rap as the unreliable product of a free-for-all by the unqualified yet opinionated masses.
It doesn't all have to be so anarchistic; to earn the "open source" definition, materials must be licensed so that anyone may freely use, modify, and republish them. This status enables material to be collaboratively written online through group-editing software. Done more deliberately, this method holds huge potential benefits for K-12 schools, and the possibilities are beginning to dawn on a handful of forward-thinking educators.
"Increasingly, you're going to see open education projects become the leading publication outlet for educational material, because they're so flexible, they're so easy to maintain, and authors can have such a big impact by publishing their material with open access," says Richard Baraniuk, founder of the open source content library Connexions. Open source authoring can provide more diverse and up-to-date materials than the lumbering print-textbook process can, and if teachers contribute, it could pour the wisdom of wired teachers everywhere into a collective global brain.
Connexions is where Garcia has chosen to develop El Paso's new course material. Baraniuk, an engineering professor at Rice University, launched the nonprofit Web site in 1999 with a dizzying goal: "to provide universal access to all the world's knowledge to all the world's people in all the world's languages, and make that completely, freely available."
Rather than slog through an entire book, contributors on Connexions write bite-size modules, or lessons on a single, simple chunk of knowledge, such as the cell cycle or the three branches of government. Other people may use these chunks one at a time or mix, match, and assemble them into a course of their own design. Anyone may create a new, modified version of any module, though the original author's work remains available on the site. Connexions has accumulated nearly 200 courses and more than 3,300 modules.
The Global Education and Learning Cooperative, a not-for-profit spin-off of Sun Microsystems, is gearing up a Web site similar to Connexions, only focused specifically on K-12 math, science, technology, reading and language arts, and foreign-language instruction. Organizers aim to build a critical mass of curricula and a large community of active contributors by the beginning of the new year.
Open source content could bolster the education of not only students but also teachers, says Ronald Powell, administrator of the Desert/Mountain Special Education Local Plan Area, in San Bernardino County, California. He sees an open source library as the ideal environment for teachers to share best practices and lesson plans and to overcome the isolation that forces new teachers to learn solely by trial and error. "All of us are smarter than one of us," he adds.
Powell knows the risks of opening content up to unregulated editing. "Education is fully populated with wild and crazy ideas, many of which don't work," he says. The key is to attract enough teachers to the site that the reasoned many can police the activities of the errant few.
Why would someone spend time writing materials just to let anyone use them free? It's not about the money, say devotees of open content; it's about the personal credit, and the impact authors can have. On Connexions (which, unlike Wikipedia, identifies authors by name), the most popular contributor is Kitty Jones, a private music instructor in Champaign, Illinois.
Her modules on teaching students to play and read music are viewed up to 600,000 times a month, frequently by educators in U.S. K-12 schools. Garcia says such open source publishing can honor the expertise of teachers who feel disenfranchised by standardized curriculum and exams.
Baraniuk envisions a day when his site will hold so much knowledge that each student can have a personalized textbook cobbled together from various modules to match his or her strengths and weaknesses, then ordered from a print-on-demand publisher for about $20 and delivered to school overnight. Compare that to a typical textbook price tag of $60-$80.
For public schools, however, there's a snag in realizing this vision; districts generally may buy primary textbooks only that their state has approved for adoption. (Most universities fall under no such restriction, and Connexions already boasts the content for any college student to print up a complete electrical-engineering textbook.)
Sanford Forte, a Silicon Valley entrepreneur who used to work in textbook publishing, is campaigning to change this closed system through his not-for-profit organization, the California Open Source Textbook Project. (See the Edutopia article "Slash the Textbook Budget with Open-Content Curricula.")
No open source K-12 books that conform to required state curriculum frameworks have emerged so far, Forte says, because denizens of what he calls the "Wild West" open source environment don't like the yoke of state standards. But a group of teachers working together in a protected space, where open source cowboys couldn't trespass, could produce far more innovative material than Forte sees in conventional texts, and for far less money.
All that's needed, he adds, is a little initiative by state officials or private investors -- and he figures an investor with enough patience could turn a distribution-only, open source, state-approved textbook enterprise into a $200 million business.
Many teachers are already using open source content to supplement primary texts. "We're going to revolutionize the whole book industry," says El Paso's Lorenzo Garcia, who plans to start his staff writing and using Connexions modules this fall. Ultimately, he'll seek state support for El Paso teachers to create their own full-fledged textbooks. He says, "Wouldn't that be something?"
Grace Rubenstein is a senior producer at Edutopia.