Social & Emotional Learning (SEL)
Thom Mayne: Inside His Diamond Mind
The iconoclastic Mayne proves to be as provocative in making conversation as in designing buildings.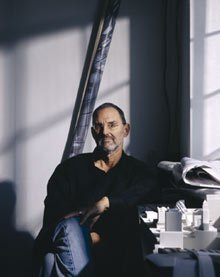 Credit: Mark Hanauer
The designer of Diamond Ranch High School is about as busy as an international architect can be these days, flying constantly from his office in Southern California to New York, Boston, Madrid, Paris, and Shanghai. He's racked up three million mileage points on American Airlines alone. Edutopia got him to slow down recently for an interview at Morphosis, his Santa Monica architectural firm. The iconoclastic Mayne proved to be as provocative in making conversation as in designing buildings.
Most of us teach at and/or attended schools that are completely utilitarian. Does it really matter what a school looks like?
Yes. When you look at a school, it will tell you about the status of education in that culture.
Although critics have lavished praise on Diamond Ranch, not all the students and teachers feel as enthusiastic about it. Does that bother you?
Whether they like it or they don't like it doesn't matter. That's not important. It would be like seeing the lunar landing module and critiquing what it looks like. It got three people to the Moon and back. You can love a building or hate it. I couldn't care less. But it has to work.
If you hadn't had any design constraints, would you have done anything different?
If I'd had a free hand, I would have made every room different, with a character more or less connected to function.
You obviously didn't design a school for the money, but, rather, to make a difference. What was your own school experience like?
High school was meaningless to me. I spent a huge amount of time in the halls. My counselor said he didn't think I should go to college. I said, "Screw you!"
It's probably worth noting that the counselors' offices at Diamond Ranch are so small that someone has to stand up before the door can be opened. Would you call aspects of your design subversive?
I want to alter what I see as a complacent and somehow irrelevant system. To a lot of people, I'm a sixties kind of guy. I'm a bad boy, but it doesn't take a lot to be a bad boy in this culture, what's called in Spanish a chico malo-kind of a rascal. When we talk about education, that's who you should be.
I'm all about attacking complacency. There's nothing worse than a child who is already beaten down and passive, so I'm totally comfortable if this work is moving toward the type of inquiry that develops rascals. Teachers should be looking for vibrancy and creativity and nurturing curious minds. I could do no better if that happens.
If you were to tell Diamond High students about the school's legacy, what would you say to them?
I'd say, "I left this for you to prove you can do what you want to do. Don't listen to all these people who tell you that you cannot accomplish something. I'm going to tell you, you can do anything you want to do, and you will do it. And I proved it to you."
You took chances with this design. Some of it works, some doesn't. Is its experimental nature too risky in the end?
Today's experiment is tomorrow's history.