Project-Based Learning (PBL)
How Does Your Schoolyard Grow?: A Green Playground Extends the Classroom Outdoors
Turning asphalt deserts into educational Edens is the goal of a burgeoning architectural movement.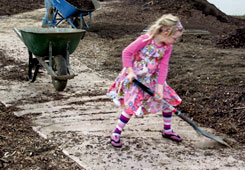 Credit: The Miller Company
Digging in the Dirt: A fashionable pupil at Sherman contributes to the greening of the schoolyard.
California landscape architect Jeff Miller bends over a hand-operated water pump in a playground sandbox at the San Francisco School. Three preschoolers from the 270-student academy in San Francisco's Bernal Heights District watch as Miller directs a stream of water into a pail, the crucial first step in building a sand castle.
Miller, who designed this play yard, explains to the boys that, in his professional opinion, "the sand is a little coarse to stick together." Undeterred, the kids mix the sand and water in the pail and flip it upside down into the sandbox. What comes out approximates a castle tower, or at least the ancient ruin of a castle tower.
In designing the school's outdoor recreation areas, Miller has used very little of that once-unavoidable playground material, asphalt. Instead, he has followed a greener path. During a tour, he points out examples of sustainable schoolyard design, including a 25-foot-long "creek" created from discarded paving stones, ornate fencing crafted using recycled wood from old chicken coops, and climbing trees adorned with blue stripes that mean "Go no higher."
Farther along, he proudly points out what he considers the playground's pièce de résistance, another water pump set in a plot of dirt just the right consistency to make dark, viscous mud for castles, mud pies, dams, waterfalls, alluvial floodplains, and other joy-producing, pint-size hydrologic projects. There are kid-size shovels, buckets, and other tools ready to be deployed in the cause of play. The only requisite is that before mud play, kids must first don a pair of the rubber boots lined up at the top of the site.
Starting with the San Francisco School playground, Miller launched a career designing naturalistic, sustainable public and private school garden/play yards throughout the Bay Area. Today, he is an important player in the green-schoolyard movement, activists, designers, parents, and educators from across the country who believe, as Miller suggests, "that 'soft,' creative play should be encouraged as part of the socialization process as well as part of the curriculum."
Credit: The Miller Company
Looks Like a Plan: Landscape architect Jeff Miller's drawing for the green schoolyard at Sherman Elementary School provides a playground, park, and learning environment for students. The site, now being built by kids and parents as well as construction professionals, will include a labyrinth, a stone amphitheater, an edible garden, and greenhouses.
For Miller and other GSMers, the traditional theory no longer holds that kids -- read: boys -- need the Darwinian terrain of the asphalt jungle/playground on which to exhaust their fierce energy and then return, spent, to the traditional classroom. Instead, Miller views the green schoolyard as the natural, inevitable extension of the indoor classroom where play goes hand-in-hand with subjects including life and earth sciences, social studies, math, art, "ecoliteracy," and nutrition. For Miller, and other "garden educators," the GSM is steeped in a belief that kids should view nature up close, "and see for themselves how a fava bean begins with a flower," says Miller.
Natural Play
Joe Frost, emeritus professor of education at the University of Texas, is the past president of the American Association for the Child's Right to Play. For more than thirty years, he has been fighting for the kinds of schoolyards he believes are essential to a well-rounded mental and physical education. Though Frost isn't dogmatic about asphalt, believing that blacktops "give children the opportunity to be involved in organized games," he was an early supporter of green schoolyards. "The best play yard," he says, "is a natural play yard."
Frost has employed the playgrounds at Austin's Redeemer Lutheran School as the site of the University of Texas Play and Playgrounds Research Project, which he heads. Over the years, nearly a dozen playground designs have been built, tested, and rebuilt.
Throughout that time, Frost struggled against what he considers the national disaster brought about by a combination of high-stakes academic testing and playground-related lawsuits. These, he says, "have denied kids the time and opportunity for outdoor play." He talks lyrically about his own Depression-era school experience in Arkansas's Ouachita Mountains, the lack of standardized equipment, and the richness of the play experience. This, Frost contrasts with "the last three to four decades, during which we have seen this amazing change that has largely brought play indoors."
Frost believes the trend can be reversed, noting such influences as Richard Louv's 2005 best-selling book Last Child in the Woods: Saving Our Children from Nature-Deficit Disorder, and former U.S. vice president Al Gore's Earth in the Balance, as well as the growth of the green-schoolyard movement. He views hopefully the growth in what he sees as a key element of the GSM: a focus on the garden as a provider of sustenance, both educational and nutritional.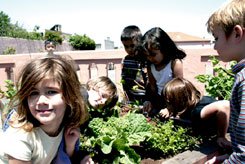 Credit: The Miller Company
"The more kids understand about growing healthy food, the more they want to eat it," says Linda Myers, volunteer garden coordinator at San Francisco's Sherman Elementary School. The connection between education and food is an important learning element at Sherman, a GSM flagship.
Nutrition was central to the mid-1990s germination of famed restaurateur Alice Waters's Edible Schoolyard project. Taking a blighted 1-acre plot near Martin Luther King Middle School, in Berkeley, California, Waters created a source for fresh, organically grown fruits and vegetables. Over the last decade, the Edible Schoolyard has transformed the diets of MLK students, helped Berkeley become a center of GSM thinking, and inspired schools such as Sherman, where Jeff Miller is creating another of his GSM utopias.
As yet, there isn't a lot of green at Sherman. The asphalt that covered the school's east-side playground has been dug up and removed, replaced by 120 cubic yards of wood chips that cover the gentle slope down to the school's entrance. A semicircle of hay bales is set in the southeastern corner, an inexpensive preview of a stone amphitheater that, in Miller's plan, will nestle among fruit trees.
His ambitious plan also foresees a bird and butterfly habitat, a vegetable garden, a greenhouse, a stream, and a waterfall. If there is still much to be done at Sherman, the hay bales are already a favorite spot for students looking for some respite from the din of a hundred elementary school kids playing kickball on the asphalt playground that will remain in place on the school's west side.
Follow the Money Trail
The new natural play yard already features a concrete path embossed with leafy imprints of gingko, bamboo, and other trees and plants that will ultimately grow there. This undulating path is actually the budgetary tail wagging the GSM dog. Funding for Sherman and similar projects in some three dozen other San Francisco schools comes from bond measures originally designed to raise $750 million to meet Americans with Disabilities Act requirements. In something of a fiscal sleight-of-hand, ADA funds were made available for school-greening projects that created paths that were both green and accessible.
Over the last decade, greening California's schools has become a popular political battle cry. It is exemplified by the 1997 reelection-campaign promise of Delaine Easton, former state superintendent of schools, of "a garden in every school." In 2003 and again in 2006, local politicians, sensing a no-lose issue when they saw one, earmarked some $7 million to create natural playgrounds.
The city, however, left the process of tapping into the bond fund pretty much up to individual schools. Lori Shelton, assistant project manager for one of San Francisco's Green Schoolyard Programs, notes that "just because funds were available didn't mean that a school community was ready to embrace the program." Funding came down to the time and sweat parents, teachers, and administrators were willing to put into their own green-schoolyard project.
Supported by Principal Phyllis Matsuno, Sherman's PTA was one of the first in California ready to proceed. By 2003, the group had organized its greening committee, and it sent representatives to a 2004 city-sponsored Green School Grounds Conference. The two-day gathering included seminars with titles such as Bamboo Shade Structures, Groceries from the Garden, and Teaching Science and Math in the Schoolyard and a forum called Finding Resources for Your Green Schoolyard Project.
This last seminar was crucial, because though bond money paid for "hard" infrastructure, such as grading, irrigation lines, trees, plants, ponds, and plantings, the more ambitious a particular school's "soft" green dreams, the more adept supporters needed to be at grant writing. Extra money was critical, for example, to fund a garden-education coordinator whose job was to not only integrate green elements into the curriculum but also to reassure overburdened teachers rightfully suspicious that this new natural twist on learning would simply be another career-complicating program.
"We really did need to get teachers more comfortable with the curriculum aspects of the Green Schoolyard," says Linda Myers, Sherman's garden-education coordinator. Additional money was also needed to pay for ongoing grounds care, as overtasked school district maintenance crews could not take the time to serve as true gardeners.
Key to meeting the shortfall of long green to pay for the school's greening was the sheer enthusiasm of Kent David, father of two Sherman students, now head of the campus's Green Schoolyard Committee, along with Myers and the principal. Sherman parents stretched available dollars by doing their own site preparation, mulching, grading, paving, and laying down a permeable cover. Even the project's architect, Jeff Miller, besides providing a spectacular landscape plan, donated his own sweat equity by running a Bobcat grader during Sherman's green-schoolyard weekends.
The end result was a garden that grew both the plants and a sense of purpose. Not bad for a schoolyard.
Richard Rapaport is a political and architectural writer who contributes regularly to Edutopia.
The Luxe Model
The poster school for the greening of asphalt deserts is the Tule Elk Park Child Development Center. This sixty-year-old San Francisco school in the city's Marina District went green in the early 1990s, with 20,000 square feet of blacktop removed and replaced by an educational Eden complete with native plantings, shady rest areas, and a nature preserve for the three Bs: birds, butterflies, and bugs.
The impetus for greening Tule Elk Park came from its clientele, children of low-income families who, as likely as not, had never been in natural surroundings. Even today, Sherman Elementary School parent Kent David suggests, "a lot of kids simply never have a chance to get their hands dirty." Tule Elk provided such an opportunity.
The problem, according to Nan McGuire, chair of the San Francisco Green Schoolyard Alliance, was in the very richness of Tule Elk's transformation. "Many people go there to see what they'd like in their own green schoolyard," she says about this "Mercedes model," but the Tule Elk outdoor redo cost a half-million dollars more than it did a decade ago, far beyond the means of most public schools today.
Related Green Articles:
Mushrooms and Tarantulas and Luna Moths, Oh, My!
Harmful products can bite the dust.
How can educators, students, schools, and communities go green? Find additional resources about sustainability, conservation, and other earth-friendly practices and curricula on Edutopia's EnvironmentAL Education page.