Professional Learning
Administrators: Tough Love
At YES Prep, sustaining high levels of achievement requires constant vigilance.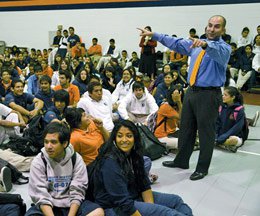 Credit: Eli Reed/Magnum Photos
Cheer Leader: School Director Mark DiBella hails the student body for earning stellar test scores for the sixth straight year.
Editor's Note: Mark DiBella is now Vice President of Operations for YES Prep Public Schools. Bryan Reed is now Director of YES Prep North Central.
It's hard to tell School Director Mark DiBella and his fellow administrators from the teachers at YES Prep North Central. They all teach classes and supervise students in the cafeteria, and teachers can get elbow deep in traditionally administrative duties like discipline, coaching fellow educators, and creating new ways to improve the school. That's by design.
DiBella, a Virginia native who started out as a teacher at YES, compares his impact on the school to that of oxygen. "If things are going well, I sort of fade into the background," he says. "If teachers start suffocating, I'm not doing my job."
DiBella sets the tone and cultivates systems that sustain it. Teachers and students get loads of appreciation and public shout-outs for what they do well, but everyone knows there's always something they could do better.
"In my previous school, if there was a problem, it would get swept under the rug," English teacher Emily Shisler recalls. Here, teachers are allowed, even encouraged, to disagree. The agenda for one staff meeting was titled "Killing Sacred Cows."
The staff members' fixation with constant improvement makes YES Prep unusually nimble. A couple years ago, DiBella and another teacher visited a school in Boston that did great work with team teaching. When they told their colleagues about it, the sixth-grade teachers put in a few extra days over winter break, implemented some plans on the fly, and reopened in January with team teaching in place. In the education world, schools simply don't adapt that fast.
Just as they challenge and support each other, DiBella, teacher Craig Brandenburg, and colleagues show both toughness and love to students. "Our best teachers are like alchemists," says YES Prep founder Chris Barbic. "They can put those two things together. They know when to put their arm around a kid and give him a pep talk, and they know when to raise their voice and get a kid's attention."
Slogans posted on just about every wall communicate to students that they are accountable to themselves and the whole school community: "We are all here to make a difference"; "We give 100 percent every day"; "Our responsibilities never end."
Combined with the school's outright obsession with higher education, and the college pennants hanging from almost every wall, it can seem a little Orwellian. Barbic explains, "When they're not here, they're bombarded with a whole other set of messages. There really has to be a marketing campaign every day around why college is important and the kind of kids we want our kids to be."
Next to the boosterism, a strict discipline system at North Central is in place, which prohibits even untucked shirts or talking out of turn. The business of getting prepared for college is too serious for such distractions. Five marks for misbehavior in a week puts a middle school student "on the RISE" (Restoring Individual Student Excellence), which entails wearing the equivalent of a scarlet letter, a white T-shirt instead of the uniform polo. For five days, a student must wear the shirt, eat lunch alone, and speak only to teachers, while earning points for positive participation in class. Each day of missing these targets means another day on the RISE.
The stigmatizing may seem harsh, but the kids who have been through RISE agree it's fair. Most have to do it only once or twice before they step into line. (North Central had only two fistfights last year.) When they complete their week of penance, students read an apology letter aloud to their classmates, who then grill them -- vigorously -- on what they did wrong and how they plan to change.
"This is a family," says Reed. "We couldn't fake what happens here."
But what happens when some in the family, teachers especially, start to run out of gas? How is this level of effort sustainable? At 7:30 p.m. on a recent evening at his office, Reed said, "Inspiration only lasts so long when you don't see your spouse and kids more than an hour a day."
Barbic acknowledges that most teachers will stay at YES Prep only five to seven years. He says the days of the 30-year career doing the same job "are over in every other industry, and to expect teachers to be different is unrealistic." Still, he says the school is taking active steps to keep teachers interested and the environment vibrant enough so they'll want to stay on longer.
DiBella resists the notion that teachers will move on and wants to make YES Prep North Central a place where they build a career. So he's creating more personalized professional development and working with the main YES Prep office to offer hefty salary bumps to master teachers. "It's an enormous challenge, because ultimately, when people ask me what it takes to make North Central great, it truly is the people," says DiBella.
What are his chances of retaining teachers for a decade or more? "Not good," he says. "But for a lot of things we've achieved, the chances weren't good. That doesn't mean we don't try."
Grace Rubenstien is a senior producer at Edutopia.

What do you think of Schools that Work?
Tweet your answer to @edutopia or post your comment below.