Education Equity
10 Powerful Instructional Strategies
The students at a previously failing school have made big gains since all of their teachers started using these strategies every day.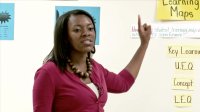 Overview
Narrowing the Achievement Gap
By focusing tightly on instructional strategies and PD, educators at Cochrane Collegiate Academy saved their school from closure. In just three years, they have doubled student performance, and they continue to reach higher.
The educators have developed an instructional model called Interactive Learning (IL). It is a collection of their ten best practices, which they call their non-negotiables, and teachers must implement them in every lesson, every day.
Shana Oliver, the school's academic facilitator, runs the training sessions for these best practices, and she helps the teachers see and experience how they can incorporate all ten into one lesson. 
How It's Done
Interactive Learning Non-Negotiables
Essential Question
What is the intended goal of the lesson? Remember, there is one essential question per lesson, and students must be able to answer this question by the end of the lesson.
With essential questions, teachers really have to be intentional about what they want the students to be able to do, and it has to be at the highest-level of learning. The students have to be able to analyze and apply; they cannot just answer the question with a yes or no. It has to be an extended response. An essential question must be "multi-skill" in order for it to be a good one.
Activating Strategy
An activating strategy is something that gets students actively thinking or making a connection with the material being presented that day. Make a connection to the content or to the outside world to see how much the students already know or remember.
One of the main things used at Cochrane is to show video clips. Students love it when they see their favorite show or cartoon. Initially, they don't know what they're about to learn so they focus on that video clip. Then the teacher uses that engagement to link to the lesson, and the students realize that their likes or interests can channel a learning experience.
Relevant Vocabulary
Relevant vocabulary must be present in your lesson. Keep your vocabulary limited to what your students are able to handle and make sure that it is actively used in context throughout the lesson. Also have your students interactively use the words during the lesson.
Use vocabulary that's relevant. Teachers must pick and choose what is going to be most important and most effective. They must teach vocabulary through a graphic organizer, through an experience, or whatever they need to help the students get it.
Limited Lecture
There should be limited lecture time. After 12-15 minutes of lecturing, you should engage your students in some type of activity, even if it's for only a few minutes. The teacher can then go back to lecturing for another chunk of time.
Examples: Have students talk to their neighbor, draw a picture, write a few sentences that summarize or describe the lecture, finish an example problem, or get in a discussion with their group.
Graphic Organizer
Use of a graphic organizer allows students to visually categorize new information or review old information.
Students need to be able to conceptualize whatever information we're giving them. The graphic organizer is student friendly. When they look at information that's organized, it's easier for them to retain and remember that information. And when they go home, it is less intimidating to look at that information as opposed to pulling out a notebook that has pages and pages of notes.
Examples: Have students record information in colorful charts in their notebooks, use computers to create graphic organizers, or create a "foldable."
Student Movement
Student movement is a must. Students need to be mobile at some point during instruction to ensure they're actively engaged.
This one is probably the most challenging for Cochrane teachers because it can be intimidating to have students moving. But student movement can look a number of different ways, and it doesn't always mean students have to get up. They just must be physically engaged in whatever the teacher is doing. It's important because students don't like to sit still, especially male students. They ahve found that when the male students are up and moving around the room, they are totally engaged in what the teacher is doing.
Examples: Students do a gallery walk in which they move in groups from corner to corner, answering questions or analyzing things posted on the walls; they work in teams or at rotation stations; they raise their hands or give the thumbs-up or thumbs-down; they answer questions with their body, putting their left foot out if they think the answer is A and their right foot out if they think it's B.
Higher Order Thinking Questions
Present your students with at least three higher-order-thinking ("HOT") questions during the lesson. This is proof that you are presenting all your students with challenging work.
The HOT questions are Cochrane's signature element. The rationale behind them is we want to give the kids an opportunity to be challenged in the classroom. The way the teacher presents these questions varies, and students' responses can be indicative of their learning pace. The same question should be used for all students, but advanced learners may be required to respond in a different way. Students can respond on paper, as part of a classroom discussion, in paired discussion, or through homework.
Summarize
Summarize to bring the lesson to a close. This is when you can assess your students' abilities to effectively answer the essential question, and you can find out whether you need to extend or refine the skill.
Teachers must find creative ways to have the students answer the essential question at the end of the lesson. A student's ability to answer the essential question at this point is a way for the teacher to assess the student's learning. In most instances, this is the point when a teacher can determine whether she needs to go back and reteach or needs to accelerate student learning.
Examples: Have students use a writing prompt, short activity, discussion, or illustration to summarize, or have them summarize on an exit ticket.
Rigorous
Lessons must be rigorous. The activities should be challenging and move at a brisk pace. There should not be opportunities for students to get bored or periods when they have nothing to do. The entire lesson should be an active lesson.
Teachers should strive to take students to the highest level of knowledge. There are only 180 days in the school year, and a lot of the students do not come in at grade level, so we've got to move them with the 90 minutes that we have each day in the classroom.
Student Centered
Your entire lesson should be student centered. The ways that we instruct our students must demonstrate that they are our focus and that what we do is centered on their success. The use of technology as a tool is a critical component of this. It provides students with 21st-century skills that are both engaging and relevant to real-world applications. It is a partnership: If you effectively and successfully plan, your students will effectively and successfully work and learn.
Take a step away from the learning process to become facilitators rather than "givers of all knowledge" in the classroom. 
School Snapshot
Grades 6-8 | Charlotte, NC
Enrollment
620 | Public, Urban
Per Pupil Expenditures
$6133 School
•

$5346 District
•

$8451 State
Free / Reduced Lunch
87%
DEMOGRAPHICS:
60% Black
30% Hispanic
3% White
2% Asian/Pacific Islander
1% Native American
20% English-language learners
13% Individualized education programs
Demographic data is from the 2011-12 school year. Fiscal data is from the 2009-10 school year.