Assessment
Twice as Many Students Meet State Standards
Classroom strategies backed by research and ongoing teacher development are helping to narrow the achievement gap at this Title I school. See the infographic below for more details.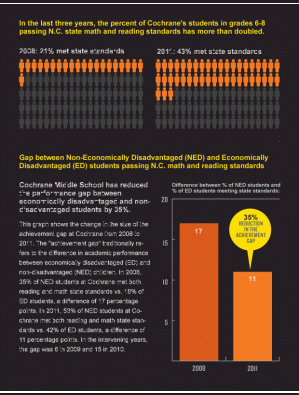 Infographic: Maili Holiman
Sources: North Carolina Department of Public Instruction, National Center for Education Statistics, U.S. Department of Education.
Key Accomplishments
From the 2007-08 school year to 2010-11, the percentage of students in grades 6-8 at Cochrane Collegiate Academy meeting North Carolina's math standards increased by 74 percent, and the percent meeting reading standards increased by 64 percent. Those improvements are especially impressive when compared with the state of North Carolina as a whole, where the number of students passing math standards increased by only 21 percent and the number passing the reading standards increased by just 29 percent.
When compared with the state of North Carolina, Cochrane showed three and a half times higher growth in the percentage of students achieving math proficiency and more than twice as much growth in reading proficiency. This growth is remarkable given that in 2011, 87 percent of students at Cochrane qualify for free or reduced-price lunch, while across all North Carolina schools, the average is 54 percent.
The Power of Professional Development
According to the principal and teachers at Cochrane Collegiate Academy, a major reason for the growth in student performance is a signature strategy for classroom instruction and professional development called Interactive Learning. Interactive Learning is based upon the Learning-Focused professional-development program, which teachers at Cochrane first began using in the 2007-08 school year. By 2009-10, the educators at Cochrane had customized this approach into Interactive Learning, which involves their list of ten non-negotiable daily practices. These include
clarifying learning goals with the use of essential questions, relevant vocabulary, and graphic organizers;
providing active learning with the use of an activating strategy, limited lecture time, and student movement;
maintaining rigor by asking three higher-order-thinking questions every class.
According to a recent study in the journal Science, methods like those used in Interactive Learning increased learning for all students and decreased the achievement gap between economically disadvantaged and non-disadvantaged students in a large, introductory-level college biology class.
The Interactive Learning methods used at Cochrane have helped narrow their achievement gap from 17 points in 2007-08 to 11 points in 2010-11, making it less than half the 30-point achievement gap that exists throughout the state as a whole. In North Carolina in 2010-11, 82 percent of non-economically disadvantaged middle school students passed both the reading and math standards, compared with just 52 percent of economically disadvantaged students.
Goals to Work Toward
Cochrane still has progress to make as only 42 percent of economically disadvantaged students in grades 6-8 passed both the math and reading state standards in 2010-11. Nevertheless, this represents a 133 percent increase from 2007-08, when only 18 percent of economically disadvantaged students passed both tests. Once again, Cochrane shows a significantly higher growth rate than the state of North Carolina, where the increase for economically disadvantaged students was 63 percent, from 32 percent in 2007-08 to 52 percent in 2010-11.
Students who are not economically disadvantaged also demonstrated higher growth at Cochrane compared with the state. At Cochrane, this group increased 51 percent, from 35 percent in 2007-08 to 53 percent in 2010-11. Across North Carolina, this group increased 26 percent, from 65 percent to 82 percent.
Why Cochrane's Professional Development Works
The non-negotiable teaching strategies used at Cochrane are reinforced in a collaborative and supportive environment, with three weekly grade-level meetings for teachers. These include weekly "data meetings" during which they analyze student performance and background characteristics. By regularly reviewing student data from different classes and from different support specialists over time, teachers can better understand where students are coming from and address their needs.
Cochrane's Interactive Learning program demonstrates all of the professional development characteristics shown to promote student achievement. According to research by Stanford University professor Linda Darling-Hammond, empirical research supports professional development that is
collaborative and collegial (i.e., teachers aren't expected to make changes in isolation and without support);
designed to link curriculum, assessment, and standards in the context of how students learn specific content;
active and hands-on, enabling teachers to acquire and apply new knowledge through coaching, observation, and feedback from colleagues;
focused on deepening students' knowledge of content;
sustained over multiple days and weeks.
Teaching quality is the strongest predictor of student achievement that schools can affect. The successes at Cochrane suggest that supporting teachers with effective professional development can increase student achievement and engagement.
Darling-Hammond, L. and Richardson, N. (2009). Teacher Learning: What Matters? Educational Leadership, 66 (5), 46-53.
Sims, B. (2011, July 5). Teacher Development Is Key to Closing the Achievement Gap.
"Achievement Gap. (2011, July 7). Education Week.
Haak, D. et al.(2011). Increased Structure and Active Learning Reduce the Achievement Gap in Introductory Biology. Science 3, 332 (6034), 1213-1216.
School Snapshot
Grades 6-8 | Charlotte, NC
Enrollment
620 | Public, Urban
Per Pupil Expenditures
$6133 School
•

$5346 District
•

$8451 State
Free / Reduced Lunch
87%
DEMOGRAPHICS:
60% Black
30% Hispanic
3% White
2% Asian/Pacific Islander
1% Native American
20% English-language learners
13% Individualized education programs
Demographic data is from the 2011-12 school year. Fiscal data is from the 2009-10 school year.