Project-Based Learning (PBL)
Planning for Project Learning in Your Classroom, School, or School District
How to adopt best practices in 5 minutes, 5 hours, 5 days, 5 months, and 5 years.
Editor's Note: Special thanks to Cacso Bay High School teacher Susan McCray and principal, Derek Pierce for their assistance compiling this list.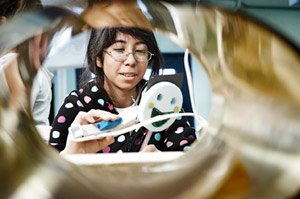 Credit: Michael Warren
Energizing Work: A King Middle School student works on her Kinetic Conundrum art project.
You've read the articles, watched some videos, and come away feeling as inspired as you are frustrated. The projects profiled here are full-figured creations by teams of teachers at schools whose cultures and schedules support grand ideas. Take a deep breath -- it didn't happen in one big swoop.
"I used to work with a teacher who always said, 'it takes five years to incorporate any new dimension into your teaching effectively, to fully incorporate it and to own it,'" said Casco Bay humanities teacher Susan McCray. It's not about designing a mongo expedition; it's about shifting how you engage students in the work. That can be a messy process, so prepare to get dirty one day at a time.
In 5 minutes, you can
Join the Project Learning and Technology Integration: High School community groups and hear how others are doing it.
Ask yourself, "What matters most in what we are studying? What might my students really care about in this topic?"
Push the desks together and have your students work in groups.
Reflect on the most meaningful project you ever did as a student and what made it so.
Think about how you can connect the topic to current events.
Start compiling a list of skills that can be taught through projects.
In 5 hours, you can
Upend a lecture and get students involved in an investigation to unearth information for themselves. They can do this in the class if there are computers with an internet connection, or in the computer lab.
Substitute a research activity for a pop quiz and have each group of students present their work to the class.
Watch our video of what a long-time project learning teacher (Susan McCray) has to say about the impact on school culture and student engagement.
Take a virtual tour of King Middle School's expeditionary learning projects to get some ideas.
Find out what resources – computer software, high quality printer, microphones for recording audio into a computer – are available at your school.
In 5 days, you can
Give your students a real audience for their work. For example, turn an essay assignment into a "letter to the editor" to raise the level of engagement for students. (Which would you rather do, write an essay that goes into a file or write a letter that may get published and affect change?)
Ask students to interview a family member or adult they admire about historical, ethical and philosophical issues related to the studies.
Have lunch with a colleague and discuss ways your courses intersect.
Visit websites that reveal high-quality products in your discipline such as Buck Institute for Education, What Kids Can Do, and Expeditionary Learning Schools.
Teach students one of the technology skills they'll need to use later on in the project.
In 5 weeks, you can
Invite an expert to your class to put a real-world face on the content standard. For example, ask a local Fish and Wildlife Service scientist to introduce the unit on ecology.
Design a mini project to meet a content standard, include a small final product that has real purpose.
Create a compelling question that appeals to students' sense of social or environmental justice. (What is worth fighting for? What impact will you have as a generation? How should we treat the "other"?) The question should also raise a big idea, relate that idea to specific examples, and require students to grapple with the complexities of it while learning the content standards.
Read some articles and books on project learning; visit some websites devoted to project and expeditionary learning. Start with our free resources, downloads, and reading lists.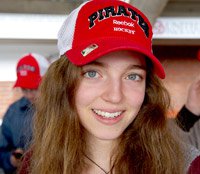 Credit: Michael Warren
Teamwork: Students at Casco Bay High School learn about business through a project with the Portland Pirates Ice Hockey Team.
In 5 months, you can
Map out the phases of an expeditionary project that fit within the time you have to teach a curriculum standard. The phases are: immersion, building background knowledge, independent investigation, synthesis, product development, and culminating event.
Plan a culminating event. It doesn't have to be something huge, but definitely an event that has a real audience and real world connection. Build in time for a dress rehearsal where standards are assessed. Invite parents and any relevant community members and experts. Give students as much leadership opportunity as possible.
Reflect on the success of project and curriculum, using a tool like the Learning Expedition Criteria by Expeditionary Learning Schools.
After you've completed a project, offer to share your work and reflections with colleagues in a more formal way.
In 5 years, you can
Create fully formed projects that: meet state standards; have significance in the real world, engage more than one academic subject; have students working on independent, meaningful research; focus on as much investigation in the classroom as possible; include field trips for student research and investigation; and have substantial culminating events open to the larger community.
Visit colleagues and other schools that have exemplary projects, structures, and learning practices.
Attend training sessions or workshops on project learning and encourage other teachers to do the same to build a critical mass for school reform.
Be a change agent: Advocate for teams and interdisciplinary courses at your school with time to meet and plan.