Administration & Leadership
How To Expand a Successful School Model
The success of Seattle's John Stanford International school spawned a growing network of international schools. Its founding principal shares advice for administrators on expanding from one school to many.
Karen Kodama, founding principal of the John Stanford International School (JSIS) in Seattle, Washington, now directs international education for Seattle Public Schools. Through her leadership and coalition building, the model has expanded (PDF) since 2000 from one innovative elementary school to a network of seven schools -- with an eighth coming in the fall 2013 and four more in the works -- in three regions of the city. The result: pathways to global citizenship for children, career ladders and professional-growth opportunities for educators, and alliances with a wide range of partners -- both close to home and around the world. She shares advice for other districts that want to offer their children an international education.
1. Proven Model
"We had to find out if we could bring international schools to areas of the city with higher poverty rates and more English-language learners. We had to show that this was going to be good education for all kids. I knew that it would be, but we had to have the data to show it. Now we do. We can see the gains in reading, math, science -- right across the board, and for all kids."
2. Consistent Model
"The school board has adopted a policy that defines what it means to be an international school (PDF), so the model is consistent across the district. All the pieces embedded in it -- academic excellence, language fluency, technology integration, innovative teaching -- are about preparing students for the world. As we have expanded to new schools, we have enhanced what that means and engaged with partners, such as the Asia Society and Confucius Institute. But our model remains consistent."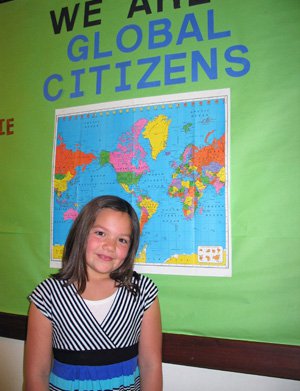 Credit: Suzie Boss
3. Education Pathway
"You can't just put an isolated school out there in the community. It needs to be part of a pathway so that students can continue with international education from elementary to middle to high school. We have built pathways in three areas of the city. The pathways currently include four K-5 schools, two middle schools, and one high school [a second high school will open in the fall 2013]. We wanted to ensure we had a robust program in middle and high school, so we offer immersion continuation at both those levels."
4. Clear Expectations for Staff
"Staff expectations are critical. When I started as principal of John Stanford International School, we had a committee -- including teachers -- that defined teacher expectations. For example, you will learn another language if you are not bilingual already. You will write unit plans that incorporate a global perspective. Then we asked all staff, 'Can you commit to this? Are you able to collaborate with colleagues?' Most said yes, but some chose to leave. With every new school since then, we've had the principals and staff work together to define expectations. If teachers start down this path and find out they're not comfortable, they can voluntarily transfer out during the first two years. That holds everyone accountable."
5. Commitment and Time
"There has to be an investment at the start. We recommend funding an engagement year before you open as an international school. Let your principal and teachers go visit other schools and see international education in action. If you want people to be committed and prepared to do this type of work, you need to respect their time and give them the professional development they need. In the start-up year, budget extra time and resources for teachers to develop unit plans with a global perspective. Your library may need to develop its international collection. In years two and three, budget for ongoing professional development and support to sustain the model." (Sample budget (PDF): $15,000 for engagement year; $100,000 for start-up year; $30,000/year to sustain in years two and three.)
6. Community and Parent Support
"If you don't have a groundswell of support from parents and the community, it won't go over well. We spend a year on planning to make sure that's all in place before a new school opens. Make sure your community wants this. We surveyed our parent community to make sure families wanted this kind of education. Engage with your business partners. We asked our business community, 'What languages and skills are going to be important ten years from now?' They advised us to focus on language proficiency in Spanish, Japanese, and Mandarin Chinese. They wanted us to make sure our students could solve problems, collaborate, think outside the box, all the 21st-century skills."
School Snapshot
Enrollment
460 | Public, Urban
Per Pupil Expenditures
$6062 School
•

$11351 District
•

$9733 State
Free / Reduced Lunch
7%
DEMOGRAPHICS:
61% White
14% Hispanic
13% Asian/Pacific Islander
10% Multiracial
2% Black
1% Native American
4% English-language learners
4% Individualized education programs
Data is from the 2011-12 academic year.