Arts Integration
Integrate the Arts, Deepen the Learning
Critical thinking, risk taking, and collaboration are just some of the areas where Bates Middle School educators report big improvements since integrating the arts.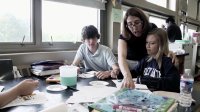 Overview
Getting Started With Arts Integration
Educators at Wiley H. Bates Middle School credit integrating art throughout the curriculum for successfully turning their school around.
A transformation took place when the school adopted arts integration as the turnaround tool for the school. The school made changes in schedules, funding, and even the approach to community and parent involvement.
Most important, the teachers had to change. Through intensive and continual professional development, teachers now are able to engage students in content they previously found uninteresting. The transformation was successful because every teacher integrated arts into their teaching. 
How It's Done
Weaving Arts Education With Standard Curricula
Arts integration (AI) is an approach to teaching that creates a richer context for learning and to deepen student engagement. Educators at Wiley H. Bates Middle School in Annapolis, Maryland, where all teachers have been trained in and are committed to using AI, credit the strategy for successfully turning around the school.
Tips for Administrators
Below are some steps administrators can take to successfully integrate the arts:
Change the culture: The leadership must decide that the arts are essential for all children and be willing to make funding, scheduling, and hiring decisions accordingly.
Commit funding: Administrators have to put some funding into the arts. Grants can help to get arts integration started. The bulk of the grant money usually goes to professional development. Because the arts help build community awareness about the school through public performances and school- and community-based projects, donor campaigns for musical instruments and art supplies are generally successful.
Adjust the schedule: Time must be built into the schedule to accommodate both PD and collaborative planning (PDF). At Bates, one hour every day is earmarked for collaborative planning, and teachers have PD sessions every other Thursday, at least one of which each month is about the arts.
Hire willing teachers: Most teachers will not have experience teaching with AI, so administrators need to hire people who are willing to take on the challenge of integrating the arts in their lessons and who want to learn to maximize art's potential to engage their students.
Leverage community resources: Bring in teaching artists and trainers from arts programs, or partner with community art organizations. Teachers also can enroll in PD programs such as Changing Education Through the Arts from The Kennedy Center.
Tips for Teachers
Here are ways that teachers can maximize AI's potential:
Take advantage of professional development: PD serves many purposes. It can help teachers learn the fundamentals of various art forms and develop integrated lessons, and it provides them with the opportunity to experience art for themselves. The main reason teachers resist AI is because they think they're not artistic. But with PD, they realize the arts are for everyone, and they come to better understand the experiences they're giving their students.
Use AI intentionally: At Bates, every teacher is required to use AI in some shape or form, although not every lesson needs to be, or should be, taught with AI. Teachers should use two main criteria for implementing AI:
Look for a natural fit with the content. Don't try to shoehorn it in, or it can make the concepts more confusing. "The idea behind arts integration," says arts-integration specialist Pat Klos, "is that it opens a new door to understanding, so it has to connect with the content standard for it to make sense."
Identify where students are struggling. AI can be an effective way to differentiate instruction and break through with hard-to-reach kids. It provides a context that will help students build connections and gives them triggers for remembering the content later.
Collaborate and brainstorm: Brainstorming is one of the best ways to develop arts-integrated lessons. Bouncing ideas off other educators within and across subjects and disciplines helps develop deeper lessons, and this is the goal of the daily hour of collaborative-planning time at Bates. As lessons get classroom tested and refined, teachers can build a repertoire of vetted lessons on a shared network drive.
School Snapshot
Grades 6-8 | Annapolis, MD
Enrollment
715 | Public, Suburban
Per Pupil Expenditures
$7451 District
•

$4693 State
Free / Reduced Lunch
46%
DEMOGRAPHICS:
39% White
34% Black
20% Hispanic
2% Asian
10% Special needs
7% English-language learners
Demographic data is from the 2011-12 academic year. Fiscal data is from the 2010-11 academic year.