Project-Based Learning (PBL)
Children Create the Playground of Their Dreams
Seattle students design commanding castles and slithery slides, then watch their sketches come alive.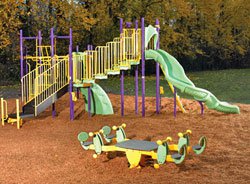 Credit: David Clugston
Youthful Inventions: KaBoom, a nonprofit organization that specializes in playground architecture, used student-created designs at Seattle's Van Asselt Elementary School.
Zipporah, a fifth grader at Seattle's Van Asselt Elementary School, was bent over her paper, drawing a version of her ideal school playground. When she came up for air, she identified a corkscrew shape in her sketch as "a pink curly slide."
A classmate named Zhi didn't care much about color. In his black-and-white drawing what mattered was action. His list of requirements: "Things to jump over, climb on, run down, and swirl around on until you get very dizzy," he said.
When students at Van Asselt, a Title I school serving a low-income, culturally diverse population, were asked, "What should our new playground look like?" they jumped at the chance to answer. Theirs was a school in serious need of a new playground. Before the renovation, a sloping expanse of blacktop with a few tired-looking basketball hoops, tetherball poles, and faded foursquare courts made up the play space.
"At recess, the kids stood around twiddling their thumbs," says third-grade teacher Sarah Clemons. Where the blacktop ends, a field of dandelions sat unused, waiting to be transformed.
Twenty-four students, including Zipporah and Zhi, were picked as school ambassadors and invited to share their ideas in a design workshop that would inform their school's plans. A fourth grader named Jillian had some specific ideas but said, "I'm not a very good drawer."
She did, however, take care to label all the important details in her sketch, which showed two box-shaped structures with windows and balconies connected by a maze of stairs, bridges, slides, and ladders. "Oh, and flags on the roofs," she added. An adult asked whether she was thinking of a fort. "More of a castle," Jillian said with a firm nod.
Their new playground was built -- in one day last fall -- by an army of adult volunteers organized by a national nonprofit organization called KaBoom. The organization engages communities in building children's playgrounds, especially in low-income neighborhoods where play spaces tend to be in short supply.
These Seattle students are benefiting from a burgeoning national movement to create more time and space for childhood play, which is good for developing healthy minds, bodies, and relationships. Increasingly, educators are striving to provide unstructured, child-directed play -- the kind that happens when adults step back and give kids room to romp.
The Design Process
During this exercise, kids identified key themes, such as Jillian's make-believe setting or Zhi's quest for adventure. When students finished drawing, they described their individual ideas to the whole group. Music teacher Paul Fowler kept a tally sheet, tracking the big themes that arose in the discussion. Climbing got the most hash marks, followed closely by slides and stairs.
Next, adults got their turn. As kids moved on to snacks, parents and teachers pored over the children's drawings.
Ann Gaudard, a KaBoom project manager, laid out catalogs from a play-equipment manufacturer. Parents and teachers studied these, looking for pieces that echoed the children's designs. They chose a bridge leading to a balcony to evoke Jillian's castle, a slither slide shaped like an elongated s to please both Zipporah and Zhi, and a vertical climbing loop ladder to challenge the upwardly mobile.
Watching the adults collaborate, Gaudard was impressed, she says, by "how much they honored the kids' ideas." Incorporating children's wishes can be tricky, especially if they ask for features like roller coasters or water slides.
But KaBoom CEO and founder Darell Hammond says the process "empowers children to apply their creativity and vision and turn those great ideas into something tangible. It results in a lasting sense of pride and ownership, as well as the knowledge that their input is something valuable to adults."
To bring the rest of the community into the process, Van Asselt's playground team gave everyone -- children and adults alike -- a chance to vote on three proposed blueprints. Then it was full steam ahead to the big day when the winning design went up in a daylong effort that felt like the urban equivalent of a barn raising.
Principal Eldoris Turner stayed on the sidelines during the fast-track design process, letting children lead the way. It's their playground, after all. But she's looking forward to the benefits. Turner says she's a big believer in free play and fresh air as components of a healthy childhood. In her diverse school community, where 25 or so languages are spoken, play offers a vocabulary that everyone understands.
"If our children are more successful on the playground," the principal adds, "we know they're going to be more successful in school."