Professional Learning
Using Student-Led Parent-Teacher Conferences to Build Relationships
February 24, 2009
Updated October 3, 2014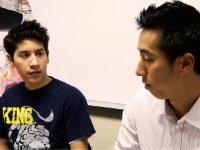 Quite a few readers responded to my blog entry "In the Loop: The Payoff for Parent-Teacher Conferences." As winter approaches, the next round of conferences is just around the corner. I want to address some of your general questions and comments, and, hopefully, this will help with upcoming planning. For those who don't conference, consider building conferences into your calendar next year.
What is the difference between a conference and a portfolio folder? The only difference is that the work is shared at school, not at home. Granted, with a conference at school, parents are forced to look at their child's work; but because they care about their child's successes, they should be doing this at home anyway.
Yes, if a conference is just looking at a folder of work, it is a missed opportunity. A powerful student-led parent-teacher conference focuses on student learning goals we can set by examining the student's work. This is an active event in which the learner and those responsible for supporting her education identify her strengths and areas of growth and make plans to address these areas. Unfortunately, parents often do not know how to support their children in school, particularly if they were unsuccessful in their own schooling. The conference is one tool to help parents support their child's success.
Readers also commented on how to encourage more parents to attend these types of conferences. Because many parents, even at the elementary school level, often take a passive role in their child's schooling, what can a teacher do to make conferences more interesting so parents will want to attend?
One solution is to pair conferences up with something else going on that evening that may interest parents -- perhaps a concert or dance. Parents may be in the neighborhood to drop their child off, and this may make it more convenient for them.
At Envision Schools, we put aside an entire week of minimum days, which gives plenty of time and sets the priority for the school community. The incentive we use is that we hand out report cards, rather than mail them. If you don't attend a conference, you will not receive a report card. Each adviser follows up with each parent until they attend. Currently, 95 percent of our parents participate.
As students get older, especially as they begin high school, they yearn for a sense of independence and maturity. In this struggle, I find there is often a disconnect between students and their parents in regard to school performance. Because kids and parents don't often talk about school, we think parent-teacher conferences are imperative. By requiring this interaction, we are telling parents it is OK to get involved with their teenager's high school education. For students, we give them some cover; they really do want their parents involved.
Several readers addressed the issue of time management when teaching a large number of students. Those teaching 100 kids or more will have to get creative. Our teachers have responsibility for holding only 20-30 conferences. We believe that in order to achieve better results, we need to redesign secondary schools in order to foster these types of interactions.
I hope some of these ideas will support you in planning powerful conferences for your students this spring. Please post comments about your successes and challenges with student-led parent-teacher conferences.