Social & Emotional Learning (SEL)
Why Champion Social and Emotional Learning?: Because It Helps Students Build Character
Helping students develop a sense of self will ultimately help them to better manage their emotions, communicate, and resolve conflicts nonviolently.
It's not enough to simply fill students' brains with facts. A successful education demands that their character be developed as well. That's where social and emotional learning comes in. SEL is the process of helping students develop the skills to manage their emotions, resolve conflict nonviolently, and make responsible decisions.
Although family, community, and society are significant factors in fostering emotional intelligence and character development, educators must create a safe, supportive learning environment and integrate SEL into the curriculum.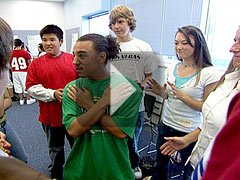 RUNNING TIME: 13 MIN.
VIDEO: Smart Hearts: Social and Emotional Learning Overview
Research shows that promoting social and emotional skills leads to reduced violence and aggression among children, higher academic achievement, and an improved ability to function in schools and in the workplace. Students who demonstrate respect for others and practice positive interactions, and whose respectful attitudes and productive communication skills are acknowledged and rewarded, are more likely to continue to demonstrate such behavior. Students who feel secure and respected can better apply themselves to learning. Students who are encouraged to practice the Golden Rule find it easier to thrive in educational environments and in the wider world.
In SEL, educators (and other students) coach children in conflict resolution and model how to negotiate, how to discuss differences in opinion without resorting to personal attacks, and how to accept others when their attitudes, beliefs, and values differ from one's own. SEL strives to educate children about the effects of harassment and bullying based on social standing, ethnic origin, or sexual orientation.
Teachers must lay the groundwork for successful SEL by establishing an environment of trust and respect in the classroom. Empathy is key. Before children can be expected to unite to achieve academic goals, they must be taught how to work together, and so it provides them with strategies and tools for cooperative learning.
Such learning, successfully incorporated into project learning and other teaching styles, is easily integrated into all subject areas and can be effectively assessed with rigorous, sophisticated rubrics. It also contributes to a productive classroom environment where students feel they can learn without concern for their emotional welfare. Return to our Social and Emotional Learning page to learn more.