Project-Based Learning (PBL)
Social Networking at Science Leadership Academy
This Philadelphia high school is determined to use technology to run a school not better, but altogether differently.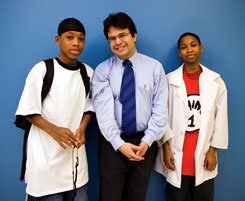 Credit: Klaus Schoenwiese
Living Experiment: Jarmel Hurtt (left) and Tyrell Thompson flank Principal Chris Lehmann, who is helping shape these twenty-first-century citizens.
Months before the newly hired teachers at Philadelphia's Science Leadership Academy (SLA) started their jobs, they began the consuming work of creating the high school of their dreams -- without meeting face to face. They articulated a vision, planned curriculum, designed assessment rubrics, debated discipline policies, and even hammered out daily schedules using the sort of networking tools -- messaging, file swapping, idea sharing, and blogging -- that kids love.
Then, weeks before the first day of school, the incoming students jumped onboard -- or, more precisely, onto the Science Leadership Academy Web site -- to meet, talk with their teachers, and share their hopes for their education. So began a conversation that still perks along 24/7 in SLA classrooms and cyberspace. It's a bold experiment to redefine learning spaces, the roles and relationships of teachers and students, and the mission of the modern high school.
"When I hear people say it's our job to create the twenty-first-century workforce, it scares the hell out of me," says Chris Lehmann, SLA's founding principal. "Our job is to create twenty-first-century citizens. We need workers, yes, but we also need scholars, activists, parents -- compassionate, engaged people. We're not reinventing schools to create a new version of a trade school. We're reinventing schools to help kids be adaptable in a world that is changing at a blinding rate."
SLA is one of four experimental high schools opened in Philadelphia last fall in the district's most ambitious attempt at reinvention in 30 years. The schools span the pedagogical and philosophical spectrum: The Academy at Palumbo is modeled after Central High School, the city's 169-year-old scholastic powerhouse. Constitution High School draws on the city's proud independence-era heritage to focus on civics and American history. The School of the Future, a $63 million architectural marvel designed in partnership with Microsoft, has a suite of gyms, state-of-the-art technology, and smart cards for lockers and the food court.
Working with the city's Franklin Institute Science Museum, the School District of Philadelphia developed SLA as a Center City District magnet school for science, math, and entrepreneurship. The inaugural class of 110 ninth graders, admitted on the basis of grades, recommendations, interviews, and test scores, takes lab courses in biochemistry and engineering. The uniform -- the district requires one -- is a 3/4-sleeve white lab coat. (By midyear, many were adorned with classmates' Sharpie signatures.) Students spend Wednesday afternoons at Franklin, where they get an inside look at exhibits such as this spring's King Tut extravaganza, and do projects such as building model pyramids.
Yet the school doesn't have the pressure-cooker intensity of some science magnets. It's the spirit of science rather than hardcore curriculum that permeates SLA. "In science education, inquiry-based learning is the foothold," Lehmann says. "We asked, 'What does it mean to build a school where everything is based on the core values of science: inquiry, research, collaboration, presentation, and reflection?'"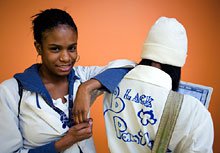 Credit: Klaus Schoenwiese
Personal Touch: Autumn Stevens and a fellow student show how they personalize their lab coat uniforms.
It means the first-year curriculum is built around essential questions: Who am I? What influences my identity? How do I interact with my world? In addition to science, math, and engineering, core courses include African American history, Spanish, English, and a basic how-to class in technology that also covers Internet safety and the ethical use of information and software. Classes focus less on facts to be memorized and more on skills and knowledge for students to master independently and incorporate into their lives. Students rarely take tests; they write reflections and do "culminating" projects. Learning doesn't merely cross disciplines -- it shatters outdated departmental divisions. Recently, for instance, kids studied atomic weights in biochemistry (itself a homegrown interdisciplinary course), did mole calculations in algebra, and created Dalton models (diagrams that illustrate molecular structures) in art.
Such integration and pragmatism are not novel, of course. This is Dewey for the digital age, old-fashioned progressive education with a technological twist. But that twist is all important. Although Lehmann says technology is merely a tool, not the engine of the school, computers and networking are central to learning at, and shaping the culture of, SLA. "In a lot of ways, it looks like a traditional school," says Will Richardson, an educator and consultant on learning technologies who has visited SLA (and a member of The George Lucas Educational Foundation's National Advisory Council). "There are kids in rows of desks and teachers at the front. But their use of technology is much more social and out of the box than what most schools are doing. The pedagogy and curriculum are much more in tune with the way kids need to work today."
The zest to experiment -- and the determination to use technology to run a school not better, but altogether differently -- began with Lehmann and the teachers last spring when they planned SLA online. Their use of Moodle, an open source course-management system, proved so easy and inspired such productive collaboration that Lehmann adopted it as the school's platform. It's rare to see a dog-eared textbook or pad of paper at SLA; everybody works on iBooks. Students do research on the Internet, post assignments on class Moodle sites, and share information through forums, chat, bookmarks, and new software they seem to discover every day. Sometimes kids engage in furious debate without uttering a word; they sit side by side, typing. When history teacher Matt Baird posed a sensitive question -- "On a scale of 1 to 10, how would you rate race relationships at the school?" -- he had students post comments rather than speak. "People often don't listen when they have to talk in class," he says. "They're thinking about what they'll say. And you hear from the loudest, not necessarily the most thoughtful."
Teachers continue to use Moodle to plan, dream, and learn, to log attendance and student performance, and to talk about everything -- from the student who shows up each morning without a winter coat to cool new software for tagging research sources. There's also a schoolwide forum called SLA Talk, a combination bulletin board, assembly, PA system, and rap session.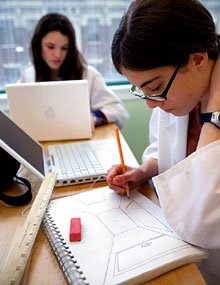 Credit: Klaus Schoenwiese
Drawing Room: Rachel Burwasser (foreground) and Sarah DeMuro use old and new tools in art class.
Students used SLA Talk to organize after-school clubs and the first dance, and to vote on black and light blue as the school colors. After someone stole a laptop, kids logged on to vent. "Stealing the laptop was something that would have happened in typical schools," a girl wrote, "but at SLA, if you have something against someone, it would make more sense to talk it out." When the theft was linked to an intruder, the conversation shifted to trust, and why it's important at the school. "It kind of creates a family instead of a prison," a student wrote.
The faculty weighs in on SLA Talk, too. In October, Lehmann noticed that students were sorting themselves by race in the lunchroom and some clubs. He felt disturbed and started a passionate thread on self-segregation. (The school population, 48 percent African American, 36 percent white, and 7.5 percent Latino and Asian, roughly reflects the city's.) "Having the conversation changed the way kids looked at themselves," he says.
Web technology, of course, can do more than get people talking with those they see every day; people can communicate with anyone anywhere. Students at SLA are learning how to use social-networking tools to forge intellectual connections.
As part of the study of memoirs, for example, Alexa Dunn's English class read Funny in Farsi, Firoozeh Dumas's account of growing up Iranian in the United States -- yes, the students do read books -- and talked with the author in California via Skype. The students also wrote their own memoirs and uploaded them to SLA's network for the teacher and class to read and edit. Then, digital arts teacher Marcie Hull showed the students GarageBand, which they used to turn their memoirs into podcasts. These they posted on the education social-networking site EduSpaces (formerly Elgg); they also posted blogs about the memoirs. (You can read student and teacher blogs on the school Web site.) Not surprisingly, the students adapt to the new technology fast. "I was one of those people who was really bad with computers before I came here," says Patrick Woodburn. "Now, I'm writing code." As he sees it, that's just one payoff. "If I went to Central, I'd be around all those kids who think they're better than I am," he says.
It's too soon to tell how the energy and innovation at SLA will translate into student achievement. But many kids say they're getting something important that can't be measured by tests -- something even cooler than blazing-fast laptops. "What I like best about this school is the sense of community," says student Hannah Feldman. "You're not just here to learn, even though you do learn a lot. It's more like a second home."
Go to "How to Use Social-Networking Technology for Learning."
Fran Smith is a contributing editor for Edutopia.