Professional Learning
Boston Teacher Residency: Real-World Training and Cost Incentives Keep Teachers Teaching
Homegrown training for Beantown devotees.
Even in the best teacher-prep programs -- those abundant with real-world practice -- educators in training often learn to be generalists. They typically work in several school settings, learning to teach a range of curricula in preparation for the various assignments they may pursue.
But at the Boston Teacher Residency, every element of preparation is specific to Beantown. Residents learn about the city's history, the Boston Public Schools curriculum, and community traits. They get to know the people and resources in the school district office. A yearlong placement in one of the city's most successful schools then drives those lessons home.
The program, created in 2003 by then superintendent Thomas Payzant and colleagues, aimed to counteract heavy teacher turnover and a shortage of specialists and educators of color.
"They wanted people who were really prepared to do Boston's work," explains program director Jesse Solomon, "people who were committed to Boston, who knew Boston, who were ready to hit the ground running and prepared to stay."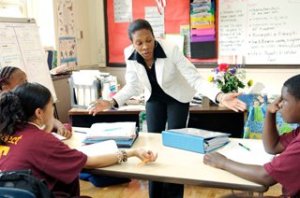 The thirteen-month training, modeled on a medical residency, begins with a summer of University of Massachusetts Boston courses designed by the BPS. During the school year, residents spend one day a week in classes and four days working alongside a mentoring master teacher. Students gradually deepen their involvement and pursue interests beyond their mentors' classrooms, learning from other teachers and experiencing anything from working with full-inclusion groups to coaching a math league. Residents finish with one more month of study.
Upon graduation, they earn a master's degree and a teaching license and are expected to commit to the district for at least three years. The pledge is mutual -- the BPS provides continued mentoring and supports graduates in taking leadership roles.
"Being in a classroom from the first day of school to the last day of school and seeing all those little things that go on during the day was huge in making me a better teacher," says Maria Fenwick, a fourth-grade educator who completed her residency in 2005. "I felt like I had already been a teacher when I entered the classroom my first year."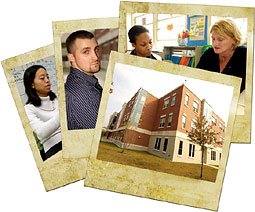 Credit: Gregory Cherin
Another key innovation of the program is its affordability. Residents receive an $11,100 stipend, plus a $10,000 loan to cover most of tuition. For every year graduates work in the district, one-third of their loan is forgiven.
A consortium of local foundations provided seed money to launch the residency. The district now shoulders 60 percent of the program's $30,000 cost per resident (the figure seems more reasonable considering the $17,000 cost of losing a teacher), covering the rest through grants.
The residency -- already the largest single feeder into the city's schools -- prepares about one-hundred teachers per year. More than 90 percent of graduates are still teaching there -- a testament to the power of real-world preparation.
Vital Stats
Location: Boston
Degree conferred: Master's
Annual graduating class: 100
Time in the field: 1 school year
Highlights:

Boston-tailored curriculum
Yearlong residency with mentor teacher
Stipend and loan forgiveness
Required commitment to Boston schools
Grace Rubenstein is a senior producer at Edutopia.