Social & Emotional Learning (SEL)
Forward Thinking: 2007 DesignShare Awards Honor the Best in School Design
Three exemplary schools reveal the shape of things to come.
March 20, 2008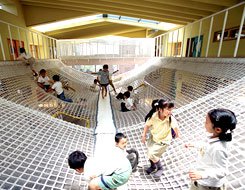 Credit: Courtesy of DesignShare
Kid Stuff: Such elements as the big net in the commons area at the Yuyu-no-mori Nursery School and Day Nursery encourage large-muscle activity and kinesthetic stimulation.
As technology moves from the periphery of the classroom to the center, one of the vital challenges facing architects who design schools is to create learning environments that recognize the key role of tech without losing touch with the human needs of students. The complexity of this challenge increases with grade levels, but the need for enabling surroundings begins from the first day a child enters preschool or kindergarten.
In the end, however profoundly the digital information age has changed the extent to which students can project themselves out into a vast new universe of learning, they are real people, not avatars, studying in real buildings with real physical and psychological needs.
Since 2000, DesignShare, an architecturally based facilitator of ideas and resources on innovation in schools, has asked a panel of experts for the best in school design. After an extensive search, the organization awards prizes for school construction and renovation that represent the best thinking in a field as crucial to the future as any in all of architecture.
The common theme of the three schools presented here -- each a DesignShare honor or merit winner for 2007 -- according to Tiffany Green, the organization's communications director, is that they meet the needs of students now and into the future, taking into account the environmental psychology of learning for a generation of learners who are wildly visual and technologically savvy on one extreme and on the other may be bored and underachieving.
On this and the following pages, Edutopia presents three of the schools DesignShare recognized for design excellence: The innovative Yuyu-no-mori nursery school, in Yokohama City, Japan, with its playful, child-centered emphasis; the Denver School of Science and Technology, with its exceptional information-age aura of the expansiveness of digital power; and Polaris, a K-12 school in Anchorage, Alaska, that combines architectural openness with reassuring intimacy. These schools are prime examples of the best in twenty-first-century design. Each, in its own way, stands for the ideal of architecture that focuses on the DesignShare virtues of "transparency, personal development, lifelong learning, and the influence of the built environment as a motivator."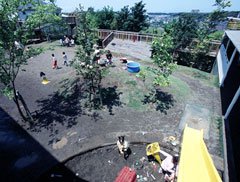 Credit: Courtesy of DesignShare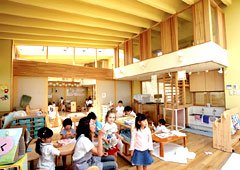 Credit: Courtesy of DesignShare
Free Space: An emphasis on unstructured play is an innovation in Japan. Open and cheerful design keeps the mood and methods light.
Yuyu-no-mori Nursery School and Day Nursery
Yokohama, Japan
Design Team: Environmental Design Institute
Ages: 2-5 years old, 260 students
Completed: 2005
DesignShare calls this school and day care center "a superb example of a facility designed to support active, play-based learning, one that gets young bodies moving." Such elements as the big net in the commons area encourage large-muscle activity and kinesthetic stimulation, part of what the school calls a "circular play system" that contains diverse activities.
Yuyu-no-mori, one of thirty-six combined nursery school and day care schools in Japan, provides an environment for the prevailing child-centered philosophy and an atmosphere that stimulates children's emotions as well as fostering close engagement between children and teachers. The importance of play, and the emphasis on a relatively unstructured approach to activities that the net symbolizes, is an important innovation in Japan, where later education tends to be test driven and consequently stressful. In that sense, Yuyu-no-mori literally provides a safety net for the future.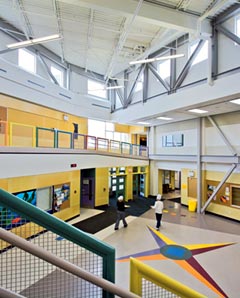 Credit: Courtesy of DesignShare
Daily Variety: DesignShare praises the Polaris School, built by renovating and adding to a former movie theater, for its 'rich variety of spaces' and its capacity for renewal and change.
Polaris School
Anchorage, Alaska
Design Team: McCool Carlson Green Architects
Grades: K-12, 500 students
Completed: 2005
Facing a tight budget, the administrators of this alternative learning facility took an imaginative leap and acquired a two-screen movie theater in a former wetlands area near a freeway and an industrial zone. Following an initial renovation of the existing building's unusual interior shapes, the school embarked on an addition that included a gymnasium, a library, new classrooms, and an impressive double-height lobby.
Recognizing Alaska's cultural traditions, the architects included what the school calls a ceremonial hearth, giving the learning community a central gathering place for celebrations and meetings. In addition, with the state's special conditions in mind, most classrooms were placed to make the best use of solar exposure, even on the very short days of the far northern winter. The school is built around the concepts of self-direction and student-to-student learning, and the architects took advantage of the original design, a purpose-built structure intended for an entirely different purpose, to give Polaris a feeling of uniqueness, surprise, and flexibility.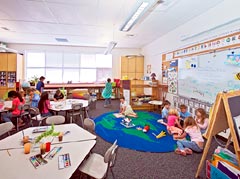 Credit: Courtesy of DesignShare
Because the school includes a wide range of ages and thirteen grade levels, primary and intermediate classrooms are organized in threes, creating shared alcoves for small groups to meet and what DesignShare calls "a place for each small learning group to express itself." Student ownership of their space began with sweat equity during the renovation process, and continues with high-energy student murals both inside and outside the building. A system of replaceable interior wall panels lets the art change and evolve from one part of the building to another. The DesignShare judges lauded the "rich variety of spaces -- soft and hard, open and niche-like, colorful and neutral, bright and quietly calm."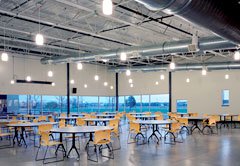 Credit: Courtesy of DesignShare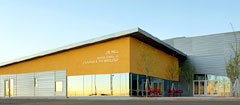 Credit: Courtesy of DesignShare
Archi-Tech: Devoted to inspiring students underrepresented in science and technology studies, a Denver charter school's design emphasizes crisp, exterior lines.
Denver School of Science and Technology
Denver, Colorado
Design Team: Klipp Architecture
Grades: 9-12, 400 students
Completed: 2005
This charter school, founded with a grant from the Bill & Melinda Gates Foundation, was built as part of a walking community on the site of the old Stapleton Air field and is dedicated to increasing the number of underrepresented students who succeed in the sciences and mathematics. Its enrollment -- 40 percent low-income students, 45 percent female -- reflects that philosophy. And its architecture -- a blend of modern industrial design, materials, and ubiquitous wireless technology with moveable partitions, mobile furniture, and a softer, more tactile approach -- reflects both digital and hands-on learning. Though teachers and students are given the full power of technology, the judges point out that the senses are touched by the contrast between hard and soft elements.
Owen Edwards is a contributing editor for Edutopia and Smithsonian magazines.