Social & Emotional Learning (SEL)
Resources on Developing Resilience, Grit, and Growth Mindset
Resources related to building the skills young people need to confront adversity, cope with challenges, and persevere to attain goals.
January 13, 2014
Updated January 12, 2016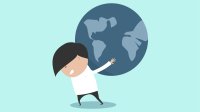 There's been a lot of talk lately about resilience, grit, growth mindset, and related concepts—including the social and emotional skills associated with these factors and their importance for student well-being and academic success. Edutopia has curated these lists of resources to help educators and parents follow these topics and create home and school environments that provide supports and opportunities to help young people thrive.
The ability to bounce back from adversity is associated with a variety of skills. Learn more about resilience research and supports and strategies to develop resilience in young people. (10+ resources)
Explore an array of resources for understanding and building student perseverance, and consider questions raised by the research on grit. (15+ resources)
Find information about growth mindset, discover how learning mindsets can affect student performance, and explore strategies that support student confidence. (20+ resources)
Prevent fear of failure from holding students back by targeting strategies that normalize struggle and help children view mistakes as opportunities. (10+ resources)
Learn about types of stress, discover how stress can affect the learning brain, and find ways to help young people understand and better manage stress and its effects. (10+ resources)
Review approaches to support students who have experienced trauma, learn how to help grieving students, and find guidance on coping with violence and disaster. (15+ resources)