Project-Based Learning (PBL)
From Trash to Treasure: Reusing Industrial Materials for School Art Projects
Junk becomes classroom jewels for creative recycling educators.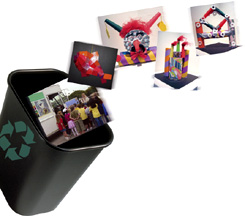 Credit: Veer
A former U.S. Postal Service truck pulls up to the schoolyard and a group of eager children line up to get inside. As they wait, they catch a whiff of what seems like food cooking. "It smells like French fries," says third-grade teacher Lisa Allen.
But it's actually time for art, not lunch, for several lucky classes at Riviera Elementary School, in Torrance, California.
The nonprofit organization Trash for Teaching (T4T) is making its third visit to the school. Inside the truck, neatly organized bins hold an array of discarded objects the children will pick through and then use later for art projects. There are various shades of eyeglass lenses, wires, plastic webbing, giant tubes, and spools and cores of every shape and color. The manufacturers that contribute the items are just as diverse: Medical supply and wooden shutter companies, along with textile, plastic, rubber, upholstery, and gasket manufacturers, are just a few of the sources.
This "treasure" truck, one of two the environmental group owns, runs on used vegetable oil collected from local restaurants -- hence the scent of food. Before the children climb aboard the truck, there's a short discussion with Erika Oelmann, a reuse-education facilitator with T4T, about the benefits of reducing, reusing, and recycling materials.
The concept of using recycled materials for art is not a novel one, but the distinction here is that T4T delivers the trash -- or, rather, "Dumpster diamonds," as organization founders Steve and Kathy Stanton call them -- to the schools.
It began in 2004, when the Stantons, who own a manufacturing company, noticed how their young son used found objects to create artwork in his classroom. They thought about the mounds of colorful, clean material they discarded in their own business and decided to put it to good use; then they recruited other manufacturers to do the same.
The fledgling organization is in sixty schools in the Los Angeles area; during the past year alone, it has distributed 17 tons of materials to local schools. Experienced arts facilitators regularly visit classrooms and model for teachers how objects can be used in a structured visual-arts lesson.
For children with boundless imaginations, a visit to the truck can be filled with wonder. There are glittery pink and yellow pen parts, forest-green fluff that looks like cotton-candy, pieces of leather, and medical petri dishes. When Stanton first began looking for items, he admits he did a lot of Dumpster diving. Now, most companies will set aside their clean, discarded materials, and he says he doesn't have to go diving that often.
Uses for the objects know no bounds. A pen cap, the children are told, can work perfectly well as a dog's nose in an art project. Later, one clever young girl uses a collection of water-bottle caps to construct a charming doll's tea set.
The Stantons's box-manufacturing warehouse in Gardena doubles as the T4T space, and teachers are welcome to peruse the dozens of bins of discarded objects there. In some company warehouses, the business dedicates an on-site T4T Dumpster to make it easier to set aside its materials for the organization. T4T employees do pickups about twice a week, but they're picky about the items they accept. Everything is clean and, for the most part, fairly safe. Wires are the riskiest material, Stanton says.
T4T fits nicely into city and countrywide recycling efforts. Alison Sherman, recycling coordinator for the City of Torrance, says cities in California have been under a state mandate to reduce waste by half, and T4T is chipping away at a small chunk of the problem. "We're laying the groundwork for a whole generation that's going to look at trash very differently," Sherman adds while visiting Riviera Elementary School. "They will have much more awareness of how we dispose of things in the environment."
"I would like to see as many treasure trucks as there are UPS trucks," Stanton adds. "The opportunities are really endless for what we can do."
Related Green Articles:
Lesson plans on recycling.
An art teacher runs a tight, environmentally friendly ship.
How can educators, students, schools, and communities go green? Find additional resources about sustainability, conservation, and other earth-friendly practices and curricula on Edutopia's Environment Education page.